At Game 2 of the World Series on Thursday, a triple amputee veteran not only threw out the ceremonial first pitch, he also stunned onlookers when he pitched a strike.
As Business Insider notes, Marine Cpl. Nicholas Kimmel, who lost both legs and one of his arms during his second tour of duty in Afghanistan, threw the impressive strike before the second Giants-Tigers game in San Francisco.
Kimmel was a baseball star in high school before enlisting in the Marines. He was with the 9th Engineer Support Battalion, from Okinawa, Japan, when he was injured in Afghanistan in December.

He is now undergoing treatment at Naval Medical Center San Diego.
"I'm just so excited for him to be going out there, and I'm just honored to be a part of it," Giants pitcher Barry Zito said.
"Strikeouts for Troops is...a way to get out in public and enjoy something that I enjoyed before -- baseball -- without having to worry about a bunch of people staring at me," he said.
The program, founded by Zito in 2005, seeks to help wounded soldiers who are being treated at military hospitals, according to its website.
Kimmel, who says he often gets to go on the field during batting practice, told USA Today that the program has also introduced him to a whole new community of friends, including baseball stars like Zito, Jake Peavy and Brad Ziegler.
Kimmel, however, isn't the only one who's benefitted from this baseball bond.
Click through the slideshow below to see photos of Tom Willis, a man who was born without arms and hopes to throw a first pitch out at every Major League Baseball stadium in the U.S.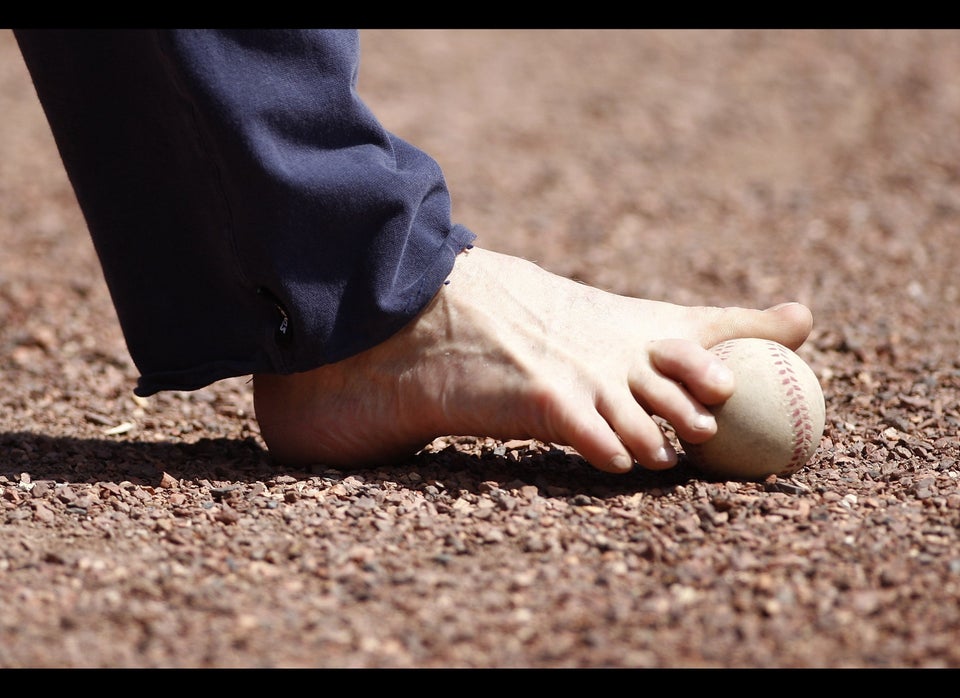 Man With No Arms Throws Out 18 First Pitches
Popular in the Community