Eleven years after -- to the exact minute -- that New York firefighter Stephen Siller lost his life on September 11, his family found reason to celebrate. They handed over the keys to a brand new home to a veteran who lost three limbs in Afghanistan.
On Oct. 23, 2010, Marine Cpl. Juan Dominguez, 28, slipped down an embankment, landed on a buried bomb, and he lost both legs and his right arm in the explosion, CNN reports. After undergoing numerous surgeries and continuous therapy, the husband and father of 9-year-old daughter, Victoria, was granted his independence by two charities in the form of a specially-designed house in Temecula, California.
Dominguez told KTLA that the new smart home, which was donated by the Stephen Siller Tunnel to Towers Foundation and the Gary Sinise Foundation, is a "great opportunity."
Click through the slideshow below to see photos of Marine Cpl. Juan Dominguez and his family. Story continues below.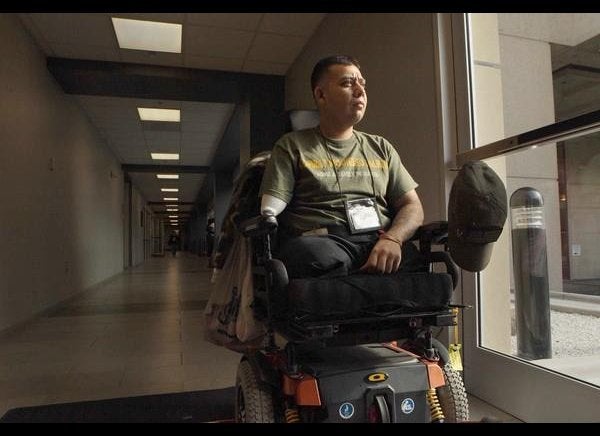 Triple Amputee Vet Gets 'Smart Home'
But the wounded warrior also made sure to take a moment to pay tribute to his fellow servicemen and servicewomen on 9/11.
The Stephen Siller Tunnel Foundation, established in memory of Stephen Siller who heroically died while trying to save others on September 11, aims to preserve the brave firefighter's legacy by offering up acts of kindness to others. Gary Sinise, the actor who played an amputee in "Forrest Gump," started his foundation -- which also contributed to Dominguez's home -- to help defenders, veterans, first responders and their families.
The $600,000 adaptive house will give the injured vet easier access to items in the home and better mobility with its kitchen cabinets and shelves that lower, an elevator, and doors that operate with an iPad, according to CNN. He'll eventually get a pool, which will help with his therapy.