PARIS ― There's a storm brewing over Marine Le Pen's presidential campaign.
For the past two years, the head of the France's far-right National Front party has been widely expected to finish second in this weekend's first round of the French presidential election. That would keep her candidacy alive, but it would make her the underdog in the runoff election on May 7.
This dual role as both a favorite and a loser has greatly informed Le Pen's tactics. With her eyes on winning a majority of votes in the runoff, Le Pen has worked hard to appease voters who might be ill at ease with her far-right party's extreme history and positions.
The problem is, nothing has gone as planned.
Le Pen had always hoped for a rematch against former French presidents Nicolas Sarkozy and François Hollande. But both were eliminated early in the campaign ― Hollande opted not to run for re-election, Sarkozy didn't make it through the primaries. Instead of a face-off with an establishment candidate, Le Pen now finds herself in a pool of four. This group includes Jean-Luc Mélenchon, a self-proclaimed populist who likens himself to U.S. Sen. Bernie Sanders (I-Vt.); François Fillon, the conservative candidate whose campaign has been crippled by an embezzlement scandal; and Emmanuel Macron, a banker and former Socialist party member who served as economy minister for two years under Hollande.
The race has shifted dramatically. While it once looked like Le Pen would take as much as one-third of the vote, she now finds herself in second place, just 3 points ahead of the bottom two contenders, according to a HuffPost France poll count.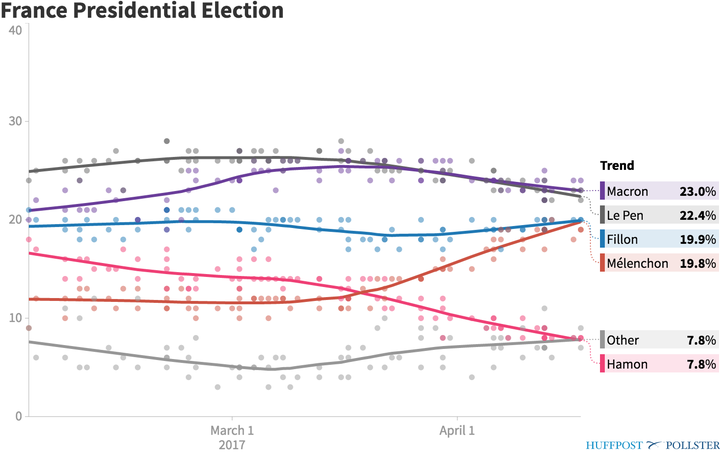 "While she may set a new record for an NF candidate's votes in a presidential election, and even a historic record for the NF in any election, there has been an erosion of her support in the polls," Yves-Marie Cann, director of political studies at Elabe, told HuffPost France. "In February, she was at 28 percent, and now she's at 22 to 23 percent, according to polls, which shows she hasn't been able to create a dynamic around her campaign."
Will Marine Le Pen 2017 be like the Lionel Jospin of 2002, who was eliminated in the general election after neglecting his campaign in the first round? Even if the scenario isn't the most probable for Le Pen, it's now possible.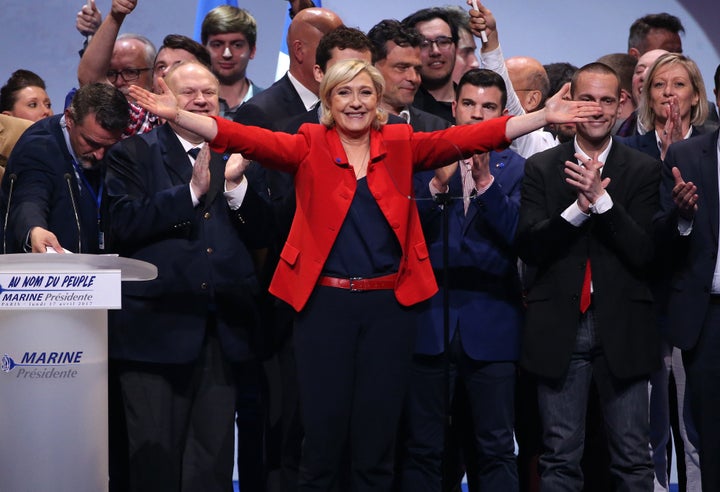 To prevent even bigger losses in the final stretch, Le Pen appears to have shifted tactics in the past 10 days. In order to consolidate her base, she's made a sharp right turn and is doubling down on some of the core tenets of the National Front platform: French identity and the fight against immigration. At a large rally in the city of Marseille on Wednesday evening, Le Pen is expected to reinforce that message. The rally is also expected to mark the first time Le Pen will be flanked by her niece, Marion Maréchal Le Pen, who had previously been marginalized in the campaign and is a poster child for the party's identity before Le Pen softened some of the edges. Le Pen has also recently proposed an immediate moratorium on legal immigration, and the recall of military reservists to enforce France's borders.
At her rallies, too, Le Pen has dropped her cloak of "appeasement" and plunged back into discouraging, provocative speeches likely to remobilize her electoral target. After sparking a major controversy by denying the role of the French state in the Vel d'Hiv roundup earlier this month, the candidate has resumed her winning 2012 formula, linking immigration and terrorism.
"With me, there would not have been a Mohammed Merah," Le Pen said during a recent meeting, referring to the gunman who shot seven people in Toulouse in 2012. "There would not have been any migrant terrorists at the Bataclan or the Stade de France," she added, referring to the November 2015 attack in Paris.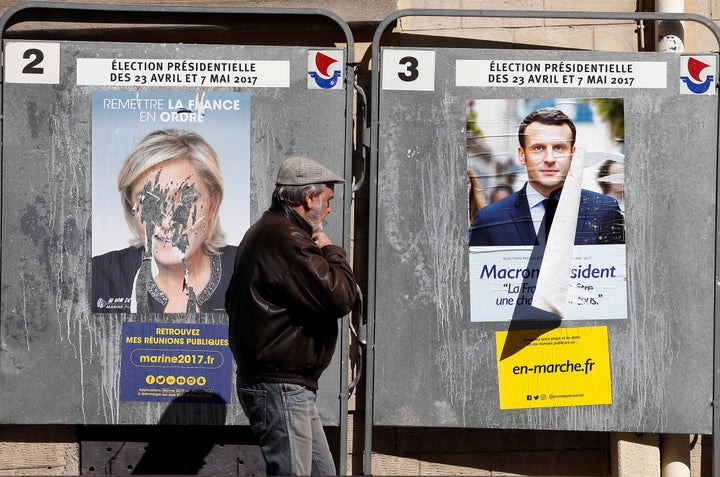 She even mentioned France's colonization of Algeria, again hoping to play on national identity. "Colonization has brought a lot, notably, since we are talking about Algeria ― in Algeria, hospitals, roads, schools ... Even Algerians who are in good faith admit it," Le Pen told BFMTV earlier this month. .
"Her base is very solid and has not decreased, but she hasn't attracted many new voters," pollster Yves-Marie Cann warned. "The voters who picked Nicolas Sarkozy in 2012 for a long time did not express their intentions, but they're starting to do so in favor of not François Fillon. Marine Le Pen isn't getting many of them."
That's a strong warning, given that nearly one-fourth of the French electorate still hasn't decided who to vote for on Sunday.