 LILLE, France, Feb 19 (Reuters) - French far-right leader Marine Le Pen switched her presidential campaign back to immigration on Sunday, accusing Nicolas Sarkozy of bowing to Muslim pressure over how animals are killed for meat, to try to head off his attempts to poach her supporters.
Le Pen had sought to attract voters by shifting from a traditional emphasis on immigration and French identity to leaving the euro and imposing protectionist barriers, to exploit discontent over the debt crisis in Europe and globalisation.
But at a congress of her National Front party in Lille, Le Pen returned to familiar anti-immigration territory, saying she had proof that all meat in Paris was halal - killed by cutting the animal's throat and letting its blood drain out.
"This situation is deception and the government has been fully aware of it for months," Le Pen said. "All the abattoirs of the Paris region have succumbed to the rules of a minority. We have reason to be disgusted."
Le Pen's aides said she would file a legal complaint on the matter. During her closing speech she said the government was bowing down to "Islamic radicals".
The main meat industry association, Interbev, denied the allegation, saying the vast majority of the meat in Paris was not slaughtered under halal practices, but the episode showed Le Pen was trying to win back wavering voters.

Most analysts deem her economic programme as not credible and question the strategy of moving from the party's core message. Criticism of her economic policies has provided an opportunity for Sarkozy to woo far-right voters as he did in 2007 when he ran on a strong security and immigration platform.
"Nicolas Sarkozy is trying to renew 2007 by encroaching on our turf," Nicolas Bay, Le Pen's adviser on immigration issues, told Reuters. "That means we have to go on the offensive as we have no intention of letting him do it again."

Le Pen is third in the opinion polls behind Socialist candidate Francois Hollande and Sarkozy. The first round of the presidential election is on April 22.
At one point in January, Le Pen was snapping at the conservative leader's heels, but a BVA poll on Friday showed Sarkozy had an 11 point lead over her in the first round, although it said Hollande would beat the incumbent in the May 6 runoff.
Since announcing his campaign on Feb. 15, Sarkozy has looked further right to win votes and proposed a referendum on battling illegal immigration, something the far right has championed for several years.
In January, his government trumpeted the deportation of a record number of illegal migrants in 2011, and Sarkozy has set himself the goal of cutting legal migration to France to 150,000 people a year, having cut the quota to 180,000 from 200,000.
Le Pen's National Front, founded 40 years ago by her ex-paratrooper father Jean-Marie, is still fuelled by anti-immigrant rhetoric. Among her ideas for protecting welfare are toughening citizenship requirements, shutting borders and forbidding foreigners from access to any social aid.
She said she was the only viable voice of the nation in the face of Sarkozy and Hollande, who she described as the candidates of "globalisation, immigration and insecurity".
"People of France, give Nicolas Sarkozy a red card! Get him definitively off the pitch," Le Pen said as 2,000 National Front supporters cheered, brandishing red cards and French flags.
Bay said it was important that issues such as the halal meat accusation were made public to show how Muslim values were influencing policy and endangering secular traditions.
Le Pen says that crimes committed by foreigners had risen as the number of immigrants had risen and that immigration costs France as much as 70 billion euros a year. She has pledged to reduce the number of immigrants to 10,000 a year.
"I think in 2007 (Sarkozy) managed to blindside us using our themes because he was able to appear as a new candidate ... and the National Front didn't have the dynamic we have now with Marine Le Pen," Bay said. "But now he has bad track record and we have momentum around Marine so it will be difficult for him." (Additional reporting by Gerard Bon and Patrick Vignal; Editing by Alison Williams)

Related
Before You Go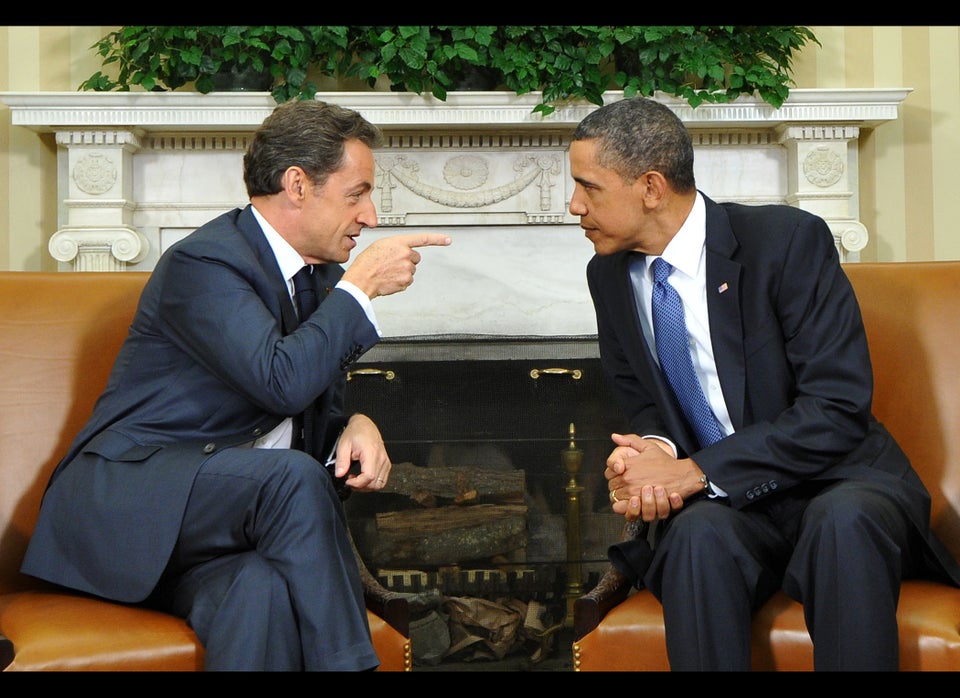 Sarkozy's Public Gaffes(CLONED)
Popular in the Community