French presidential candidate Marine Le Pen and some of her campaign staff were spotted Thursday morning at Trump Tower, prompting speculation that the leader of the hard-line conservative National Front party would be meeting with President-elect Donald Trump.
A Trump spokesman denied that Le Pen would meet with the president-elect or anyone from the transition team, telling reporters that "Trump Tower is open to the public."
An aide to Le Pen said a meeting with Trump "is not on her public agenda," but added, "We don't communicate about private visits.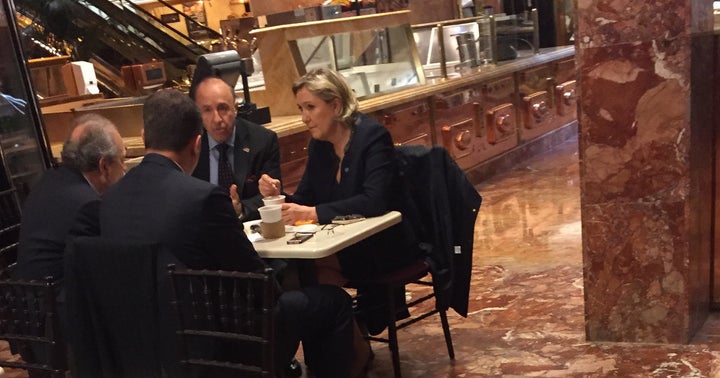 Le Pen is a deeply polarizing figure in France, where she is frequently accused of racism and xenophobia for her nationalist, anti-immigrant policy positions. The daughter of National Front founder Jean-Marie Le Pen, she regularly claims to be "fighting the Islamisation of French society." In a 2010 speech, she likened the presence of Muslims in France to the Nazi occupation.
Le Pen was accompanied to Trump Tower by her partner, George "Guido" Lombardi, a longtime friend of Trump's who lives in the building and was active in the "Citizens for Trump" campaign this fall. Lombardi is also the leader of a group called the North Atlantic League, which espouses anti-Islamic views, and warns that "Judeo-Christian civilization" is under attack from Islam, the media and a "cultural assault."
Like Trump, Le Pen's presidential campaign is built on a populist, nationalist ideal that promises a return to bygone days. Both she and Trump supported Britain's vote to exit the European Union last year, and both are champions of strict border controls to prevent the arrival of undocumented immigrants.
Le Pen has repeatedly said she admires Trump, calling his victory in November "a sign of hope" for hard-line conservative European politicians.
Trump has met several times with another populist European politician, Nigel Farage, the former leader of the U.K. Independence Party.
It was unclear late Thursday morning whether Le Pen would ride the elevator to Trump's offices, or just sit downstairs and drink coffee.
Popular in the Community