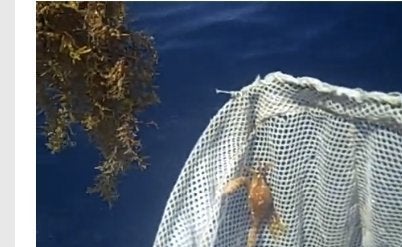 Are you like me? Do you not think much about seaweed unless it gets caught in your bathing suit?
My trip with a National Wildlife Federation team to the BP oil spill changed that. I hitched a ride with a Louisiana fishing boat captain on a 10-hour trip across spill-impacted areas.
Here's how our captain showed me what a critical role sargassum, a surface seaweed, plays in the food chain:
We repeated the process several times, pulling up & releasing crabs, shrimp, fish, even a baby octopus no bigger than a walnut.
So what does seaweed have to do with the BP oil spill? The creatures under the surface -- from shrimp to tiny "bait" fish to mahi mahi -- appear to be mistaking rafts of "dispersed" oil for their natural seaweed habitat:
What will be the short-term & long-term impacts on the species & ecosystems that so many depend on, from the seafood industry to seaside hotel owners to wildlife lovers all across over America? I hate to use a cliche, but unfortunately we'll have to wait & see.
For all the latest news on how the oil spill is impacting the Gulf Coast's wildlife & to learn how you can help, visit NWF.org/oilspill.
Popular in the Community