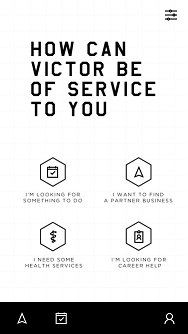 Now veterans and their families have a layer of support -- Greg Jumes, a Marine veteran, and his company Victor Tech are launching their app, "Victor" which looks to connect vets from across the country with local businesses and other transitional support.
In 2010, Jumes realized that the exit process is far less than many imagine. "I walked around the base, got signatures, took one of those skills tests, and then a civilian contractor signed my DD-214 and said, 'Thank you have a good day.' and that was it," said Jumes on his exit from the Marine Corps. "It's all old school methods. If the military isn't going to use technology, Victor Tech will."
Moving back to Wisconsin from San Diego, Jumes quickly realized that he didn't have all of the support he needed. It wasn't like when he visited home on leave. He always had the military to come back to.
The transition, as it is on many, was hard. He had many skills from the military but didn't know how to use them in a different role. The skills test gave him the obvious job titles like a police officer or firefighter, but neither of those was a passion for him. He had to figure out his next steps on his own.
"I don't want people ten years out of the military still talking about being deployed. I want to help them rejoin 93% of America that has never served in the military," said Jumes. "It wasn't until I met another retired servicemember that showed me how to use my military skills in the civilian world." It was that ah-ha moment that helped Jumes realize his passion and Victor Tech was born.
Separating Victor App from competition is the attention the app pays to service members' families. For Jumes, "it's incredibly important for the families of these veterans to have access to the same support as our veterans."
Once fully developed, Jumes has ambitions of launching similar products for non-military transitions, such as graduating high school or college, moving to a new city for a job, and more, but for now he is focused on the military transition because that is what he knows best. He's lived it.
Victor Tech has launched its website and is currently allowing veterans and their families as well as businesses to register. Veterans will be asked for their email address, basic personal information, a resume, and will need to verify service to have access to discounts, deals, and other services. They will also be able to send invitations to their family so they may join as well. Jumes hopes to have the discounts focused on things to do around town like movies, bowling, and other date/family activities.
Veteran-friendly businesses connected to Victor Tech will have the ability to go through service members' resumes to find candidates for openings. As development continues, businesses will have more control of events and other features within the app. As of now, Victor Tech will control the event promotions and over time will push that to the businesses themselves.
While the app is available throughout the country, Jumes has focused on Chicago as the launching point. The growth efforts are first focused on Chicago, followed by other major military areas, with organic growth likely throughout the country. All veterans and businesses are encouraged to join immediately.
___________________________
Landmark Life Coaching's Mission is to honorably and respectfully serve courageous groundbreakers and transitioning veterans to persevere in defining and executing their future by providing an atmosphere of comradery and trust that honors their dedication and commitment. This will empower our clients to feel whole, honored, respected and fulfilled in defining and living their life purpose.
Charlie Mike Podcast is where our Nations Combat Veteranpreneur's talk about how they transformed their combat experience into a groundbreaking entrepreneurial success. We will discuss their experience in relation to what I have defined as their VisualReality; their personal vision of building a successful business leveraging their combat experience to bring the core strengths of a combat veteran into the entrepreneurial realm.
Veterans Coach/Podcaster/Speaker/Writer dwayne.paro@landmarklifecoaching.com
www.landmarklifecoaching.com
www.charliemikepodcast.com
REAL LIFE. REAL NEWS. REAL VOICES.
Help us tell more of the stories that matter from voices that too often remain unheard.
This post was published on the now-closed HuffPost Contributor platform. Contributors control their own work and posted freely to our site. If you need to flag this entry as abusive,
send us an email
.