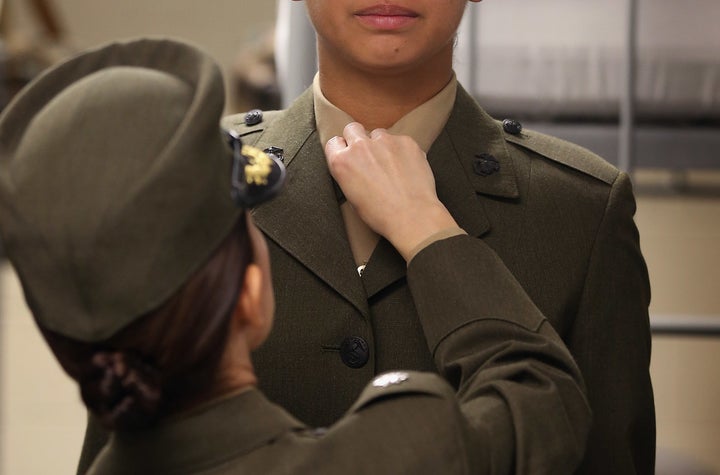 Kate Pimental really, really wants to join the Marines. 
"I love the Marine Corps. I feel like that's where I belong," the 20-year-old from Kennebunk, Maine, told The Huffington Post on Monday. 
She said the recruiters declared her a good fit, physically and mentally. But she still may not be able to join because of a tattoo she received when she was 18 years old. 
Pimental's tattoo, which is on her chest near her neck, reads, "Let your smile change the world but never let the world change you." 
If she were a man, this tattoo would be no problem because the male Marine uniform would conceal it. But the female uniform is different: It would leave Pimental's tattoo exposed, violating the service's rules.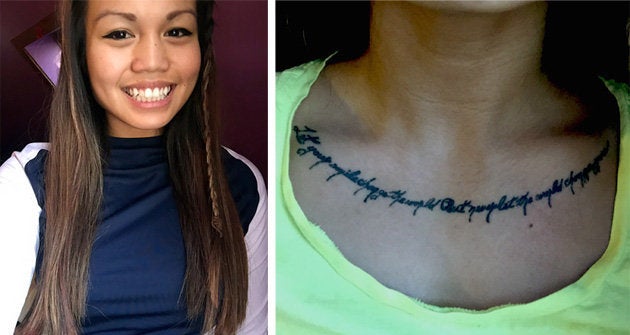 Last week, Rep. Chellie Pingree (D-Maine) wrote to Marine Corps Commandant Gen. Robert Neller, drawing attention to Pimental and the "uniform inconsistency."
"As you well know, male Marines are afforded the opportunity to choose between wearing -- or not wearing -- a white crewneck undershirt with both their Service Uniform 'C' or their Dress Uniform 'D.' The only allowable undershirt for female Marines is a v-neck and is not allowed to be visible," Pingree wrote. "That means a tattoo that would be covered by a male Marine's undershirt could be visible and not covered by a female Marine's v-neck undershirt and the result, I believe, is an unintentional act of discrimination."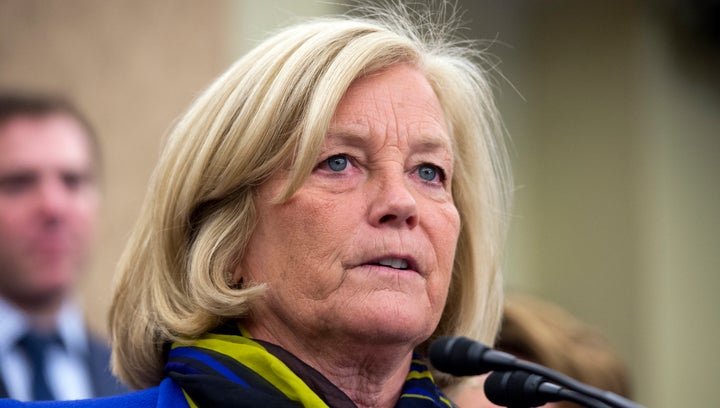 The Marines do give out waivers for tattoos, and Pimental said her recruiter has been working with her on the matter. But they've been waiting about seven months and still haven't heard whether she qualifies. 
"I would like to have it changed," Pimental said of the different rules for women. "That would be nice. I feel like that would be more equal."
About a year ago, the Marines began a review of the service's tattoo policy. 
In an interview with the Marine Times this month, Neller said he hoped the revised guidance would provide more "clarity" for service members and recruits. 
"Marines have to go look at three or four different documents on the policy. We are going to try to get it down to one document. ... We are not going to approve sleeve tattoos. There will be a little flex on what is an acceptable tattoo. My goal is, in less than thirty days, this thing will be out, and it will include specific rules for Marines who want to do special duty assignments or become warrant or commissioned officers," he said. 
The Marines did not return a request for comment on Pingree's letter. 
As for Pimental, this delay hasn't dampened her enthusiasm for joining the Marines. She is still training with the other recruits, an experience she called "fun and intense." 
"It's amazing. This is my happy place," Pimental said. "They're family to me. I want the best for everyone there. I go there to escape."
This piece has been updated with photos of Pimental and her tattoo.
PHOTO GALLERY
Military Women
REAL LIFE. REAL NEWS. REAL VOICES.
Help us tell more of the stories that matter from voices that too often remain unheard.