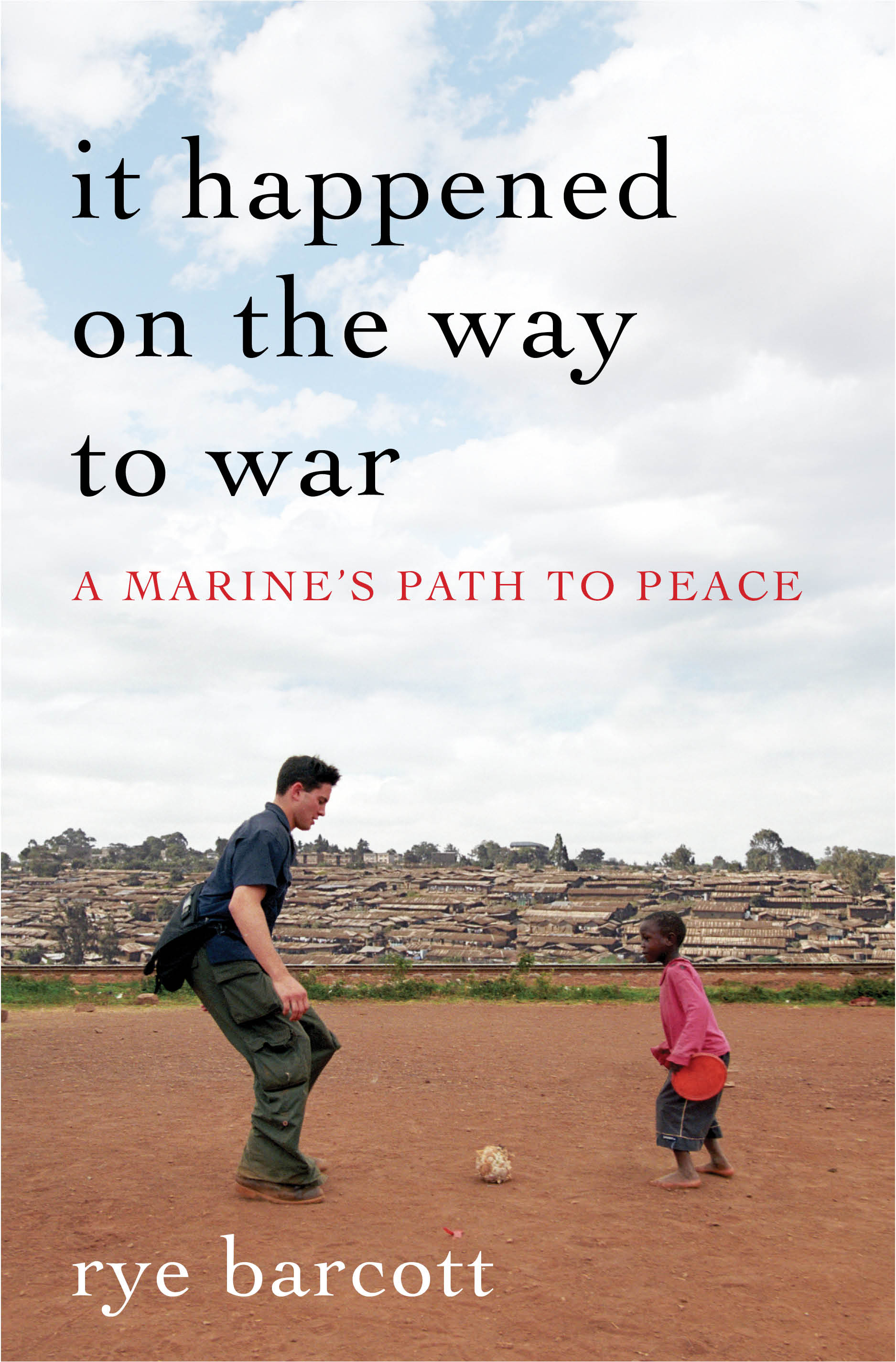 I suspect most people aren't going to buy a book like Rye Barcott's It Happened on the Way to War: A Marine's Path to Peace. (Sorry Rye, that's probably not the high-minded endorsement you wanted.) It's not because this coming-of-age memoir isn't well-written (it is) or lacks inspiration (Barcott kicks us in the pants) or, as it moves from middle-class Rhode Island to the shantytowns of Kenya and into the trenches of Iraq, that it isn't timely, relevant, and critically important (yes, yes and oh boy, yes). Rather, it's because books like Barcott's come with a price that can't be easily discounted. A swipe of the MasterCard and $26 (or $14.44 on Amazon, as of this writing) is just the beginning. You can't finish it and remain prone on the sofa.
It Happened on the Way to War (Bloomsbury, March 2011) requires something more of us. An investment of our minds and time and constructive energy. In return, it promises you a broader and better informed perspective of the world -- its politics, its cultures, its wars, and its indefensible economic divide. They're all related.
Having just finished a speaking tour through some four dozen American cities, Barcott begins his relatively small international tour this week in London. (See international schedule HERE.) He will then finish the summer tour with an author's poetic flourish. That is, in the place where his book begins: Nairobi, Kenya.
Through 340 pages of narrative, Barcott, a 32-year-old former Marine Corps captain and Iraq war vet, encourages (read: forces) us to think in ways that rub against mainstream thinking and western status quo. (What? You thought a Marine was going to lead you down the path of least resistance?) By page 299 we've watched him grow up and fight his way through a gray area that many of us are lucky if we never see. Rye matures from an empathic teenager eager to help the world's poor into a college kid who helps to organize a Nairobi charity (called Carolina for Kibera) and eventually morphs into a Marine captain with an admittedly itchy trigger-finger. We can only sit back and cringe as drill sergeants and war drag him into the moral muck of kill-kill-kill. (For me it was troubling to see how effective military brainwashing is even on kids as bright and politically astute as Barcott.)
In the fall of 2005, Capt. Barcott is in the embattled Iraqi city of Fallujah when he sees in himself the moral casualty of war. "I experienced moments of bloodlust," he confesses on page 299, "the impulse to destroy for destruction's sake."
He had grown up "believing a clear line existed between good and evil," and that people could freely choose to be safely on one side or the other. But, he writes, "my experiences in the Marines and in (the slums of) Kibera suggested to me that a long, wide spectrum lies between these two poles, and that most people are capable of doing evil things, including myself."
It Happened on the Way to War isn't for everyone. For example, if you truly think ignorance is bliss.
But if you care about your children, your grandchildren, and the post-empire, post-superpower global community that our future generations will inherit, invest in Barcott's book. Then invest of yourself.
REAL LIFE. REAL NEWS. REAL VOICES.
Help us tell more of the stories that matter from voices that too often remain unheard.