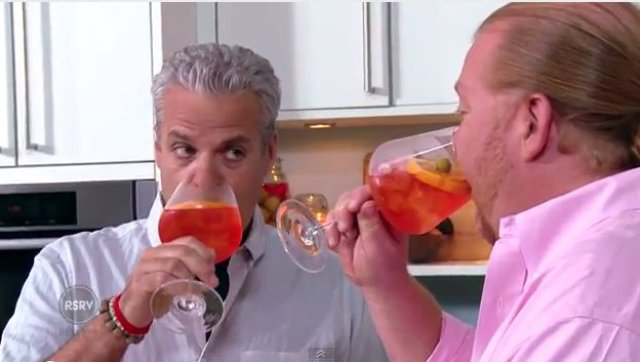 Our sneak peek of the full second episode of Eric Ripert's YouTube Reserve Channel series "On the Table" has arrived, and wow is there some NSFW language in it.
This episode's guest, Mario Batali, literally rode his scooter into the studio to talk about how he got into food. He and Ripert also touch on his philanthropic philosophy and Mario repeatedly calls ex-boss Marco Pierre White "a dickhead." He also tells a particularly mind-blowing story (which we've heard him mention a few times before) about getting a pan of risotto deliberately tossed onto his chest, while under White's employment.
But don't worry! They talk about nice things as well. You'll find out what one of Batali's favorite aperitivos is (because Ripert kindly welcomes him with one) and get the recipe for his Two-Minute Calamari: Sicilian Lifeguard Style. And as a special bonus at the end of the episode, you'll get to see them do what Mario referred to as "The Bro Shake," a foreign custom for Ripert.
We got to sit down with Ripert and Batali just after they filmed this episode, to chat about the experience and otherwise geek out about food.
From food nerds to food nerds, we'd like to know: is there an ingredient that you are stuck on right now?
Ripert: I'm not stuck on anything. I go, and whatever looks beautiful, I buy and bring it home and I cook it. However, I have to say when I am at Le Bernardin five days a week and I go shopping on the weekend for the family, I don't look at the seafood, I look at the meat.
Batali: I'm generally inspired by whatever comes into season. And the earlier in the season it's there, even though it may not be at its best because it's the first wispy bits of ramps, or the first piece of asparagus, I buy it. Any ingredient that comes around that feels good and like we haven't seen it -- like an old friend -- in a long time, that's what I get excited about.
Mario, is the dish you made for this episode the kind of thing you make for yourself when you go home and are exhausted?
Batali: We serve this at a restaurant. It would take a couple of guys to get it together in the two minutes I promise it will actually take. But it's the kind of food I like to eat at home, in that it's simple, it's in one pan, there's no sauce. You make it, you assemble it, and it's done when it's done. There's no trick, there's no timing, no thermometer, not even an oven. It's the kind of food we like to eat at our house.
Ripert: But it's great home food. I mean, it's soul food, actually.
Eric, do you have a favorite late night comfort meal?
Ripert: Late at night, I don't eat. Because I eat all day long at the restaurant. I taste all of the food, and so on. And then when it's time to go home, I'm fed. I'm done. (Long pause.) I can have a scotch.
Batali: His calories are consumed in his glass.
Easy recipe. How do you take it?
Ripert: On one big rock.
Mario, how does filming On the Table differ from your experience on the set of The Chew?
Batali: It's easier. If I mess up, it's [Eric's] fault.
You can check out our coverage of the first episode of "On the Table," with guest Anthony Bourdain here.
REAL LIFE. REAL NEWS. REAL VOICES.
Help us tell more of the stories that matter from voices that too often remain unheard.
BEFORE YOU GO