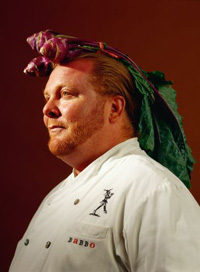 Mario Batali photograph by Melanie Dunea
The restaurant industry accounts for 10% of the U.S. economy. Americans spend approximately forty-eight percent of their food budget on food consumed away from home ($1,078 per person annually), dining at over 945,000 restaurants.¹ The average restaurant produces 50,000 pounds of garbage per year, typically close to 95% of which could be recycled or composted.² The Restaurant industry consumes 1/3 of all energy used by the retail sector (in the US, and the average food service facility uses 300,000 gallons of water per year.
In our restaurants, from the more casual Otto Pizzeria to fine dining at Del Posto, we have addressed some of these issues: we have banned bottled water, we have a full scale recycling and composting program at each of them and all of our chefs have personal relationships with the local farmers. Our steakhouse, Carnevino, in Las Vegas, NV, the city of excess, is located in the largest LEED-certified silver building in the world. In that restaurant we have introduced water saving measures, recycled paper and toilet paper, energy conservation initiatives, recycling and composting -- you name it. And our restaurants are buried deep within a hotel. Where there is a will, we know there is a way:
Consumer Demand for Ways to Fit Quality Meals Into Hectic Schedules Shape Restaurant Trends in 2008, National Restaurant Association survey. 2007.)
U.S. EPA, Municipal Solid Waste Handbook. 1997.

Follow HuffPost Food on Twitter and Facebook!
Related