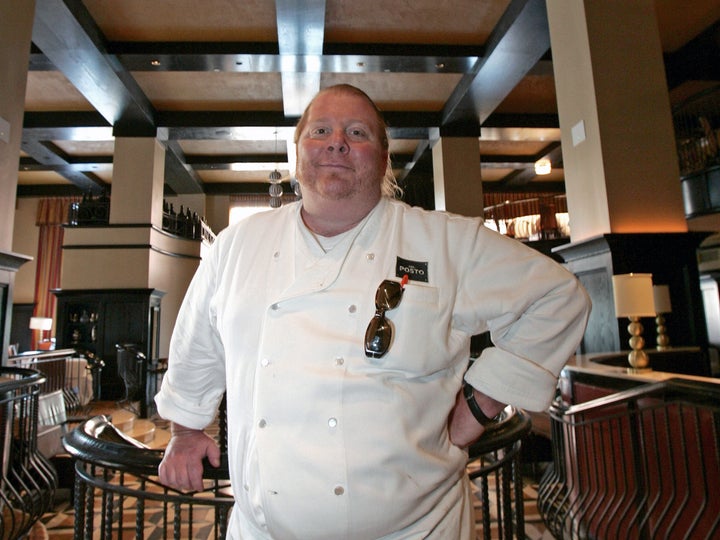 At Recode's Code Commerce, Batali told Recode's Kara Swisher at a panel that raising the minimum wage to $15 is "a fascinating way of looking at raising quality of life," but that "it's not the fastest way of advancing a higher quality of life."
Batali explained that this hike will raise the cost of running restaurants close to 30 percent higher than their operational costs now, which will result in the shuttering of restaurants after their profit margins become even slimmer.
"I know, in San Francisco, a lot of my friends are closing their restaurants because they went from 10 percent margin to 3 percent margin, or from 6 percent margin to 0 percent margin," Batali said.
Another outcome Batali fears will result from a raise in minimum wage is that restaurants will be forced to increase their prices.
"It's gonna happen. It's gonna cost 50 bucks to go to a restaurant pretty soon in America."
Maybe Batali isn't concerned about his waiters because they have been known to make up to $140,000, but not all restaurants provide environments for such lucrative tips. And then there's the back-of-house staff that doesn't get those same benefits.
Batali's stance might not come as a surprise to those of you who are familiar with the law suit he faced in 2012. He was accused of skimming tips from workers and in the end agreed to pay them $5.25 million to settle the allegations. But Batali is actually not the only chef who feels this way.
When Seattle voted to raise its minimum wage to $15 in 2014, celebrity chef Tom Douglas wrote a letter explaining why this was a disastrous move for the restaurant industry. Douglas said, "This price increase is hugely inflationary to the restaurant business and is irresponsible when considering business people who have long-term leases and investments based on prior economic models."
Mirta Gutierrez offers another perspective on the same stance. Gutierrez started as a dishwasher and is now the executive chef at Tortilla Coast in Washington, D.C. She thinks the current restaurant model, low wages and all, works because it gives everyone a chance to learn the skills required to make it in the industry. She penned an article for The Washington Post explaining her stance.
"As a poor immigrant, would a $15 minimum wage have helped me? Absolutely not. No restaurant owner would hire someone without experience, skills or English at such a high wage. I would never have made it to that first rung on the career ladder," Gutierrez wrote.
On the other side of things, Renee Erickson, another Seattle-based chef with many restaurants and awards under her belt, embraced the call for the wage hike and even instituted it at her restaurant group earlier than required. Erikson told NPR, "We're a for-profit company and we all want to make money. I mean, we have to to survive. But we have other concerns that are important to us as well, and that is definitely our employees."
If one restaurant can find a way to make it work, hopefully others will be able to as well.