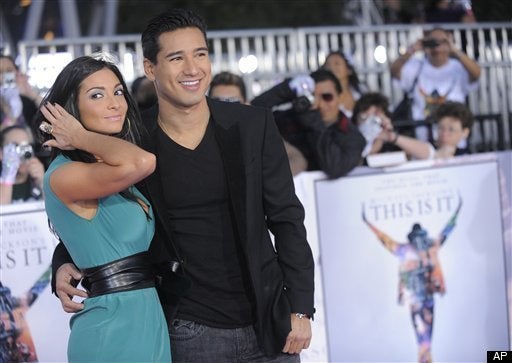 Mario Lopez, formerly of 'Saved by the Bell' and now the host of 'Extra,' is the target of Page Six's lead today.
Lopez is expecting a child with girlfriend Courtney Mazza, and 'sources' tell Page Six that Lopez encouraged Mazza get a daily personal trainer, liposuction and breast implants.
The pair met while appearing on 'A Chorus Line' on Broadway in 2008 and she has moved out to LA for him.

"Courtney was engaged to a guy in Queens before she met Mario, but once they got together she dropped everything to go to California and be with him," the source said. "He encouraged her to work out with a trainer every day. She underwent a boob job and liposuction last spring. Once her body was perfect, he arranged for them to be photographed on a beach."
For pictures of them at the beach in June 2009, go here.
Lopez has previously described his obsession with fitness and once told TV Guide, "I never feel awake unless I'm sweating." He told the magazine he exercises for at least an hour a day, runs, bikes, swims, plays basketball and throws punches three times a week at a boxing gym.
Asked for comment, a rep for Lopez told Page Six, "This is silly. Mario and Courtney are very much in love and focusing on the birth of their first child."
Lopez first marriage, to Doritos girl Ali Landry, lasted two weeks and reportedly broke up because of his infidelities.