For small business owners, turning your passion into profit always comes with risk. But when that passion is something as unique as magic, you better hope you have one heck of a trick up your sleeve.
"Our purpose is to bring joy to kids and inspire kids to create -- without going to a store to buy things," Mario told HuffPost.
But reaching that level of success wasn't easy. Seven years ago Mario and Katie decided to go into magic full-time when they discovered that Mario was making more money moonlighting as a magician on the weekends than he was as a full-time special education aide even though the agency who booked his gigs took around a 75 percent cut.
"It kinda hurt, you know?" said Katie, who was working an administrative job that she "hated" at the time. She suggested they start their own business and it wasn't long before she found herself up till 3:00 a.m. desperately trying to book enough gigs to make ends meet.
"Somehow it just worked and we made our rent that month, and we made the rent the next month and we made our rent the month after that month, and it wasn't always easy but somewhere we figured it out. And it was really exhilarating."
Now the duo, along with filmmaker Kal, are working on their next trick: a full-length documentary. Based on a short film they originally produced to promote the business, the independent documentary will tell the tale of Mario the Magician's years spent hitchhiking the U.S. before returning to New York to start a family and a business as "a wandering traveler turned full-time maker magician." The project just met its $35,000 goal on Kickstarter.
While there's plenty of competition in the New York City area where their business is based, Mario and Katie were able to set themselves apart, not only because they were a husband and wife team, but also thanks to skills Mario learned during his late teens and early twenties traveling the U.S. Living out of just a backpack for years, he now confines his act to the creations he can fit in a suitcase and a side bag. From a robotic monkey sideshow to spinning lapel flowers, Mario builds it all himself, a skill honed on the road that not only has gained him recognition in America's maker movement but also factors into the business's philosophy itself.
The film, Mario says, is a way for them to keep building on what they've already created.
"That's why this movie is so important to us. We've survived and we've made it into a business that can provide for our family. But now what's next?" Mario said. "We needed inspiration. And the outpouring on Kickstarter was kind of like this big omen for us, maybe this is what's next."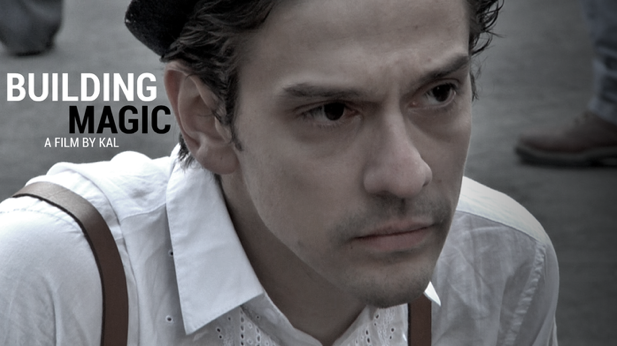 Mario The Magician