To say artist Marion Peck has been busy is an understatement.
She's about to embark on a solo show next week in Paris at Magda Danysz Gallery, entitled "Promenades Magiques." This opens on the heels of another Parisian show, "HEY! modern art & pop culture / ACT III," at Halle Saint Pierre Museum, where she was a headliner, showing work with 63 other internationally acclaimed artists (including her husband, Mark Ryden).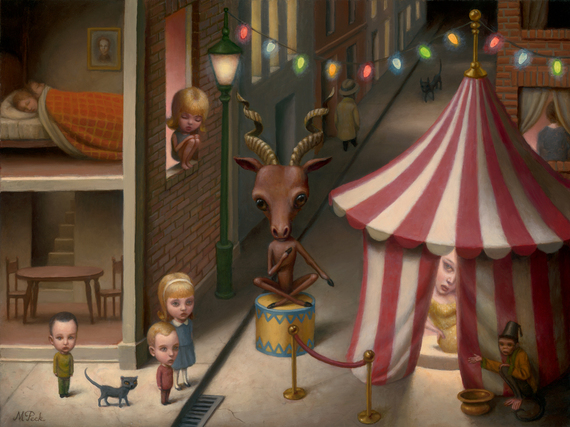 (The Night Fair by Marion Peck. Image courtesy of the artist and Magda Danysz Gallery/Paris)
For "Promenades Magiques," Peck created over over a dozen new works and a half a dozen drawings. "All of the work was made for the show, though a couple of the paintings have already been displayed, like "Isle of Joy" at the Hey! Act III show and "Night Fair" at the Riverside Museum here in California for the Baby Tattooville show," muses the artist. "I've been working on this show since 2014."
Peck is considered to be a major force in Lowbrow art movement (or pop surrealism, as it is frequently referred to), and heralded for her creation of world's colliding - animals can become human, features can become exaggerated, and everyone cohabitates in a fantastical world that can be at once, poignant, celebratory, and solemn. On the eve of leaving L.A. for the City of Lights, I spoke with Peck about her influences, her love of Watteau, and here fascination with days gone by.
Marion Peck: As much as possible, yes. My paintings take me a long time to do, so I have to get into the studio every day so I can and plug away at it. I need a lot of peace and quiet, an almost meditative atmosphere, no interruptions or distractions, which isn't easy to come by all the time. Sometimes I get really frustrated by how slow my progress is, and feel so envious of artists whose work is fast and free-flowing. But that's just not how I'm built, artistically. My paintings take me as long as they take me, which can be a long, long time.
There's a lot of singular portraits here - that hearken back to a time when one didn't necessarily smile for one's portrait. What is it that you find engaging about this era, and can you tell us a little about your subjects here?
Peck: I love the facial expressions in really old photographs when people had to hold still for the camera. It gives them so much more gravitas, which can be so beautiful, especially in portraits of children. It is interesting how before modern photography, when portraits were paintings or drawings, the expression of the face is was one of a particular moment in time, but an amalgamation of many moments. I love that kind of deep, still gaze, and I try to get to that in my paintings.
The series of Animal Lady paintings is just about me being interested in how animal faces and human faces are alike. I wanted to humanize the animals, rather than animalize the humans. I also did a series of drawings for the show I call "Catalogue Ladies." They, in contrast, are smiling. It is interesting how that modern, commercial kind of smile feels different in a drawing or a painting than it does in a photograph.
Who are some of the artists that have influenced you?
Peck: I love Watteau! I love the way he stages his paintings. There is a kind of theater-like compression of the space and the way the figures are placed in it, and then these beautiful, atmospheric glimpses of distant landscape that seem to sparkle with detail until you look at them and see how vaguely they are suggested by the paint.
But he [Watteau] is one of the only really painterly painters near and dear to my heart; in general I am most attracted to the art of the Northern Renaissance, like Van Eyck's Ghent Altarpiece, the portraits of Hans Memling, and the work of Pieter Bruegel. So far as the modern world goes, I am a huge admirer of Neo Rauch, and I also love the work of John Currin, Lisa Yuskovich, and also I really love the work of this guy called Mark Ryden.

Marion Peck: "Promenades Magiques" (March 15-April 23)
Gallerie Magda Danysz, 78, rue Amelot, Paris 11, France
REAL LIFE. REAL NEWS. REAL VOICES.
Help us tell more of the stories that matter from voices that too often remain unheard.