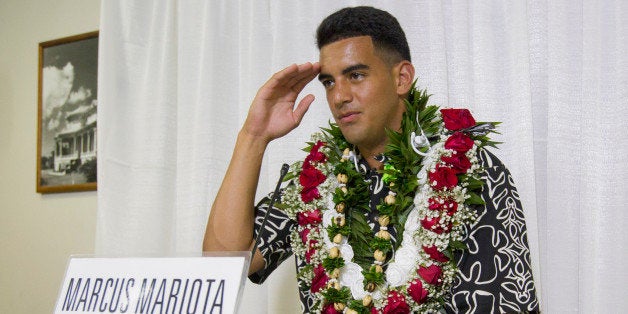 Raise your hand if you've heard any reference made to Marcus Mariota without being some mention of his homeland.
Hold up fingers for each time the former St. Louis School product has failed to mention his birthplace and how much he's proud to be from his island home whenever he's interviewed on national TV (or giving a speech holding a 25-pound bronze trophy) .
You are now holding up a fist.
And if you are from Hawaii, you've also cried watching this video.
Have you ever wondered why that is?
Just like beach barbecues, shave ice and baby luaus, Football is a way of life in Hawaii that is hard for an outsider to understand. Because while local people enjoy themselves a good surf session at dawn or a gilded sunset view from the sandy seashore like most tourists idealize, the game of football invokes a sense of pride unlike anything else. We see it on Friday nights in September when high school stadiums are jammed to the brim, the sound of aluminum struggling to stay bolted to its foundation resonating through the towns. We hear it in "talk story" sessions with aunties and uncles who reminisce about some of the best local players of their generation, with names like Wedemeyer and Yonamine -- some of the earliest players in the NFL -- to Super Bowl champions like Tuinei, Sapolu and Gouveia in more recent times. They are equally proud of men named Te'o, Satele, Alualu and more, who proudly don the league's emblem today and whose roots are firm in the Spirit of Aloha.
Marcus Mariota is the next in line of Hawai'i football greats. But unlike his forebears, he has catapulted his state -- his people -- into a spotlight where the beam shines much brighter. A Heisman Trophy winner and unanimous All-American, Mariota's place in the folklore his firm, his legacy solid. Now the second overall pick in the 2015 NFL Draft, the former Oregon Duck is carrying the Hawaiian flag to uncharted territory. And not to mention he's doing this all from most important position on the field.
The Tennessee Titans want to make him the face of the franchise -- the quarterback of the future -- and that can be a terrifying place. The pressure from the national media and from a pro team's fan base and front office can make even the best question themselves. While we hope for at least some Luck -- Andrew, that is -- or Russell Wilson-type early success, we also dread disasters like JaMarcus Russell and Ryan Leaf.
But this is Marcus Mariota. And there has never been anyone like him. He embodies the island values of humility, passion and living pono -- doing what's right -- that set him apart from the rest. That enough gives his people hope. But his talent is unrivaled as well. He has the speed, intelligence, command and resilience that few others possess. He has all the tools to play his position in the NFL. And he comes from a place where everyone considers him family and where everyone has his back.
So as Marcus takes his first snap, makes his first read, and throws his first touchdown on a Sunday, the stat sheet might stay "Mariota", but the quarterback's heart will say "Hawai'i".
Calling all HuffPost superfans!
Sign up for membership to become a founding member and help shape HuffPost's next chapter