The supermodel, who is pregnant with her second child, posed nude in an empty bathtub to bring awareness to mother orcas who are separated from their calves, which are taken to separate parks and ultimately confined to tanks.
"Being a mom and seeing [the SeaWorld-critical documentary] 'Blackfish,' it was extremely emotional," Miller said. "I think any mother knows the sense of protection and connection you have with your baby."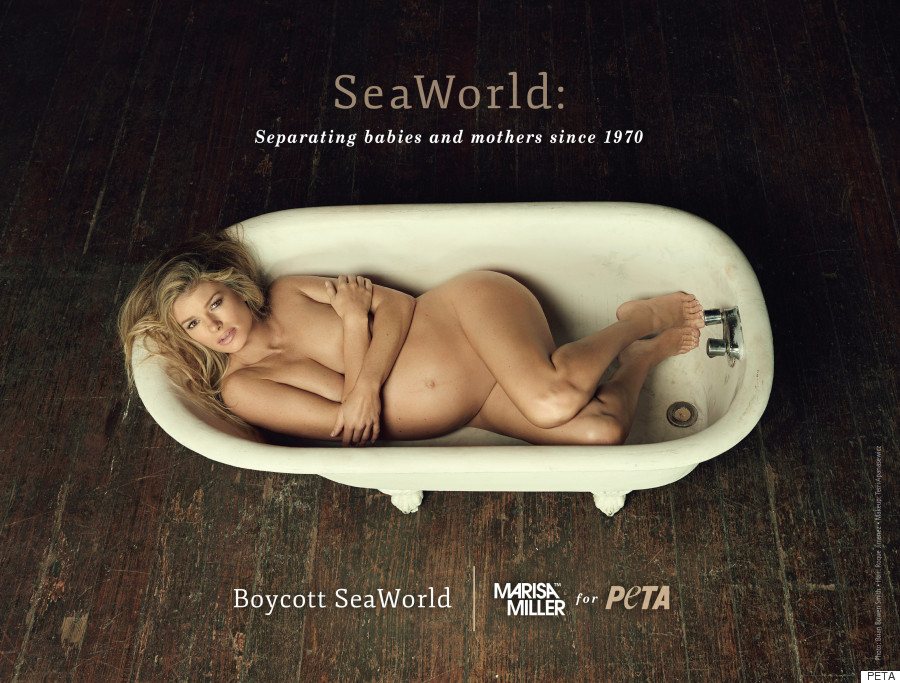 The title on the ad featuring the former Victoria's Secret model and Sports Illustrated Swimsuit Edition cover girl reads, "SeaWorld: Separating Babies and Mothers Since 1970."
John Hargrove, who spent most of his 14-year career as an orca trainer at SeaWorld, opened up earlier this year about this practice and other grievances during an interview with NPR while promoting his book, Beneath the Surface: Killer Whales, SeaWorld, and the Truth Beyond Blackfish.
"As I became higher-ranked, I saw the devastating effects of captivity on these whales and it just really became a moral and ethical issue," he said. "When you first start to see it, you first try to say, 'OK, well, I love these animals; I'm going to take care of them.' ... You think, 'I can change things.' And then all these things, of course, never improve and then you start ... seeing mothers separated from their calves; you start seeing trainers being killed, and then they blame [the trainers] for their own deaths."
SeaWorld responded in a statement to NPR, saying: "We've never moved a calf from a mom. ... A calf is an animal young enough who is still dependent on the mom, still nursing with the mom, and still requires the mom's leadership ... We think they're probably dependent [at] 4 to 5 years. After that, they start to gain their independence."
A SeaWorld spokesperson told HuffPost in an email: "Contrary to what you see in PETA's campaign, SeaWorld understands the importance of keeping killer whale mothers and their dependent calves together. Mothers provide support and nutrition and we do not and would not interfere with that, unless the mother or calf's life was in danger."
Popular in the Community