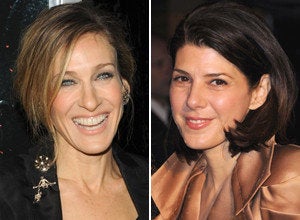 Consider it Carrie Bradshaw, 2.0.
According to Variety (via FirstShowing.net), Jessica Parker and Marisa Tomei are close to signing on to star in the romantic comedy "Married and Cheating." The film follows three unhappy married couples as they try to recapture past happiness.
Indie director Raymond de Felitta will write and direct; he helmed 2009's "City Island," as well as 2005's "The Thing About My Folks" and the 2000 Sundance Award winner, "Two Family House."
Parker, of course, is well known for her work in the troubled relationship genre, having starred in the "Sex and the City" TV series and films. In addition to this new film, she has said that she hopes to do a third SATC film.
"I think there's one more story to tell. I know there is," Parker told the newspaper. "I'd definitely tell that [third] story, and I know Michael [Patrick King, series creator] would do it right. But maybe not now. Maybe in five years, you know?"
Popular in the Community