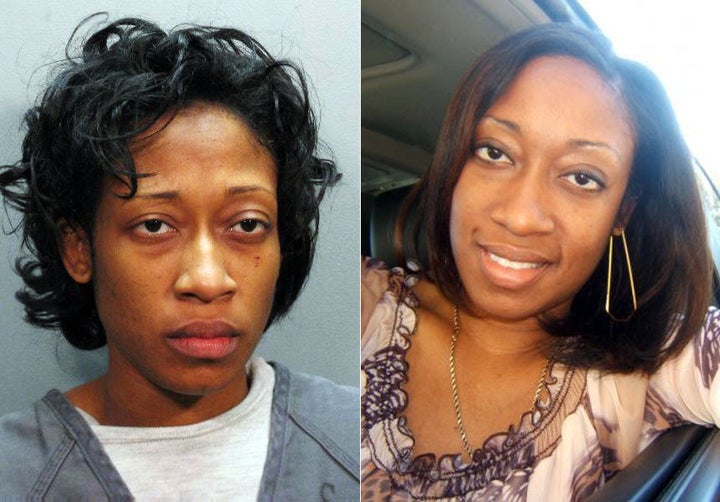 Marissa Alexander , the 31-year-old Florida woman who fired what her family calls a warning shot at her abusive husband, was sentenced Friday morning to 20 years in prison.
Alexander was convicted of three counts of aggravated assault with a deadly weapon for firing into a wall near her husband and his two young children at their Jacksonville home in 2010. Alexander has maintained that she wasn't trying to hurt anyone and that she was standing her ground against a man who had over the course of nearly a year punched and choked her on several different occasions. Alexander says that she believed she was protected that day under the state's Stand Your Ground Law, which gives people wide discretion in using deadly force to defend themselves.
A judge and a jury disagreed.
The State Attorney's Office offered a plea bargain that would have sent Alexander to prison for three years, but she rejected it, hoping to convince a jury that she had been defending herself when she fired the weapon.
Alexander's case has become the latest battleground in a fight against what Alexander's supporters call the misapplication of the Stand Your Ground Law and Florida's mandatory minimum sentencing laws, which offer stiff sentences for crimes involving guns.
According to Florida's 10-20-Life statutes, anyone who pulls a gun during a crime receives a mandatory 10-year sentence. Firing a gun during the commission of a crime equals a mandatory 20-year sentence. Anyone convicted of shooting and killing another person during a crime is sentenced to 25 years to life in prison.
Alexander, who did not have a criminal record before the shooting, was convicted of felony assault with a gun.
"Florida's mandatory 10-20-life gun law forced the Court to impose an arbitrary, unjust and completely inappropriate sentence," said Greg Newburn, Florida project director for Families Against Mandatory Minimums, a group that fights to repeal such laws. "As long as Florida keeps its inflexible gun sentencing laws, we will continue to see cases like Ms. Alexander's."
Alexander, a mother of three, and her family have vowed to keep fighting.
"It's like a nightmare that we can't wake up from," Helen Jenkins, Alexander's mother, told HuffPost shortly after the sentencing. "But we just take it one day at a time. Emotionally we are spent, but every day we start over because we have to fight for Marissa."
Jenkins said the family is currently raising funds to hire another attorney to appeal Alexander's case.
Angela Corey, the state attorney who oversaw the case against Alexander, said that justice was indeed served and that Alexander was angry and reckless, not fearful, on the night of the shooting. Just because no one was harmed in the incident doesn't make the shooting any less a punishable crime, Corey said.
"I feel like when someone fires a loaded gun inside of a home with two children standing in the direction where the bullet was fired, we have to have tough laws that say you don't do that," Corey told HuffPost. "Justice, with the laws of the state of Florida, was served. But I don't believe her supporters will ever believe that."
The Jacksonville courtroom in which Alexander was sentenced was packed with Alexander's family and supporters. At one point, according to news reports, a group of young supporters stood up and sang or chanted, "We who believe in justice will not rest!"
One by one, Alexander's family members addressed the court, including Alexander's mother and father, a sister and a brother who broke down in tears as they talked about their sister and how they believe the system had wronged her.
Alexander's daughter, Havelin, 11, read from a letter she'd written and questioned "how my mom could be beaten but she's the one arrested," according to Lincoln Alexander, the girl's father and Marissa's ex-husband.
"That's the reason why I'm fighting," Lincoln Alexander told Huffpost. "I'm fighting for my kids ... I knew this day was coming and my thoughts were on them. Would they be strong enough?"
If Alexander's future appeals are unsuccessful, and she serves her full 20-year term in prison, her twins will be 31 years old when she is released. Her youngest will be 22.
"Today was another tough day for them," Lincoln Alexander said of his kids. "Once they took Marissa away and we walked out of the court and everything was over, that's when it was toughest."
On Aug. 1, 2010, a fight between Alexander and her husband, Rico Gray, 36, left her cornered in the couple's home. She fled into the garage to escape but was trapped behind a jammed door, she stated in court documents. She said she grabbed the gun she kept in the garage, returned to the house and, when Gray threatened to kill her, fired a single shot to ward him off.
Gray ran out of the house with his two sons and called the police. Alexander was arrested and charged. She unsuccessfully invoked her right to stand her ground in court. Alexander's sentencing comes 435 days after the shooting. It took a jury 12 minutes to find her guilty.
Gray himself admitted in a deposition to abusing "all five of his babies' mamas except one," and to hitting Alexander. Alexander's family and supporters say that Gray's testimony should not be trusted, because he perjured himself by changing his account of events on the night of the shooting between his early depositions and later court hearings -- a claim that was not disputed by Corey, the state attorney.
Alexander's case has drawn comparisons to the case of Trayvon Martin, the unarmed black teenager shot to death in February by a neighborhood watch volunteer who claimed he shot Martin in self-defense. The shooter, George Zimmerman, was initially released after the police said he was within his legal rights to defend himself. He was later arrested and charged with second-degree murder more than 40 days later.
Both the Martin and Alexander cases have stirred controversy around Florida's self-defense and gun laws, but it wasn't until some media pivoted from the Martin case to Alexander's that her name became known outside of Jacksonville.
Her family has set up a website and has appeared on cable news shows and nationally syndicated radio programs to spread the word about the "injustice" that they believe Alexander has suffered.
But in the past week, Angela Corey, the state attorney (who also is prosecuting Zimmerman in the Martin case), has launched a media offensive to combat what she has called "misinformation" being spread by the family about the circumstances of the shooting.
Shortly after the sentencing, Corey echoed comments she made to HuffPost earlier this week, saying that Alexander's own actions on the night of the incident and in the following months have landed her in the position that she is in.
While Alexander's family has portrayed her as a victim at the end of her emotional rope and in fear of her life, Corey says Alexander fired in anger and not in fear. Corey disputes the so-called warning shot into the ceiling with photographs that show bullet holes much lower, going through a kitchen wall and into the living room where Corey said Gray and his boys were.
"The fact that nobody got hurt has to be balanced with the fact that someone could have gotten hurt," Corey said. "The kids being right next to him changed everything."
About four months after Alexander was released on bail, on orders to have no contact with Gray, she got into an altercation with him at his home that gave him a black eye, Corey said. Alexander was arrested and charged with battery, to which she pleaded no contest.
Corey said that Alexander's actions -- engaging with a man of whom she claimed to be deathly afraid, and assaulting him -- "didn't show much of her being remorseful" or "being a peaceful person."
"Everybody is still ignoring that she got out on bond and chose to go back over there and hit him a second time," Corey said. "That was kind of an indication of where putting her on probation, where you might have been able to do that before, was off the table since she disregarded a judges order."
Alexander's family said the second incident took place just days before her newborn would have been dropped off of her insurance, and that she went over to Gray's home to have him sign paperwork that would have kept the baby insured. The family say that he attacked her that night and provided HuffPost with her medical records, which show that she suffered minor scrapes and bruising on her face, hand and arm.
After the altercation, Alexander left Gray's house, and Gray called the police.
On Friday Corey's office provided a police report, photographs and a 911 call that counter Alexander's claims.
In the police report, Gray claimed that Alexander came over to drop off their daughter, and that when he rebuffed Alexander's request to spend the night, she "became enraged and began striking him on the face." Gray said he raised his hands, the report continues, and he yelled out to his sons to call the police. The responding officer wrote that Gray's children corroborated that account.
When the police contacted her an hour or so later, according to the report, she said she didn't understand why they were contacting her and that she had an "alibi." The police noted swelling and a cut under Gray's left eye and no visible injuries on Alexander. But on the way to the jail, Alexander said she felt light-headed and became unresponsive.
An officer then "observed that there was a small cut under the suspect's eye that was not there prior to her being placed in my back seat."
Alexander was rearrested that night and has remained in custody ever since.
Before You Go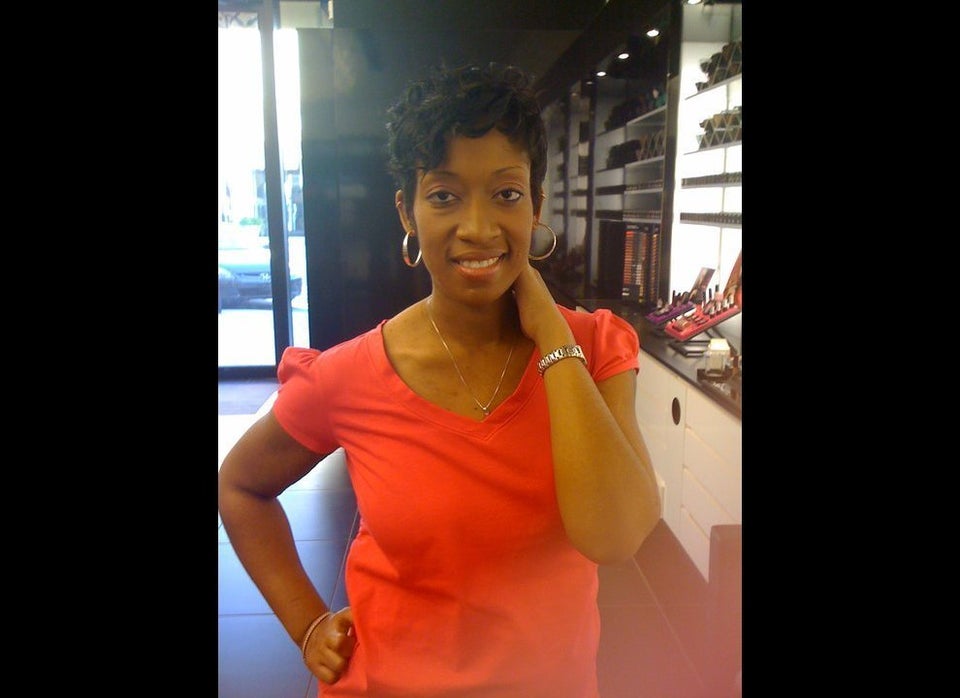 Marissa Alexander
Popular in the Community