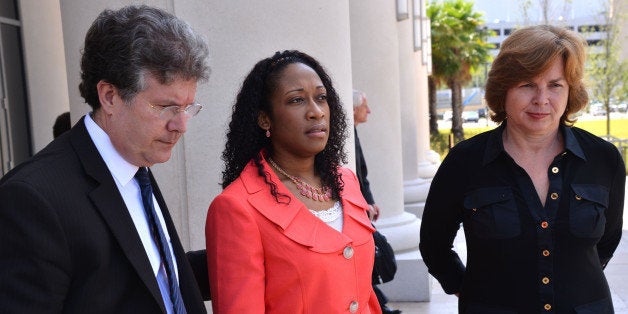 Lives that matter are worthy of protection. They are due that most basic of natural laws, the reflex of self-preservation. Yet, a sad and haunting truth in America is that while all Black life is now and has always been devalued, Black women have faced a distinct reality. Ours is a history grounded in a context of habitual sexual and physical violence (at least one outgrowth of which is the colorism that remains a stain on our psyche to this day). Yet, our collective suffering, in days past as well as in the contemporary context, have been all but erased, hidden from acknowledgement, and sequestered from view.
For centuries, white women have received the benefit of brutal, often undeserved protection. Even a mere gaze was at times, deemed worthy of lethal retribution. Yet as Black women, our femininity has never served the function of shielding us from harm. Instead, we have typically stood alone, habitually saddled with the duty of self-protection only to be later chastised for our strength, ridiculed for our independence, and ultimately criminalized from the sense of self-efficacy that bore out of this solemn responsibility.
What makes the Marissa Alexander case extraordinary isn't just the tragic absurdity of her circumstances. It isn't just the reality that she faced the threat of 60 years of imprisonment merely for firing a warning shot in the direction of her known and documented abuser. It isn't just the reality that after already serving over 1,000 days in prison and over a year on house arrest, that she now undergoes two additional years of open-air confinement, along with the financial responsibility of covering the cost of her continued punishment. And it isn't the lifetime of consequences she will face as a convicted felon, now robbed of her right to vote, and severely restricted in future career possibilities. What makes her case strikingly out of the ordinary is the mere fact that we even know her name at all.
A sad and constant reality in America today, is the shocking prevalence with which violence invades the lives of Black women. As it currently stands, no woman in America is more likely to be assaulted than a Black woman. No woman is more likely to experience the private and personal hell that is domestic violence than a Black woman. And no woman is more likely to be murdered, at the hands of a stranger, or someone she loves and trusts, than a Black woman. In fact, Black women today are killed at fully two and a half times the rate of white women, with at least half of these murders resulting from domestic violence.
Yet, in spite of our increased physical vulnerability, Black women are especially likely to face criminal penalty for coming to our own defense. Although no nationwide analysis has been conducted that illustrate the overall link between domestic violence and incarceration, state-based analyses have shown that in New York state, for example, over two-thirds of women imprisoned for killing a person close to them had been abused by that person. And while New York may or may not be an accurate reflection of the nation overall, Marissa's case has demonstrated that even in a state which proclaims to provide victims of perceived violence with the right tostand their grand, absolving them of the duty to retreat, Marissa, and women that look like her, are much less likely than their white counterparts to actually be afforded that opportunity.
According to a national study of stand-your-ground cases conducted by the Urban Institute, in similar, but lethal cases (situations in which the man involved was actually killed), white women were nearly three times more likely than Black women to be found justified in their actions, and not even charged by prosecutors when using deadly force against a Black man. Although this differential evaporates when the shooting victim is a white male -- yet another nod to the devaluation of black life -- the fact remains, had Marissa been white, she may have never even faced the legal consequences she continues to experience to this very day.
Also consider that had it not been for the mere accident of timing which catapulted her plight onto the national spotlight at nearly the same time in which the nation was enthralled with George Zimmerman's successful use of Stand Your Ground, it is highly unlikely we would have ever come to know Marissa even existed. It took the tragic killing of Trayvon to afford her case the opportunity to pierce the national spotlight at all.
In the context of a Black Lives Matter movement conceptualized and largely spearheaded by Black women, the sad reality is that in practice, the most significant protest movement this nation has seen in half a century has come to be perceived as synonymous with the tragic deaths of exclusively Black men and boys. There is a reason the names of Michael Brown, Eric Garner, John Crawford, Tamir Rice, Jonathon Ferrell, Jordan Davis, Trayvon Martin, and many more roll off our tongues with ease. While the equally tragic deaths of Rekia Boyd, Aiyana Stanley-Jones, Miriam Carey, Yvette Smith, Kathryn Johnston, Tarika Wilson, Shantel Davis, and others, seem foreign to us, go routinely unacknowledged, and remain consistently unspoken.
The relative victory of Marissa is that she is the one who lived. And she lives precisely because she knew her life mattered. Even if no one else believed it to be so.
This post is part of the "28 Black Lives That Matter" series produced by The Huffington Post for Black History Month. Each day in February, this series will shine a spotlight on one African-American individual who made headlines in 2014 -- mostly in circumstances we all wished had not taken place. This series will pay tribute to these individuals and address the underlying circumstances that led to their unfortunate outcomes. To follow the conversation on Twitter, view #28BlackLives -- and to see all the posts as part of our Black History Month coverage, read here.
Popular in the Community