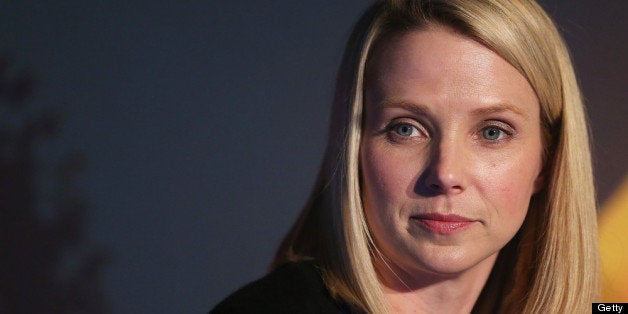 Marissa Mayer took the helm at Yahoo exactly one year ago today. She's been grabbing headlines ever since.
While her appointment has been great for publicity, Yahoo's future is still up for debate. Here's a look at Mayer's first year from three key perspectives: Investors, Yahoo employees and consumers.
Yahoo's stock was $27.34 at Monday's close up 74.6 percent from Mayer's first day.

There has been plenty new and shiny to celebrate. Mayer launched redesigns of Flickr, its weather app and Yahoo Mail that have been well received among the tech crowd. Despite a tendency to overpay for acquisitions, Mayer's purchase of Tumblr gives Yahoo an audience younger than it's had in years.
Yahoo employees, who don't mind seeing their own portfolios balloon from the company's performance on Wall Street, approve of their new boss, too.
Glassdoor, a job search site, found that 84 percent of Yahooers approve of the company's direction under Mayer. Glassdoor's data comes from anonymous reviews from Yahooers left on its site. As the chart below shows, she's so far avoided the pitfall of sagging support that's fallen Yahoo chiefs in the past. That newfound media spotlight (and, again, that stock bump) are paying off for Yahoo's HR department.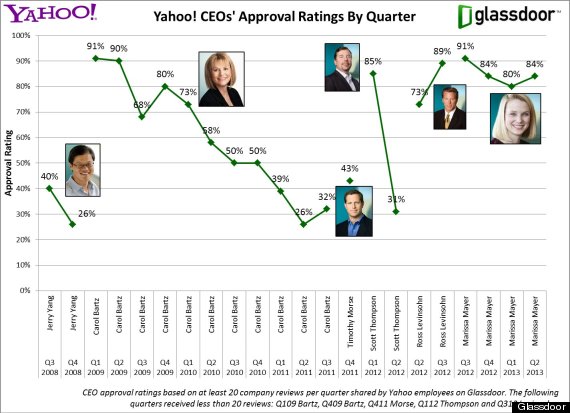 Mayer isn't in Larry Page or Tim Cook territory yet. The CEOs of Google and Apple have approval ratings of 98 and 94 percent. But rating their level of satisfaction from 1 to 5, Yahoo employees gave an average score of 3.7 during Mayer's tenure. Under the last two Yahoo CEOs, Scott Thompson and Carol Bartz, those ratings were 3.4 and 3.2.
But The $30 Billion Question: Do Regular Humans Even Like Yahoo?
But the most important constituency behind Yahoo's possible resurrection -- the human beings who visit Yahoo.com and log into Yahoo Mail -- have yet to play their part.
But overall, Yahoo isn't more liked with Mayer at the helm. YouGov, a polling outfit, asked Americans if they've heard positive or negative things about various tech firms, and public perception of Yahoo has trended down at a faster rate than the average of Bing, MSN, Google and Facebook over the past year.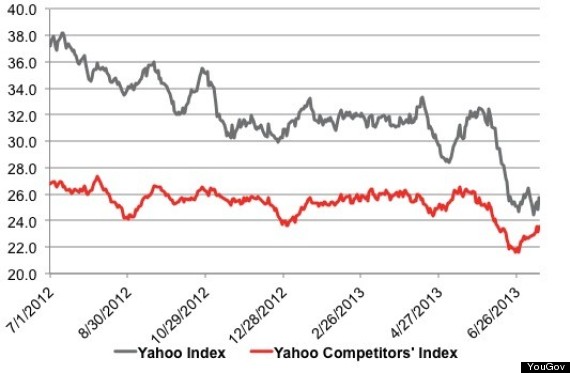 REAL LIFE. REAL NEWS. REAL VOICES.
Help us tell more of the stories that matter from voices that too often remain unheard.
BEFORE YOU GO