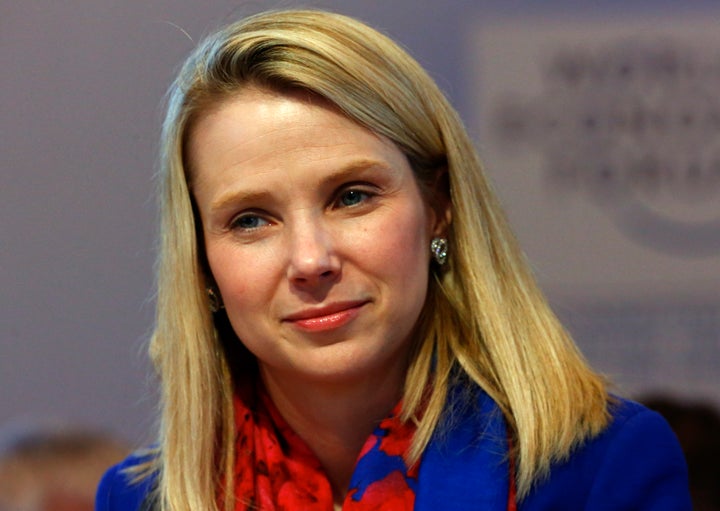 NEW YORK ― If Marissa Mayer ends up leaving Yahoo when Verizon's deal to buy the ailing web giant closes, she could walk away having made $219 million during her four-year tenure as chief executive.
The woman tasked with saving Yahoo raked in $114.7 million in cash and vest shares between 2012, when she joined the company, and 2015, according to a report by Equilar, a firm that tracks data on compensation. Add to that another $4 million in vested stock this year, plus $43.4 million in options she could still purchase.
She also stands to make nearly $57 million in severance if Verizon fires her after the sale is completed.
The embattled boss said Monday she plans to stay at Yahoo now that Verizon bought the 22-year-old Silicon Valley pioneer for $4.8 billion, though it's unclear in what capacity she would remain.
Verizon plans to merge Yahoo's teeming media properties with AOL, which owns The Huffington Post, though the brands will stay separate. Verizon bought AOL last year in hopes of building a mobile media empire.
AOL CEO Tim Armstrong and Mayer were rivals during their early days at Google, and Armstrong is credited with spearheading the deal at Verizon. During an all-hands meeting at AOL's Manhattan headquarters, Armstrong said he has "a lot of respect" for Mayer, whom he has known for over two decades.
"We're not going to drama camp this summer," he said, referring to the reported discord between them. "We're going to work camp."
He said Mayer plans to stay on running Yahoo until the deal closes in six months. After that, it's up to Mayer, he said.
"I'd love to keep Marissa doing what she's doing, but she wants to see the strategy and structure" of the future company before she decides, Armstrong said.
He said he's slated to fly out to Yahoo's headquarters in Sunnyvale, California, to talk to employees, and he hopes to convince them to go from "cautiously excited" to "cautiously optimistic." But it may prove a hard sell.
"If you're a Yahoo employee, it's probably a very disappointing day," Dan Rosensweig, Yahoo's former chief financial officer and the current chief of the education startup Chegg, said Monday morning on CNBC. "It went from being an independent company and independent brand to a remote office in Sunnyvale, California."
Still, some other high-ranking Yahoo employees made out well during the company's final days of flying solo. Martha Nelson, Yahoo's editor-in-chief, earns an eye-popping $5 million per year salary. Katie Couric, the TV news titan hired by Mayer, got a pay raise last year, bumping her up to $10 million annually. Henrique de Castro, the controversial chief operating officer who made $40 million a year, was fired shortly after he was poached to be Mayer's deputy. He walked away with a $58 million severance package.
Popular in the Community