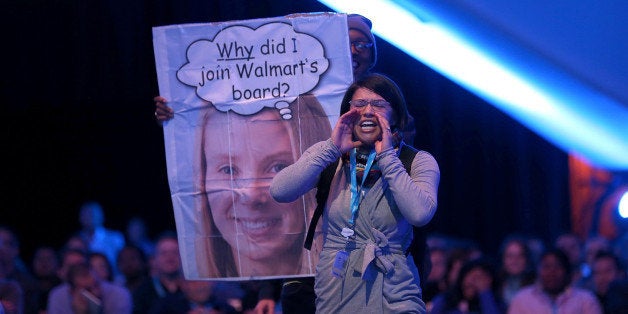 When you're a high-powered executive who makes $6 million per year, perhaps you shouldn't make light of wage-earners' plight.
Yahoo CEO Marissa Mayer, who is on Walmart's board of directors, was interrupted by protestors during a staged interview in San Francisco on Tuesday. As Mayer chatted with Salesforce.com CEO Marc Benioff, a group of women began chanting in protest of Mayer's association with the big-box retailer.
"We don't want any more protests," Benioff said, according to Business Insider. "But if you want to protest, No. 1, you can do it outside. No. 2, it's better to split up when you start. Then when those people get arrested, then a second group stands up. Then a third. I'm just saying."
"That's a design problem right there," said Mayer as the crowd laughed.
The protestors are reportedly part of the Organization United for Respect at Walmart, or OURWalmart, which advocates for better treatment of Walmart employees. Walmart has earned a reputation for paying poorly, providing low-quality health care and preventing unions from being formed.
Though it's not exactly clear what the protesters were yelling, one held up a sign that showed Mayer's face with a thought bubble saying "Why did I join Walmart's board?" The protestors were escorted out of the building after just a minute or two.
Shaky footage of the protest was posted on YouTube, too:
REAL LIFE. REAL NEWS. REAL VOICES.
Help us tell more of the stories that matter from voices that too often remain unheard.
BEFORE YOU GO