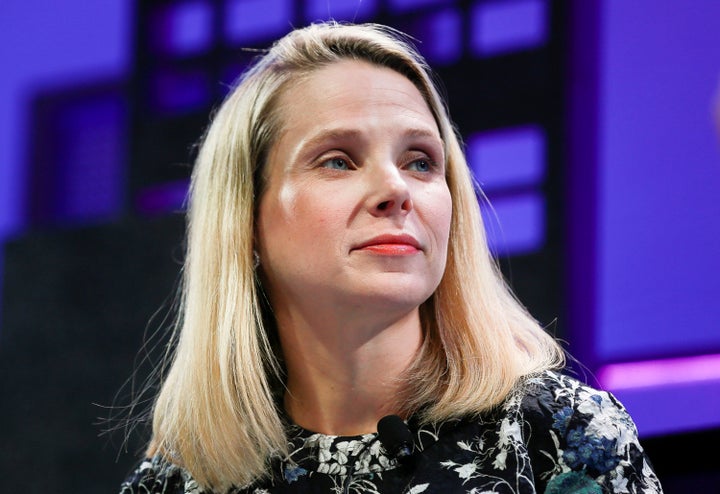 It's time to stop overanalyzing Marissa Mayer.
Since she was hired as Yahoo's CEO in 2012, Mayer has been cited repeatedly as a human data point to illustrate the perils and pitfalls that women face in the tech and business worlds.
This is kind of ridiculous. Mayer, now 41, is an extremely privileged and well-paid woman. She is just one of a handful who made it to the corner office. She is not an everywoman by any definition. Yet even as she prepares to step down as chief executive of Yahoo, she is still standing in for one.
On Monday, Fortune reported that Thomas McInerney, Mayer's replacement at Yahoo, is going to make twice as much as Mayer did. Because McInerney is a guy, many assumed he was making more than his female predecessor because, well, of course.
Not so fast. Yes, McInerney, a member of Yahoo's board of directors and the former CEO of the media company IAC, will be paid $2 million a year to run the pared-down Yahoo (to be called Altaba), according to the offer letter. Mayer was getting $1 million a year.
In addition to salary, McInerney will get up to $2 million annually in a cash bonus, plus somewhere between $6 million and $24 million in long-term compensation, or cash earned over a period of years.
But that's probably never going to be more money than Mayer made. Indeed, when Mayer signed on to Yahoo, the company agreed to pay her $100 million over five years ― though the number wasn't ironclad because of stock fluctuations and performance targets.
As with many CEOs, Mayer's annual cash salary was just a little side dish to accompany a fatty entree of stock compensation.
She may walk away from Yahoo with as much as $23 million in severance, if she doesn't stay on with the Verizon part of the company or if Yahoo officially terminates her role. Even as her tenure drew increasing criticism, Mayer did very well: She made $34.9 million on average a year for her time there, and at her peak in 2014, she pulled in $42.1 million.
As Fortune notes, McInerney has an easier job than Mayer did. Last year Verizon agreed to buy Yahoo's internet content business, which accounted for the bulk of the company. (Verizon also owns The Huffington Post.) So the Yahoo (Altaba) that's left to McInerney consists mostly of stock in Alibaba, the Chinese e-commerce giant, and other investments. He's essentially running an investment fund.
Mayer was hired in 2012 to turn around the slumping internet venture ― a huge task, and perhaps an impossible one. Her tenure was rocky at best, and marked by relentless gendered critiques about her looks, her pregnancy, her mothering skills and a host of other things.
Mayer was also part of a pretty rarefied group. Now that she's leaving her post, there will only be 28 female CEOs at S&P 500 companies.
But those women are doing fine. Really.
In fact, female CEOs at large companies outearn their male peers. In part that's because female leaders are so rare, and companies pay a premium when they find one to hire. The median compensation package earned by a female CEO on the S&P 500 is $13 million.
These women definitely face challenges. The pay gap is most certainly not one of them.
This article has been updated with new information about Mayer's severance and stock compensation.
CORRECTION: A previous version of this article incorrectly said that Mayer was guaranteed $121 million in stock.
Related