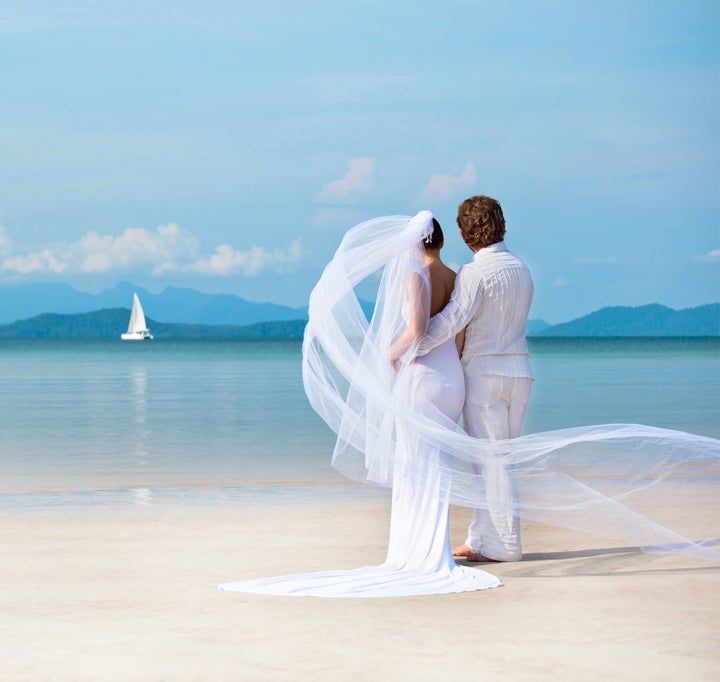 HuffPost DC recently caught up with Payne to talk about the horrors (and the nice parts) of weddings.
The Huffington Post: Let's start with the basics: who are you, where do you live and what do you do for a living?

Marissa Payne: My name is Marissa Payne, 33, I live in Logan Circle. I have two jobs. I work as a fulltime editor for a "new media" company called Scoutmob and also moonlight as a part-time "gallerist" at Geoffrey Diner Gallery.

HuffPost: When did you get engaged? And how did you get engaged? Was it a get down on one knee with a diamond ring-type engagement?
Payne: I got engaged on Dec. 1 in Gettysburg, Pa., after a full day of sightseeing and dinner. I was pretty ready to just go to bed when my boyfriend popped the question, down on one knee and all. It was pretty awesome and even surprising, even though we'd been talking about marriage for several months.
For the ring, we decided to use a ring of my grandmother's because 1) I prefer vintage styles; 2) I have a few ethical problems with the modern diamond industry; 3) I'd rather we put that money toward a dope honeymoon.
HuffPost: You've started a terrifically funny blog about your experiences as an engaged person in the D.C. area. What made you decide to start this blog?
Payne: So, when I got engaged, my plan was basically to just get married. At 33, I'm basically of the mindset, like, why wait? And so I suggested going on a sweet vacation and eloping.
It was actually my fiance's idea to have a wedding. After talking a bit I came around and started agreeing with him that it's kind of a romantic idea to declare your love aloud to all your friends and family. (And yes, I realize I sound like a cheeseball.)
In any case, we decided that even though we were going to go ahead with the wedding, we didn't want to wait the typical year-plus, so we decided to try to put something together by spring. I immediately Googled "weddings" and came across sites like TheKnot and WeddingWire and the more I read on those the more ridiculous the industry seemed to be. It's not just that everything costs so much, but that the taste level is so often so childish-seeming. It's like a four-year-old girl who thinks she's a princess is in charge of this whole industry. It's disheartening, really.
And so I think it was my frustration about the lack of, I don't know, maturity and taste in this industry that led to a single essay, which led to an entire blog. I'm compulsive, I suppose.
HuffPost: What will your wedding be like?
Payne: Save for saying "I do" in front of a group of people, we're pretty much not doing any of the traditional ceremony stuff, not even a cake. The only thing I'm trying to keep traditional is the concept of my fiance not seeing me all gussied up until I'm walking down the aisle. I think that sounds like a fun surprise.
We're looking at about 100 people, the wedding will be laid-back, more like a party. We're hoping to keep it under $25K. (I KNOW.) We're doing a family-style seated dinner with a catered dessert bar.
The food will be local and in-season, kind of on the foodie side of things. We will probably hire a DJ, possibly might have a jazz band for an hour when people first arrive (although we have done zero research about logistics and cost of that). We're doing an open bar with wine, beer and champagne cocktails (the venue, since it's a national park, doesn't allow hard liquor).
The ceremony will be short [and] non-religious, featuring our own vows and also at Glen Echo. The real exciting part is the carousel at Glen Echo, which we'll be renting for the "cocktail hour" between the cermony and dinner. It'll all go down from 6 p.m. till 11ish, then we'll have an after party in D.C.
We've also made the executive decision shell out to hire a professional photographer because, hell, if we're putting on this big ass party, we want it to look cool in pictures.
Another random side note: we're thinking of DIY-ing the invites. I've gotten into stencil making and so I'm working on some unique ideas for that. But that'd be a huge time-suck, so that's still up in the air.
HuffPost: Are you having bridesmaids?
Payne: [O]ne maid of honor and one best man.

HuffPost: You are not, I assume, forcing your maid of honor to wear something terrible?
Payne: The instructions are wear whatever you want as long as it's not a long white dress. Awkward!

HuffPost: What are some of the weirder or more objectionable things you've come across, since you started planning the wedding?
Payne: Bridal dresses. Generally, those are both weird and objectionable. And the whole "bridal shop experience," as well. It's just so twee, again, like a child's tea party, but with thousands of dollars being thrown around.
I think the idea of wedding favors is also pretty ridiculous. I'm not 100 percent against them, I guess in theory, but the execution and now the expectation that you have them is not OK. It's amazing how many people seem to fret about this afterthought on some of these big wedding sites. It's trinkets that people will most likely throw away, unless you're rich as hell and give out iPads or something. Now that's a wedding favor I'd gladly accept.
Oh, and wedding centerpieces also bug me. I've seen pictures of these huge elaborate monstrosities that seem to only make the room look like a child's solar system project. And really, having something that large on your table only serves to block your guests' views and that just seems rude.
HuffPost: So you are eschewing the big white dress and big centerpieces?
Payne: My dress, which I ordered online, is not the typical wedding garment. It's long and whitish, but has a lot of black detail. It's also something that I can wear to non-wedding occasions, as well. I did end up paying about $1,500 (including all alterations) for it, so I want to be able to wear it more than one day.
As for the centerpieces, I'm doing a lot of DIY type stuff, partly because I like art and stuff like that, but also because it's really my only option if I want to keep this soiree true to who my fiance and I are. Which is not four-year-old princesses with unlimited funds.

I'm actually going to scour thrift shops and secondhand stores for vintage-looking vases then throw whatever flowers are on sale that day in them. I think those will double as the wedding favors, as I definitely don't have a need for 10 vases or whatever after the wedding is over. I should add the vases I have in mind are of normal size. Not three feet tall.

HuffPost: In your old blog, The Anti DC, you were pretty critical of fashion and various social customs here in the nation's capital. Are you finding that wedding planning in D.C. is especially odd? Or do you think that the weird parts of the wedding industry transcend geography?
Payne: I know the bridal shops here are all pretty similar, whereas in NYC you have some more non-bridal-y bridal shops. But I think for the most part, I'd guess it's the same everywhere.
From what I've read, the prices here are a little higher than average, but way less than New York, as far as venue rentals, etc., go. But D.C. is lucky in one regard, because I don't know of any other place like Glen Echo Park, which is the venue we chose.

HuffPost: Which part of Glen Echo will you be using?

Payne: The bumper car pavilion. It's a pretty sweet place, plus it basically comes pre-decorated because the ambience is so unique.
So, maybe D.C. is actually easier in some regards because it has more unique choices, as far as venues go. We're close to country estates and barns, five-star hotels, and super unique places like Glen Echo. I've also had great luck finding a good caterer, who gets what we're trying to do. So, yeah, the blog is really nothing D.C.-specific this time.
HuffPost: How are you handling the pressure -- either explicit or not -- to turn your wedding into a big princess party? Or are you finding that there isn't much pressure to do that?

Payne: My fiance and I are lucky, I guess, in that our families have been very hands off, but also super helpful in terms of being there if we need them. We also have a group of friends that would never expect us to do anything remotely princess-like, so we're not feeling any pressure at all from our personal connections.

From the industry side, however, it's a little different. The Internet has been extremely helpful in allowing us to avoid vendors who seem too "wedding-y," which means most everyone we've dealt with in person has been extremely pleasant and easy to work with.
That said, there's this sort of weird non-descript pressure I've been feeling because of the wedding culture this country's developed. For instance, I didn't burst into tears of joy when I tried my dress on. While I logically know I like the dress, etc., a part of me -- the part who's hate-watched a bunch of episodes of "Say Yes to the Dress" -- was like, is something wrong with me? Is something wrong with the dress?
This non-descript cultural pressure also pops up when looking at any sort of wedding checklist (I also had a post on that). It makes you question your decisions. Like, "Oh I need to budget for a 'throw-away bouquet' But I'm not having a throw-away bouquet. Do I need one?" (The answer is always "no," by the way.)

HuffPost: What is a throw-away bouquet?

Payne: I assume it's the bouquet you're supposed to throw out to the single ladies?
HuffPost: They don't get the real bouquet?

Payne: Not in wedding land!

HuffPost: What are you supposed to do with the real bouquet, then?
Payne: You know, that's a good question. I'm assuming the wedding industry has a built-in cost for real bouquet preservation. Probably only, like, $500. If it doesn't, then I smell a business plan!
HuffPost: Are you and your fiance planning to stay in D.C.? And does this mean that you are no longer anti-D.C.?
Payne: The Anti DC was retired last March. For real that time. Either I've changed, D.C.'s changed, or a combo of both, but this city is actually turning into a great place to live.
After throwing money at this wedding, we'll save up again and throw some at some real estate in the District. Perhaps, I'll start "The Anti House."

PHOTO GALLERY
Places To Tie The Knot Nude
REAL LIFE. REAL NEWS. REAL VOICES.
Help us tell more of the stories that matter from voices that too often remain unheard.
BEFORE YOU GO