Marjorie Cameron Parsons Kimmel, known simply as Cameron, was born in 1923 in Belle Plaine, Iowa. Not far into her life, she established the reputation of being a witch.
Perhaps this was due to her electric red hair, her long black fingernails and matching black garb, her predilection for driving around town in a hearse. Or maybe it was due to her ethereal and erotic artworks, conjuring witches, angels and other dark forces that float off the page. Likely, it was a combination of the two.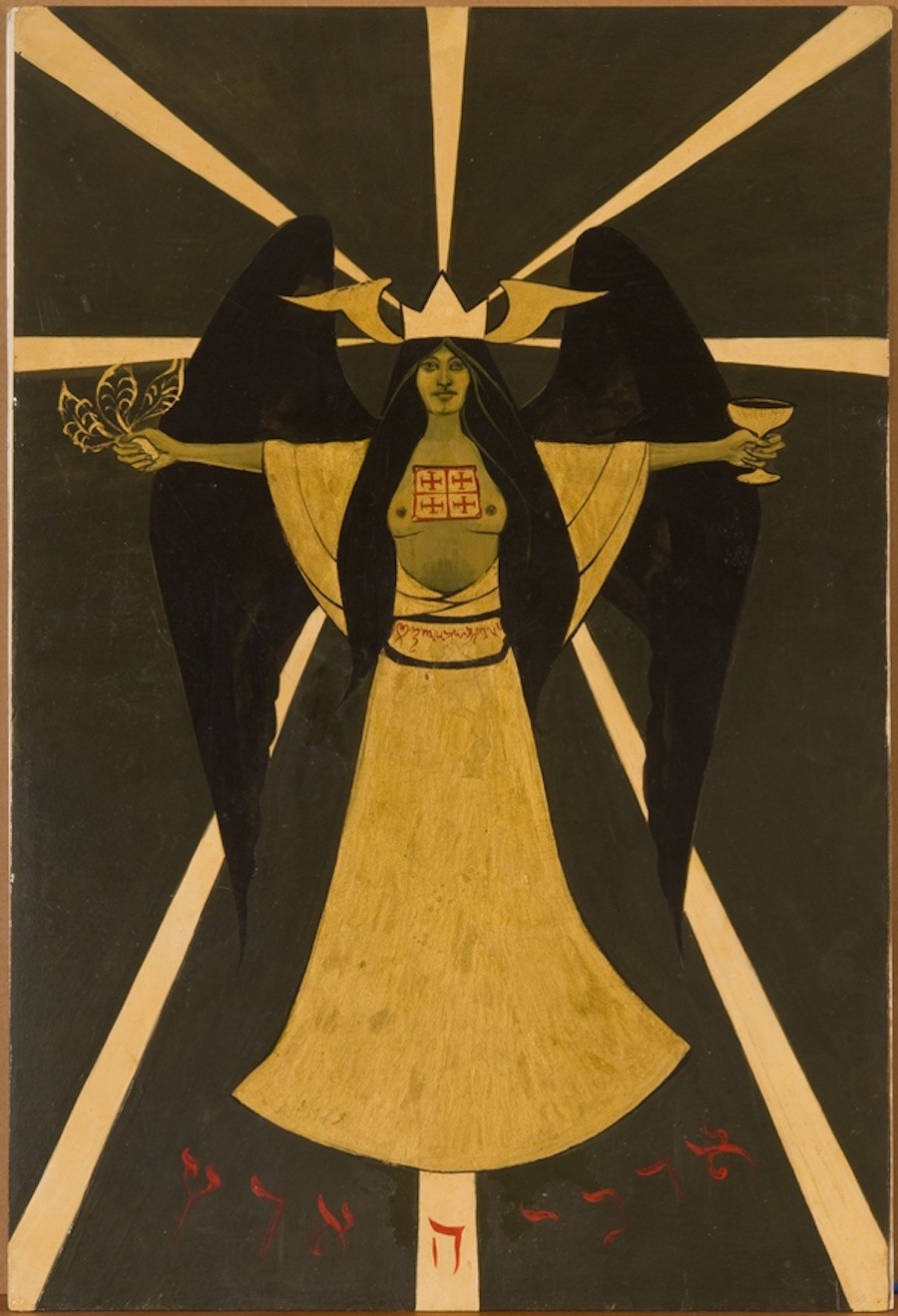 Cameron, Holy Guardian Angel according to Aleister Crowley, 1966. Casein and gold lacquer on board, 29 1⁄2 x 19 1⁄2 inches. Courtesy of the Cameron Parsons Foundation, Santa Monica. Photo Credit: Alan Shaffer
A selection of 91 of Cameron's works are slated to go on view at MOCA Pacific Design Center this fall, exploring the cult figure's influence on the postwar Los Angeles art scene. The exhibition, Cameron's largest survey since 1989, will feature artworks once thought to be lost, including paintings, drawings, sketchbooks and poetry from the full range of her career.
After high school, Marjorie Cameron enrolled in the Women Accepted for Volunteer Emergency Service portion of the Navy, where she worked as a mapmaker and photographer. "Cameron," her military address, became a name that stuck. After her time in the service she moved with her family to Pasadena, California, where her father and brothers began working at the Jet Propulsion Laboratory. This is where Cameron met Jack Parsons, a rocket scientist and occultist -- a follower of Aleister Crowley and friend to L. Ron Hubbard.
Upon seeing Cameron, Parsons, who'd just recently studied Enochian magic along with Hubbard, became convinced she was the "Scarlet Woman" he'd been looking for -- a goddess in human form, a manifestation of sex magick, the incarnation of his ideal love. The two soon married, Parsons introducing Cameron to the secrets and rituals of mystical lore. Their love story ended when Parsons tragically died in 1952, after a freak accident in his garage lab.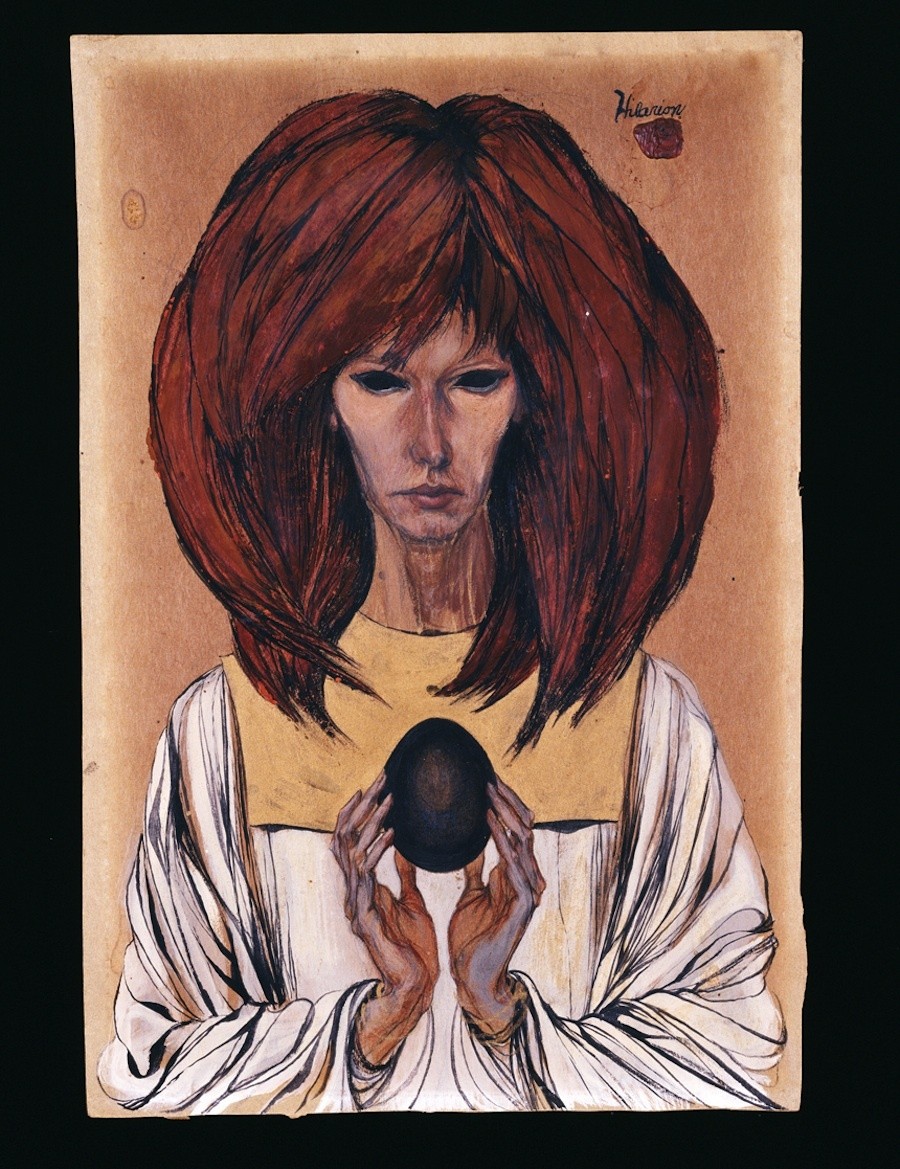 Cameron, Black Egg, n.d., Paint on cardboard, 11 x 8 inches. Courtesy of the Cameron Parsons Foundation, Santa Monica. 
In her artwork, Cameron combined Crowley's occult with the surrealism and symbolism of French poets, yielding dark yet whimsical depictions buzzing with otherworldly power -- think Leonora Carrington meets Kiki Smith. "Her hallucinated vision, at the edge of surrealism and psychedelia embodies an aspect of modernity that deeply doubts and defies cartesian logic at a moment in history when these values have shown their own limitations," explained MOCA Director Philippe Vergne. "Her work demonstrates that the space in the mind is without limit."
Aside from painting and drawing Cameron also made waves as an actress, starring in Kenneth Anger's "Inauguration of the Pleasure Dome" and Curtis Harrington's "Night Tide" alongside Dennis Hopper. After a drawing of hers -- inspired by her first peyote trip -- was dubbed obscene by authorities in 1957, Cameron avoided the gallery scene and even burned a majority of her artworks. Yet she continued to create until her death in 1995, exploring the dark corners of mysticism and the beyond.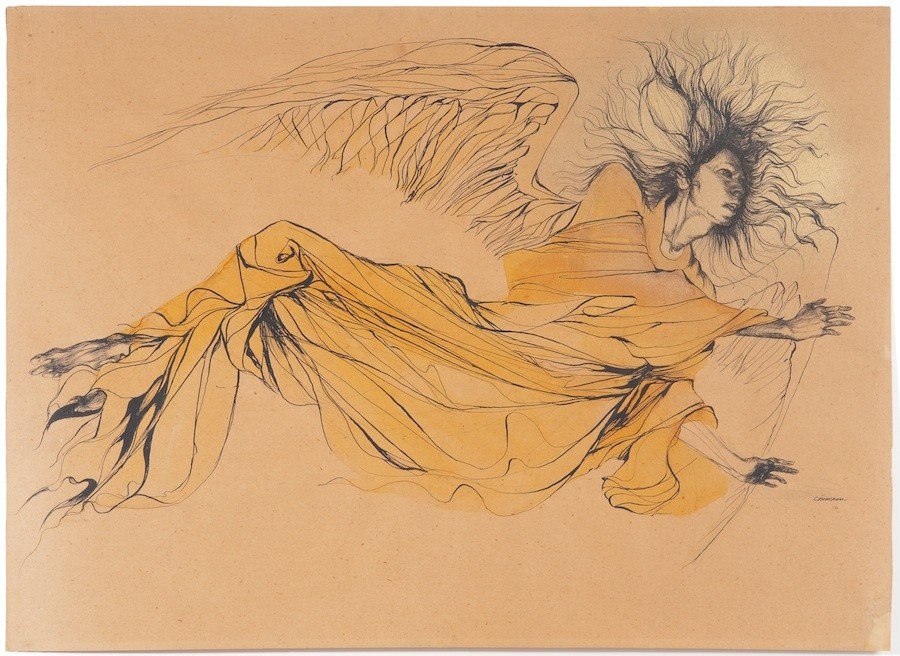 Cameron, East Angel, n.d., Graphite, ink and gold paint on paper, 23 3⁄4 x 36 3⁄4 inches. Courtesy of the Cameron Parsons Foundation, Santa Monica. Photo Credit: Alan Shaffer
Over the past half century Cameron has become a mythic countercultural force in Los Angeles, a place now so often aligned with a certain penchant for paranormal activity. Her fierce personality and enchanting aura continue to haunt the magic-tinged cityscape."Cameron was a true feminist," wrote Scott Hobbs, a friend of the artist. "The loss of her physical 'beauty' was just another phase of her life as a woman. She simply did not care. She scoffed at women who tried to hold on to their youth. I remember her telling a friend who had some 'work' done: 'You can erase the lines but the pain is still there!'"
The exhibition, titled "Songs for the Witch Woman," will feature the recently published book of the same name. The publication, produced by Fulgur Esoterica, features poems by Parsons alongside illustrations by Cameron that, according to MOCA, "echo the intimate themes of their turbulent love story."
We can hardly contain our excitement. "Cameron: Songs for the Witch Woman" will run from October 11, 2014 until January 11, 2015. In the meantime, get a preview below.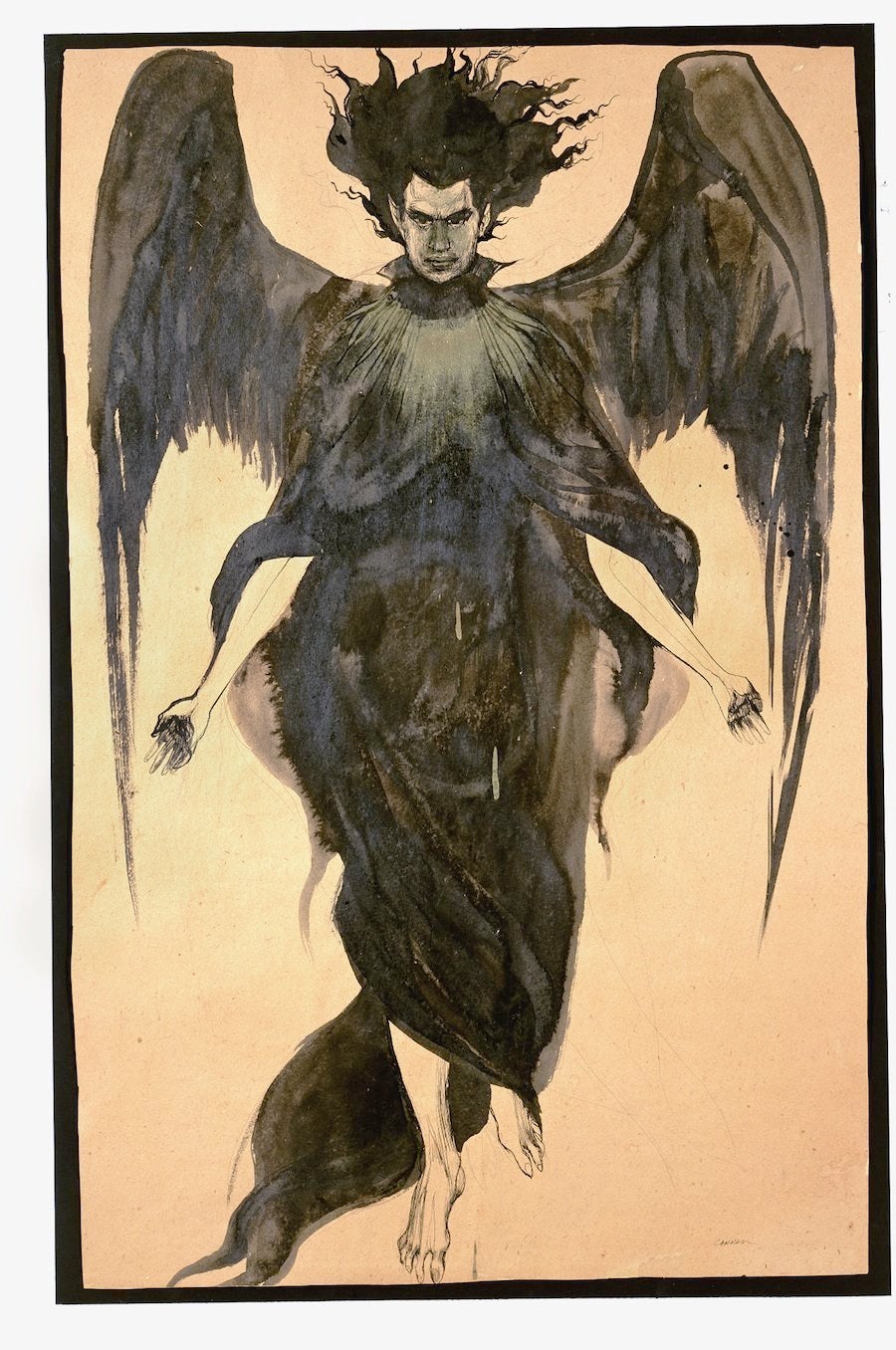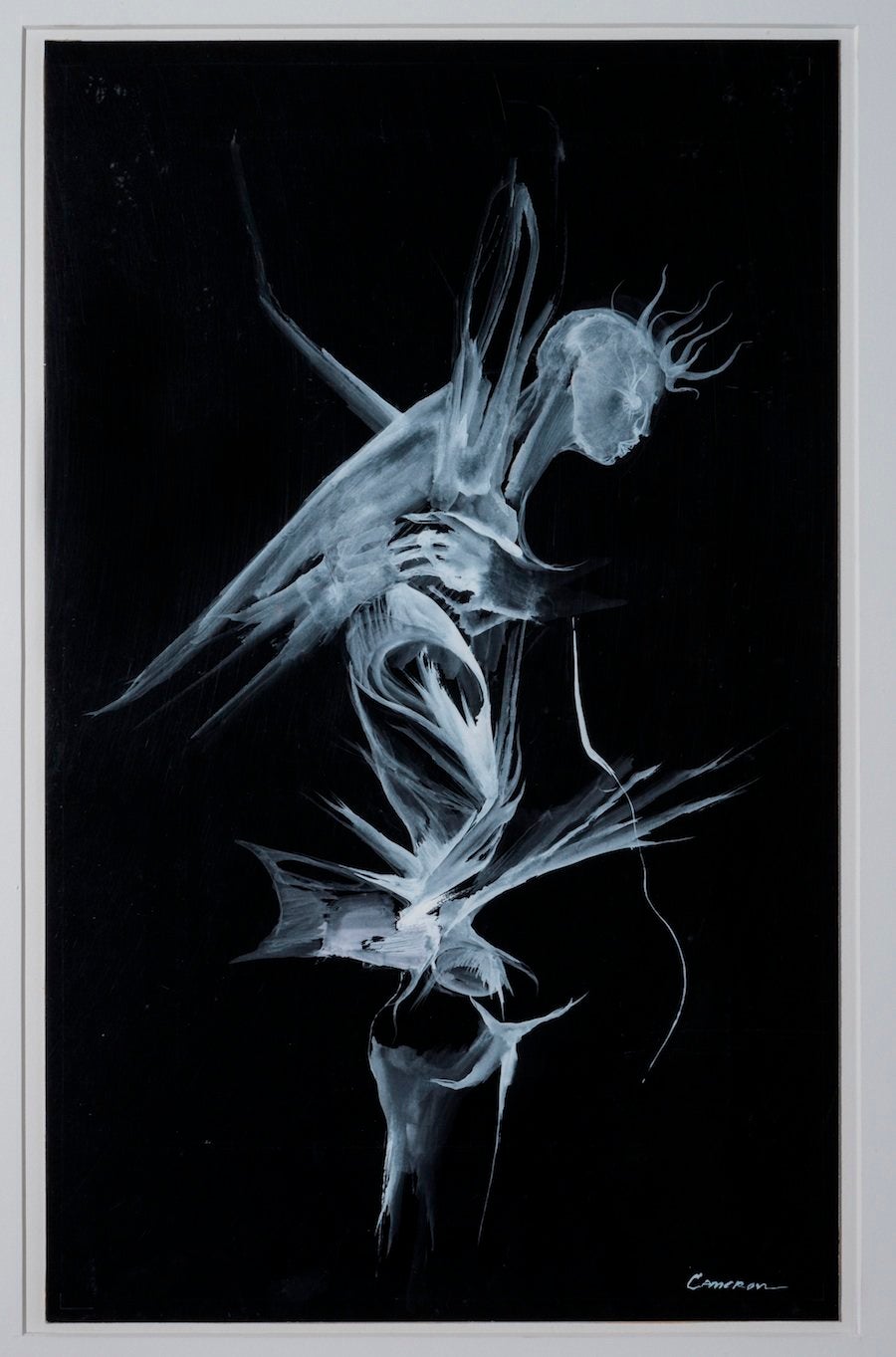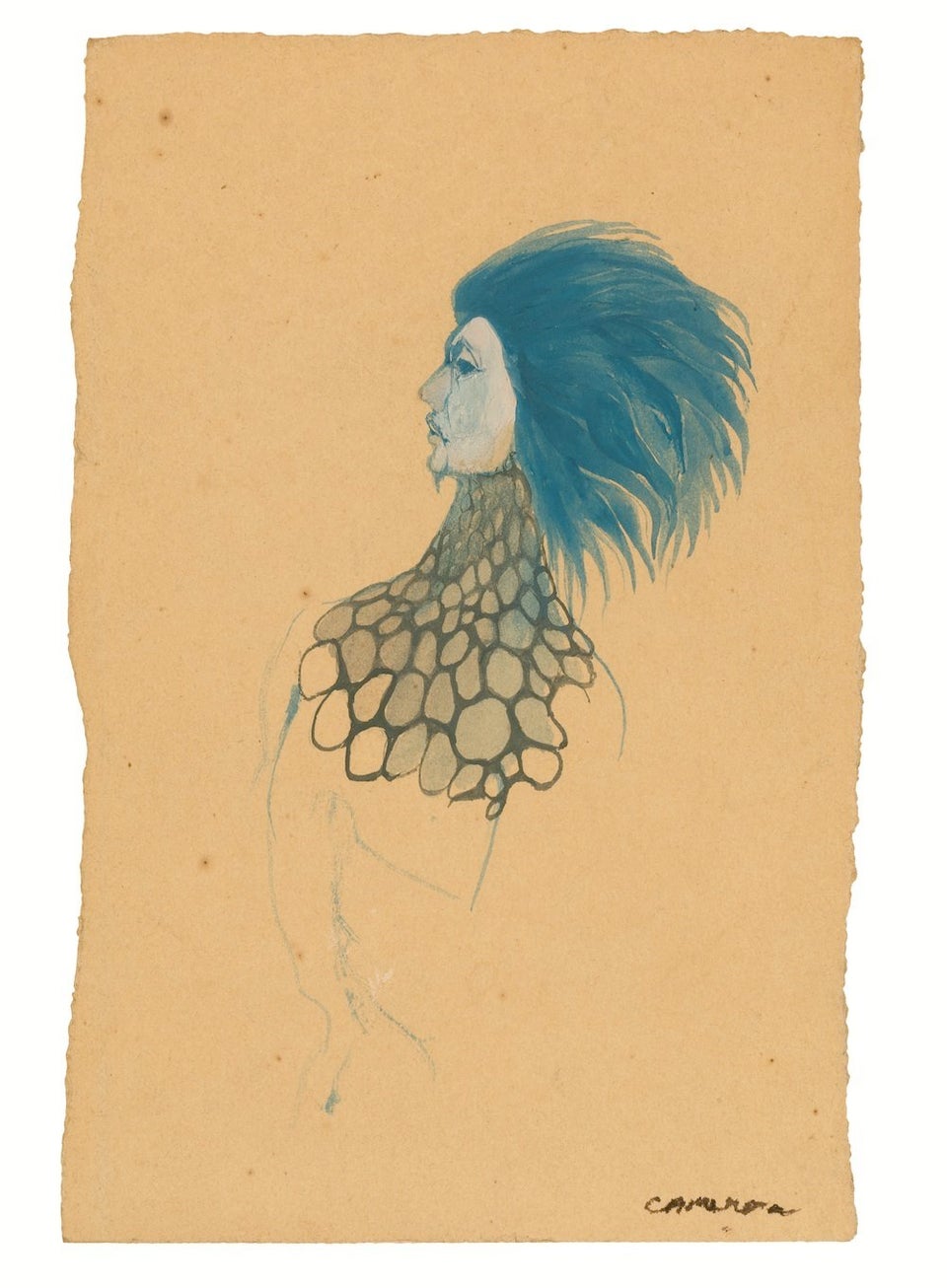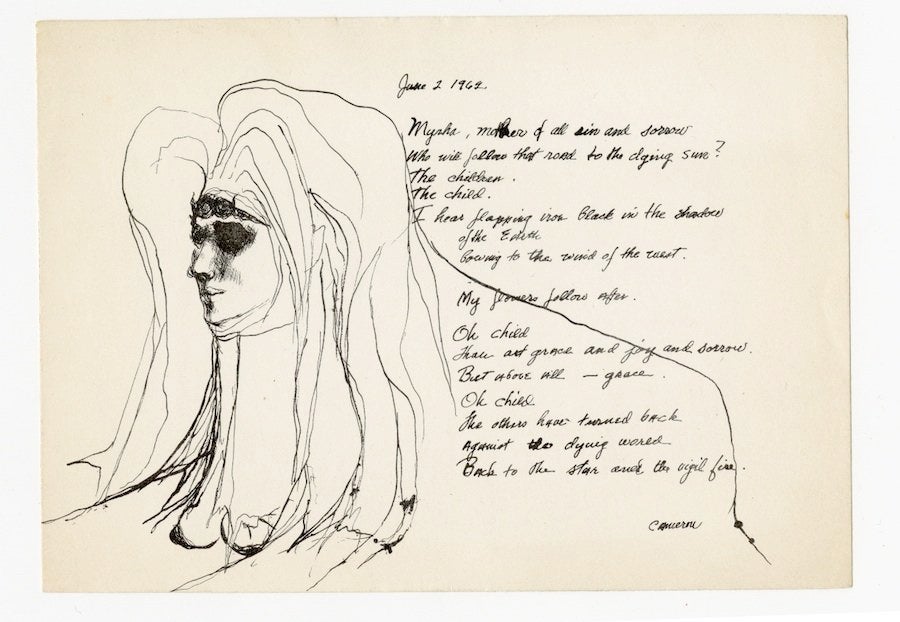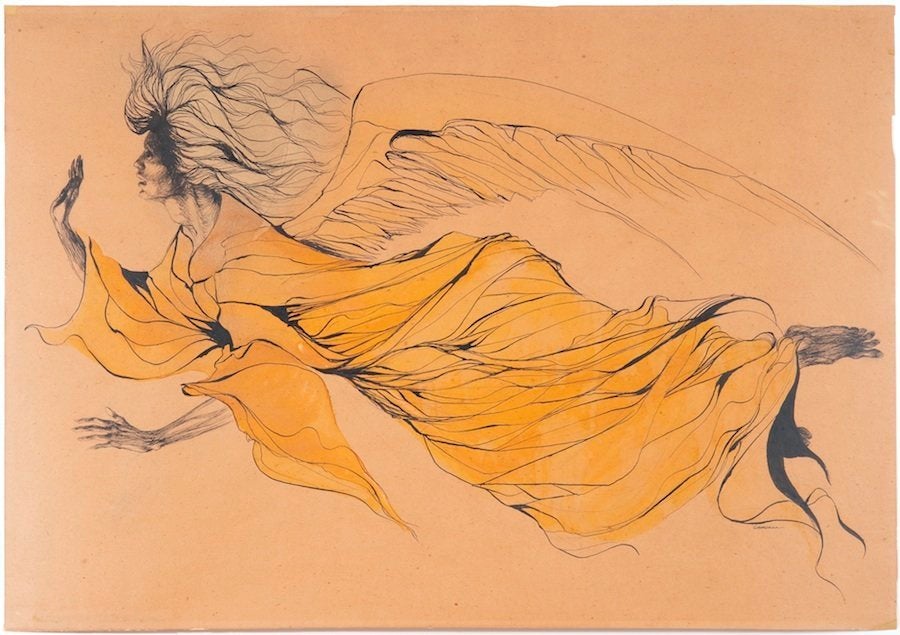 Related
Popular in the Community