Marjorie Margolies was in a tough spot. The year was 2001, and her then-husband, former Democratic Rep. Ed Mezvinsky, had just been indicted for fraud and was bound for prison. Margolies, herself a former congresswoman, filed for bankruptcy protection, but the claim would be rejected. The couple's fortune was liquidated, and her attempt at a political comeback had failed, as she had dropped a bid for the U.S. Senate.
That was then. More than a decade later, her son Marc Mezvinsky would marry presidential daughter Chelsea Clinton, and Margolies would launch another attempt at a comeback. Today, she is the frontrunner in a crowded Democratic primary for her old suburban Philadelphia seat in Congress. The primary will be held May 20, and the winner is assumed to be able to coast to general election victory in the heavily Democratic district.
But for that moment in 2001, Margolies' life was falling apart. So she turned to charity. Her own.
According to documents obtained by The Huffington Post, as Ed Mezvinsky's fraud was exposed, Margolies doubled her own salary as head of a small, largely taxpayer-funded charity into the six figures, attempted to have the charity renovate and lease a mansion in which she would live, billed the charity for her automobile lease and other expenses, and required charity staff to assist with her other responsibilities as a faculty member at a local university.
The Huffington Post earlier reported that over the past several years, Margolies was paid an unusually large salary given the size of her charity, Women's Campaign International, whose revenue in recent years was in the very low millions. In defending that salary in December, WCI noted that the charity's board of directors determines compensation -- not Margolies, who still runs the charity.
That explanation, however, elided one critical detail: For the first three years of WCI's existence, and at a crucial board meeting at which the decision about her salary was made, Margolies was herself the chairman of the board.
On Dec. 9, 2001, Margolies, as chairman, convened a meeting of WCI's board to discuss salary. Previous minutes date her chairmanship to Dec. 7, 1998, the charity's first meeting -- one month after she lost a bid to become Pennsylvania's lieutenant governor. For WCI's first three years, its only board members were Margolies, Fredrica Friedman and her husband, Stephen Friedman. Nonprofit watchdogs consistently warn charities that a husband and wife should not both serve on a board, that they certainly should not make up two-thirds of it, and that the head of the charity should not also be the board's chairman.
Margolies established the nonprofit WCI in 1998 with the goal of helping women get elected to office in foreign countries. She paid herself a relatively modest $1,000-a-week salary to start, but once she knew the nonprofit had landed a $600,000 grant from the Clinton administration's U.S. Agency for International Development, she quickly moved to up her pay.
Per the Dec. 9, 2001, minutes: "The Chairman ... noted that the salaries of certain members of the staff would be increased to a normalized level when the Corporation received certain pending grants. She also explained that her salary, which is currently $1,000 per week, would increase to $114,000 per year at that time, and the Board voted unanimously to approve that salary at that time."
Two months before the meeting at which she boosted her salary, Margolies launched an even more ambitious effort. In October 2001, WCI applied for the right to renovate, expand and lease the Thomas Mansion, the largest historic mansion in the Fairmount Park neighborhood of Philadelphia. The charity's application to the Fairmount Park Historic Preservation Trust, obtained by HuffPost, covers how the $2.5 million renovation project would be financed -- a proposal that included an investment partner who could reap the tax credit and a catering company that would lease some space from the charity. The mansion, the application explained, would house the charity's offices on the second floor and host events.
It also said, "The third floor of the mansion will be refinished as an apartment, planned for the use of the Women's Campaign director or another person who will serve in a 'caretaker' role ... to help protect it from vandals." The director at the time was Margolies, and though she was not named as the designated vandal repeller, she was planning to live in the mansion, according to a former employee. The apartment would be roughly 2,000 square feet.
But the preservation trust rejected the request. A trust spokesperson told HuffPost that the proposal had lacked adequate financing. WCI Executive Director Nancy Wallace told HuffPost that the application "was withdrawn because of neighborhood parking constraints."
Meanwhile, the charity was also leasing a car for Margolies and would continue to do so up until 2006, according to tax documents.
Wallace said the vehicle lease was appropriately noted on tax forms. "WCI records accurately disclosed the vehicle lease for operating expenses for some years and as Margolies' compensation in other years, which reflects how it was used," Wallace said. (It appears as an operating expense through 2006.)
The charity said that using its staff to help with Margolies' teaching duties at the University of Pennsylvania's Fels Institute of Government aligned with the charity's mission. "For fifteen years WCI has been dedicated to empowering women to actively participate in civil society, political leadership and economic development. WCI staff is required to support programs to empower women throughout the world, including the USA," Wallace said. "WCI staff supported FELS' course on 'Empowering Women in Emerging Democracies.'"
Ken Smukler, a Margolies campaign spokesman, defended her work with the charity in a statement to HuffPost.
"Marjorie has been fighting to empower women around the globe ever since she led the U.S. Delegation to the United Nations Fourth World Conference on Women in Beijing in 1995," Smukler wrote. "Since then she has taken this fight to 40 countries -- some of the most dangerous places for women around the globe. She continues this fight today in her campaign for Congress. We are confident that this legacy of courage and leadership will not be tarnished by the skewed conclusions of one ill-informed blogger based on nothing more than a handful of documents now well over a decade old."
The blogger Smukler references is Philadelphia-based Laura Goldman, who tipped off HuffPost to Margolies' excessive WCI pay as documented in tax filings. [UPDATE: Smukler later emailed HuffPost to clarify that the "blogger" he was referencing was Ryan Grim, a co-author of this story.]
Margolies continues to run the charity as its president. She has taken no salary while running for Congress, but her pay had reached as high as $164,000 in 2011. For nonprofits with budgets from $1 million to $2.5 million -- like WCI -- the median compensation for all CEOs is $94,924, according to the most recent data from Guidestar, which tracks nonprofits.
But beyond Margolies' own pay, her charity differs in another significant way from others of its size, said Sandra Miniutti, vice president of the charity evaluation group Charity Navigator. "[It's] unusual to have both a president and an executive director for a charity as small as this," said Miniutti, noting that typically the responsibilities are handled by the same person.
Kerri Kennedy, WCI's former executive director, made between about $78,000 and $100,000 from 2009 to 2011, according to the charity's filings with the Internal Revenue Service.
"WCI is a wonderful organization that helps thousands of women to advance in politics, policy, etc. through leadership trainings and support," Kennedy, who is now with the American Friends Service Committee, told HuffPost. "My time there was transformative [for me and our program participants] as we worked together to increase the voices of women in post-conflict and fragile states. It is powerful and necessary work, and it would be a shame if it was tarnished."
Former President Bill Clinton is scheduled to raise funds for Margolies in Philadelphia on April 10. Watchers of the congressional race have long speculated that a Clinton push could make the difference. Margolies is facing off against progressive state Sen. Daylin Leach, physician Valerie Arkoosh and state Rep. Brendan Boyle in the Democratic primary.
Back in 1993 and 1994, Margolies served one term representing the suburban Philadelphia district. She famously flipped her vote to back President Clinton's budget, a move largely credited with costing her reelection in the upscale district, which frowned on the tax hikes in the deal. Her campaign this year is based largely on that vote, arguing that it showed true courage and kickstarted years of economic growth.
UPDATE: March 31 -- Margolies campaign spokesman Ken Smukler responded to the HuffPost article:
It is striking that in a story that levels so many wild accusations, there is not one expert cited to substantiate them and that out of the literally thousands of board members, employees, contractors, interns, volunteers, university staff, NGO staffs, State Department employees, auditors, and foundation reviewers, Grim could not find one to go on the record to substantiate any of these claims save for a disgruntled former employee.
CORRECTIONS: A previous version of this story said that Marjorie Margolies dropped campaigns for both the House and the Senate in the 2000 electoral cycle. In fact, she did not run for the House then. In addition, the story had said that both her charity and her campaign defended Margolies' WCI salary as a decision by the board. The campaign did not make that point, but referred all compensation questions to the charity.
UPDATE: April 5 -- Although her campaign earlier protested to The Huffington Post that it had not defended her WCI salary in part by citing the charity board's role in setting pay, Marjorie Margolies has since made that very defense to The Philadelphia Inquirer.
Before You Go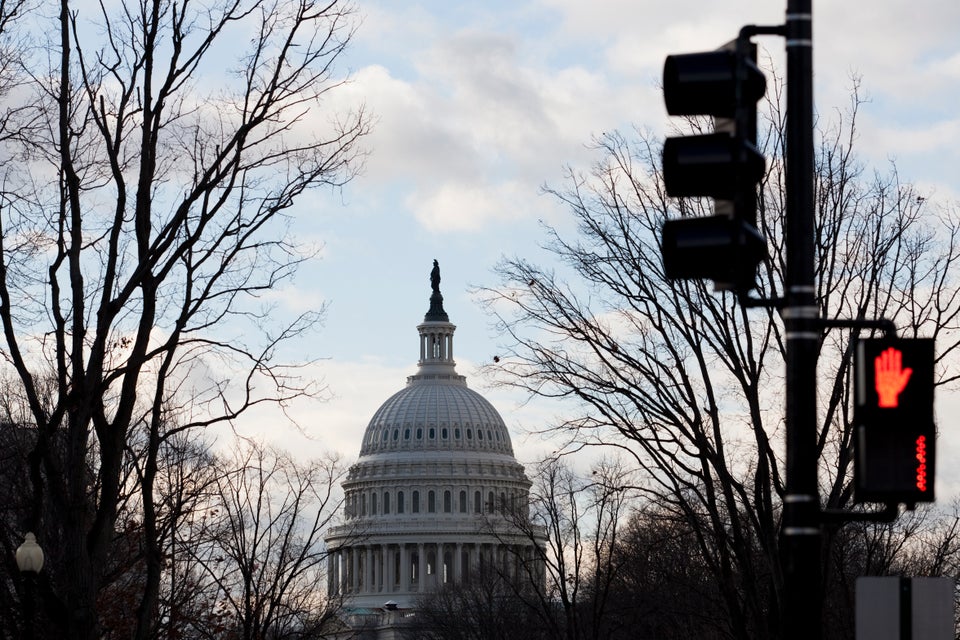 113th Congress Facts
Popular in the Community