The Georgia politician told conservatives to ignore the news and trust in God's plan while appearing on the far-right cable network Real America's Voice to talk about the former president's latest legal challenges.
"It is worrisome about what's going to happen in our future, but I always have hope," Greene said during an interview on "Human Events with Jack Posobiec."
"It's important that we put full faith and hope in God and not anything that we see in the headlines and not anything that we see happening in the news," she went on.
"Our real hope needs to be in God. And Jesus Christ is my savior," Greene said. "And I know he is yours as well. And God has plans much bigger than this."
She then turned her focus toward Trump followers, telling Posobiec, "I believe in the American people also, Jack. I believe their power is much bigger than mine. I'm only one member of Congress. But the American people, when they really feel like they want to make a difference, I really believe they can."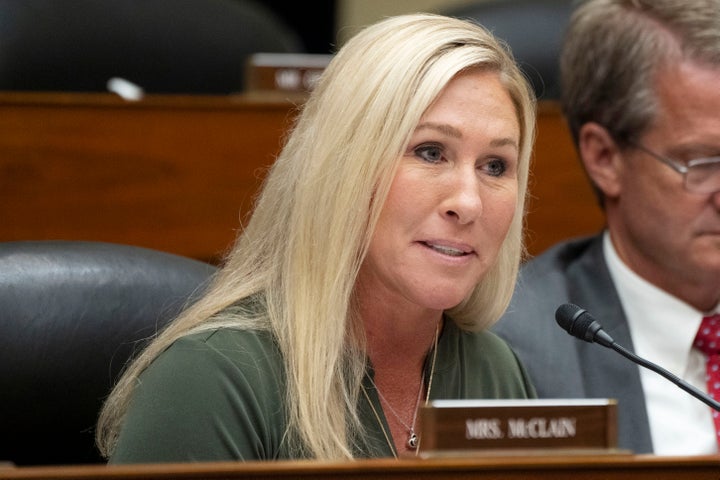 Earlier in the interview Greene talked about her plan to "defund Jack Smith's special counsel" with the support of Rep. Matt Gaetz (R-Fla.).
Smith has been at the helm two separate investigations of Trump by the U.S. Department of Justice, investigations which Republicans claim are politically motivated.
In June, Trump was indicted on 37 charges in a case accusing him of the mishandling of government documents. Last week, Smith filed a superseding indictment, adding three more charges to Trump's case.
Trump's legal woes grew yesterday when Smith filed charges in a separate case in Washington, D.C. He is accused of efforts to overturn the 2020 presidential election and inciting the Jan. 6, 2021, attack on the U.S. Capitol.
Greene aimed her anger at the FBI, telling Posobiec she refused to "fund a weaponized government."
"I will not vote to fund the FBI's new headquarters," she declared. "I refuse to do that. I will not vote to fund a weaponized government in any form in the FBI and Department of Justice."
"That's the only power that we as Republicans have right now to make a difference," Greene went on. "I gotta tell you, we don't have a lot of people with us."
Greene announced her plan to defund Smith's office in a June tweet, where she said, "I hope every one of my Republican colleagues will join me."
Only Gaetz and Rep. Andy Biggs (R-Ariz.) appear to have publicly co-signed her efforts thus far.
Support HuffPost
The Stakes Have Never Been Higher
Popular in the Community