The Republican lawmaker said Thursday that she is "drafting a Declaration of War against the Mexican cartels," even though the last formal declaration of war by Congress occurred during World War II.
Greene espoused her dubious strategy to Charlie Kirk, the far-right founder of the conservative student group Turning Point USA. She said on his podcast that she "would like to get Washington to realize who our real enemy is."
She added: "So, I am currently drafting a declaration of war against the Mexican cartels."
Greene claimed she wasn't targeting the Mexican government or people before calling a recent influx of migrants — many of them asylum-seekers — an "invasion." She then declared: "Our country is under attack."
Her conflation of cartel members with migrants spurred strong social media backlash. It's also inaccurate: Nearly all of the illicit fentanyl seized at the border is being smuggled by either U.S. citizens or other people authorized to enter the U.S., NPR reported last month.
"China remains the primary source of fentanyl and fentanyl-related substances trafficked through international mail and … the main source for all fentanyl-related substances trafficked into the United States," according to a DEA Intelligence Report from 2020.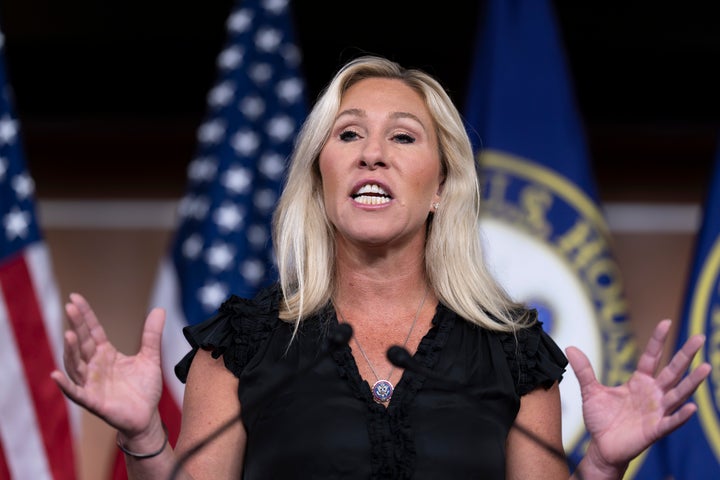 The host warned that Americans "don't know who these people are" and mentioned that the migrants crossing the border are "not DNA tested" or "background checked" — and are "waltzing right into America to invade the country."
Greene's baffling idea to formally declare war against cartels proved unpopular on social media.
One person on X, the website formerly known as Twitter, put it simply: "Please, for the love of God, look at how the war on terror is going and realize how bad of an idea this is."
CORRECTION: A previous version of this story incorrectly described the Constitution's war powers clause.
Support HuffPost
The Stakes Have Never Been Higher
Popular in the Community