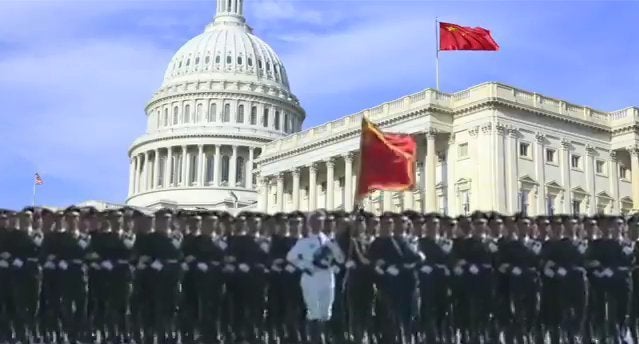 WASHINGTON -- A Republican congressional candidate in Nevada is facing criticism from Asian-American groups for his controversial new ad that portrays China taking over the country and a scary army of Asian people marching on the U.S. Capitol.
Mark Amodei, a former chairman of the Nevada Republican Party, was recently picked to be his party's nominee for the 2nd congressional district in the state. Dean Heller held the seat before he was appointed to the U.S. Senate, replacing John Ensign, who resigned in disgrace in May.
Amodei's campaign ad is a fictional news report from the future, with an Asian anchorwoman telling -- in heavily accented English -- the story of America's downfall.
"Once upon a time, America became its own worst enemy," says the narrator. "When all its borrowed money ran out, they kept spending. Out of control, their President Obama just kept raising the debt limit, and their independence became a new dependence. As their debt grew, our fortune grew. And that's how our great empire rose again."
Amodei then appears on the screen and says, "It's not too late to stop this nightmare. ... As your congressman, I'll never vote to raise Obama's debt limit and risk our independence."
In a statement to The Huffington Post, Rep. Judy Chu (D-Calif.) condemned Amodei's ad but noted that he is, unfortunately, far from the only candidate to play up fears of China's economic power. Chu is chair of the Congressional Asian Pacific American Caucus (CAPAC).
"In recent campaign cycles, we have seen an explosion in the number of political ads that invoke Chinese language and imagery in a sinister light," said Chu. "Both Republicans and Democrats are guilty of using China as a scapegoat for the recession, and the ad being run by Mark Amodei is just one of many we've seen to date."
"We've seen how these anti-Asian sentiments can lead to real consequences for our community," she continued. "Tomorrow marks the 29th anniversary of the murder of Vincent Chin, a Chinese American who was beaten to death by two Detroit auto-workers at the height of anti-Japanese sentiments during the crisis in the auto industry. I call on Mr. Amodei to take down this ad immediately, and I urge all candidates and elected officials on both sides of the aisle to refrain from resorting to these scare tactics to score political points."
On Tuesday, the Asian American Action Fund (AAA-Fund), a Democratic Asian Pacific American political action committee, also issued a statement calling the ad "xenophobic."
"The AAA-Fund strongly condemns Mark Amodei's offensive, fear-mongering campaign ad," said Gautam Dutta, executive director of the AAA-Fund. "We call on Mr. Amodei to immediately remove this racially charged ad from the airwaves and issue an immediate apology to every Nevadan."
Amodei said that he was standing by the ad and wasn't planning to take it down.
"It's not a China ad, it's a U.S. debt ad," he said. "I don't think there was any negative statement about the Chinese in there. The editorial of the ad, if you will, was about our spending habits and our debt habits. So if they took offense, I'm sorry that they did, but the issue that the ad addresses is the U.S. Congress' and the administration's spending and debt habits."
This story was updated with comment from Amodei.
The Huffington Post wants to know about the campaign ads, town halls, robocalls, mailings and other election news happening where you live. Email us your tips, videos and photos to offthebus@huffingtonpost.com.
If you want to be even more involved with our election coverage, please sign up here.

Calling all HuffPost superfans!
Sign up for membership to become a founding member and help shape HuffPost's next chapter