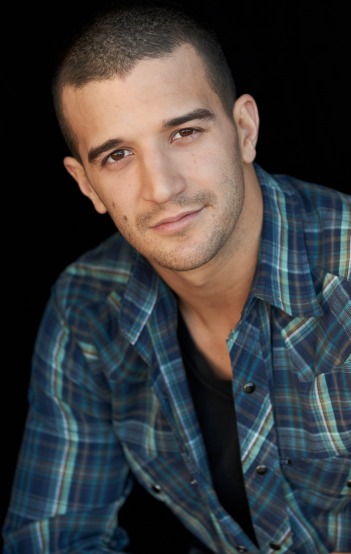 (Photo Credit: Michael Becker)
Mark Ballas became a household name in 2007 when he landed a spot on the popular ABC series Dancing with the Stars.
A native Houstonian, he moved to London at an early age to attend the world-renowned Italia Conti Performing Arts School. His passion for dance naturally came from his parents. Both were dancers and his mother was an award winning Latin American dancer. He earned a full scholarship to college and won The British Open to the World, The US Open to the World even the gold medal at the Junior Olympics. I think it's safe to say Ballas is very talented.
His talents didn't end with dancing. By the age of 12 he was writing his own music and formed a band called "2B1G" - 2 Boys 1 Girl with his DWTS co-star Julianne Hough. You would think as his dancing career grew, his interest in singing would fade. Not so! Even with his demanding schedule he found time to produce his 2011 CD titled "HURT LOVE BOX". The CD is a MUST buy, and can be heard on his Facebook page: http://www.facebook.com/markballas
Is there any talent I haven't listed? Oh yes, Ballas is also an actor, and a skilled guitar player. Perhaps the love of music is what prompted his interest in collecting guitars...
RH: With your busy schedule and varied talents, you managed to squeeze in time for a private passion; guitars! Tell me more about what types of guitars capture your attention.
BALLAS: I love Martin guitars. It's all about whatever feels good and I like to be able to feel the tone and be percussive with the instrument. Being classically trained on a flamenco guitar, I love my new Kremona. I also am a fan of Fender Strats.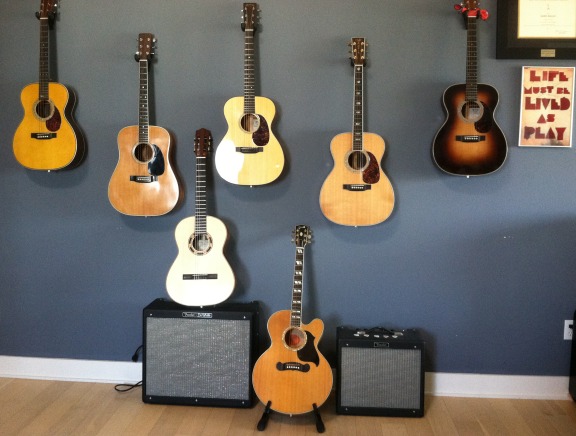 (Photo Credit: Mark Ballas)
RH: Fender and Martin are definitely brands to collect. How many guitars do you have in your collection?
BALLAS: Hmm. Let me see... I have five Martins, four Fender Strats, two Les Pauls, an Ovation, Takamine, Kremona and a PRS.
RH: PRS and Kremona are names I have never heard. I love that aspect of collecting. There is always something new to learn. So tell me, if money were no object, what would be the one guitar you would acquire, and why?
BALLAS: I'm in the process of designing and building a custom Martin. The perfect guitar is a one of a kind made perfectly for me; a guitar designed for a percussive flamenco rhythmic feel with steel strings, with a vibrant fun color and custom inlay with massive detail.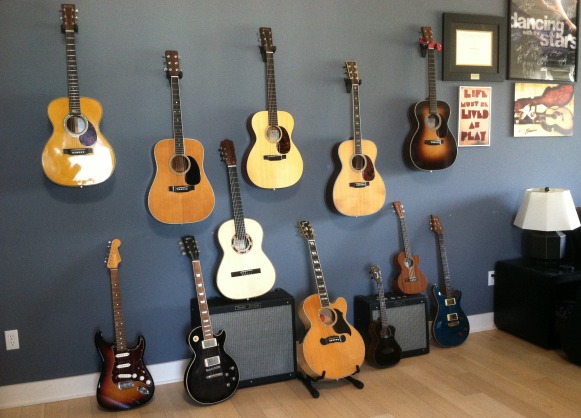 (Photo Credit: Mark Ballas)
RH: How exciting to have your own Martin guitar! How many guys would love to say that!! In the collecting world, the thrill of the hunt plays a large role in excitement of acquiring things. Can you tell me about your most exciting find?
BALLAS: When I became the first ambassador for Martin Guitars and got my guitar, that was a rewarding feeling and probably the most exciting "find."
RH: Your fans know you as the amazing dancer on Dancing with the Stars, but tell us about your "OTHER" job.
BALLAS: I've been a musician since I was nine years old. I grew up partly in England and partly in Houston, TX, and actually began playing guitar before dancing. I started professionally when I was sixteen on West End shows, national touring theater shows and have been called in to play for many major label recording artists in the studio for which I'm very grateful. I'm currently working on my first full studio-production solo album. This is going to be an all new feel than what you've heard from me before. I think the best way to describe it is percussive guitar / pop with urban beats and influence. There's a little Latin flair that pops up here and there also.
RH: Sounds sexy! Is there anyone you would have interest in collaborating with musically? Anyone you are currently working with?
BALLAS: I'm currently working with producers and writers whom I have the utmost respect for. I write all my own music but I love collaborating with other talented industry people. I've been in with Wizz Dumb and Jozzy (Dope By Accident) out of Miami, Timbaland and his whole camp, the Beamer Boyz, Jim Beanz, Thom Russo, Andre Meritt, and Sha. A list of artists I'd like to collaborate with or do a feature with? John Mayer, Robin Thicke, Ellie Goulding, B.O.B., Florence Welch (Florence And The Machine), Ed Sheeran, Nora Jones, Shakira. Also, Missy Elliot and Justin Timberlake of course...
RH: So many on that list I love as well. Do you see any other collections in your future? Perhaps autographs from all of the celebrities you have worked with on DWTS?
BALLAS: Well, I love sneakers, so I think my next collection will be all kinds of dope and wacky sneakers.
RH: I'd love a sneak preview at what is in store for Mark Ballas next. Anything you care to share?
BALLAS: My album is really my main priority and project. I recently signed with new management and the support from my publisher, BMG is really making everything come together. I'm looking forward to connecting with a label partner and releasing an album that portrays who I am and what my music is all about. I can't wait to share it with everyone. I'm concentrating all of my energy and passion on this project.
Thanks Mark, and when you bring your music to Houston, call me!
Calling all HuffPost superfans!
Sign up for membership to become a founding member and help shape HuffPost's next chapter