Artist Mark Barone wants you to see 5,500 faces that you will never forget.
That number, 5,500, represents the average number of dogs killed in this country's animal "shelters" in a single day (the number of cats killed is nearly double, about 11,000), and when Barone and his partner, Marina Dervan, learned this -- along with other depressing details on how our culture handles stray and abandoned companion animals -- their lives changed forever. Now, the couple is devoted to creating a permanent portrait memorial for killed shelter dogs and to inciting social action to bring about a no-kill solution for all shelter animals.

It started over three years ago, when Mark's beloved dog of over 22 years, Santina, passed away. Several months after her death, Mark was still too grief-stricken to think of taking in another dog, but Marina started an online search for adoptable dogs, for when Mark was ready to take that step. She describes what she discovered as "chilling": Very few animals who enter the shelter system come out alive; instead, a high proportion are euthanized, often in horrific gas chambers, in spite of volunteer networks scurrying to place adoptable shelter dogs in homes before their short time runs out.
Moreover, they started to encounter "the politics of the shelter industry and the big animal charities," as Mark describes it, which they found shocking. They saw that shelter volunteers and foster parents were scraping together animal rescue funds from their own meager resources and small-scale online campaigns, yet when it came to the powerful national organizations, according to Marina, "there are hundreds of millions going out to these big charities, why is so little of that going down to the shelters?"
Mark and Marina both felt an intense need to take some kind of action. "We had been ignorant about [the shelter situation]," says Marina, "and we realized the general public was probably as ignorant about it as we were, so we wanted to find a really powerful way to wake up the nation." Mark came up with an idea: Memorializing animals killed in shelters with individual portraits, using that 5,500 per day number as a symbolic marker.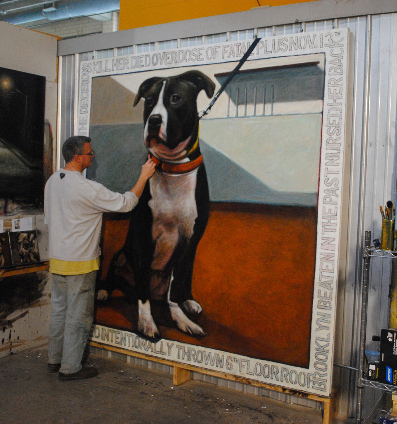 Thus was born "An Act of Dog," an ambitious nonprofit project -- not to mention life mission -- to use art as a long-term educational platform to end the kill shelter system, while devoting 100 percent of funds raised (a "forever fund") towards no-kill solutions and direct rescue efforts. As Mark explains, "We did this for significant cultural change. We want to inform the general public about what's going on, that their tax dollars are basically going to fund killing machines at these shelters."

With such an ambitious goal came a huge personal commitment. Mark says that "there was never any consideration that we'd be able to keep our day jobs and do a little of this at night. We were all in, and we gave up everything to do it." This included their regular jobs, their retirement savings, and various material comforts.
Thus in the spring of 2011, they relocated from Santa Fe to a space in Louisville, Kentucky that is large enough to accommodate both the work and storage space required, and they've been working full-time on "An Act of Dog" ever since. Marina describes their 7-day schedule as starting early in the morning and continuing until midnight. Mark is typically painting fifty 12"x12" paintings of dogs at a time, spread out across a long wall, and Marina is "wearing 20 hats," as she describes it; perhaps the most heart-wrenching part of her job is to receive and organize the many new images and stories the couple receives, on a daily basis, of dogs recently put down at shelters.
They started by collecting stories and images of dogs they found online, but as word spread about the project, volunteers from across the country began sending them images, along with the stories behind them. Each portrait has a name and a date of death; Mark and Marina assign names to those who are identified only by a number.
Beyond expressing the magnitude of animals systematically killed in shelters, with the paintings Mark wants to represent 5,500 unique souls, each with a name and a story, to strip away the abstraction of numbers and connect to people on a deeper, emotional level. "Without the visual, it's meaningless," he says. "If you sit in a huge room surrounded by 5,500 portraits, which represents a day's 'work' at shelters, that's going to have far more impact than if I just told you the number."
Some of the stories have taken a special emotional toll on Mark. Although most portraits are in a 12"x12" format, ten especially tragic stories that exemplify "the excuses people give to perpetuate the killing" have been selected for large scale, 8'x8' paintings. Among those are Batman, a senior dog left out in the cold to freeze to death; Oreo, who survived being thrown from a sixth-floor window in New York City, only to be killed by Animal Control in spite of numerous adoption offers; and Porkchop, a cat (the single feline in the series) who was killed at a shelter within 60 seconds of being surrendered.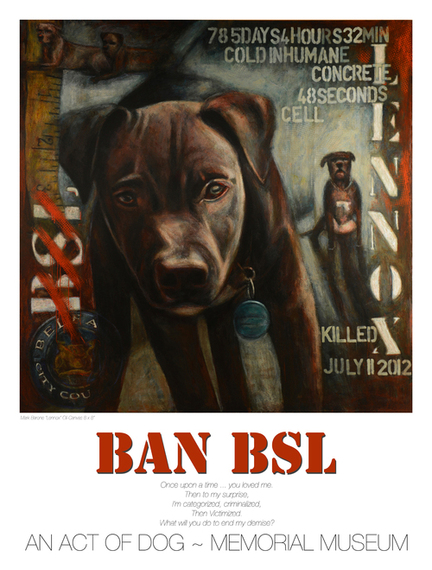 And then there is Lennox, the beloved family dog killed on orders of Belfast City Council in 2012 after a two-year battle that drew worldwide outcry (which I covered in four parts here on Huffington Post). Lennox's story ended tragically, but has continued to be a catalyst for raising awareness about Breed Specific Legislation (BSL), which typically discriminates against pit bull type breeds.
Mark describes how he takes in the soul of each dog as he paints them, but "of all the paintings I've done in my life, I've never struggled and struggled with as much as with that one... it was like reliving Lennox's experience." Marina adds, "You could see it was painful [for him] to paint it, it affected him emotionally more than anything else he's done so far."
Mark and Marina feel such a special connection to Lennox and his family, the Barnes, that they plan to establish an anti-BSL room dedicated to the legacy of Lennox in the museum. "Lennox is such a reflection of who we are," says Marina. "Here you had the whole world trying to save that dog, yet a group of idiots had the decision to kill him."
She adds, "Lennox is a perfect way to start to get people to connect. It's not about shaming people, but inspiring them to think, to get involved."
As Mark continues to paint -- he's at about 4,200 completed paintings to date -- the couple has just launched an online museum store offering giclee prints of the "Act of Dog" project artwork (so far, they have available a collage print of 12"x12" portraits, as well a print of the Lennox painting, with 100 percent of proceeds committed to no-kill rescues). A documentary, by Sagacity Productions, is in process, and they continue to accept photos of dogs to be memorialized in the project.
"We are 100 percent purpose driven. We don't get anything out of this besides seeing the animals saved," says Mark. "The goal is a solution... and we won't give up until that happens. We will take it all the way to the promised land."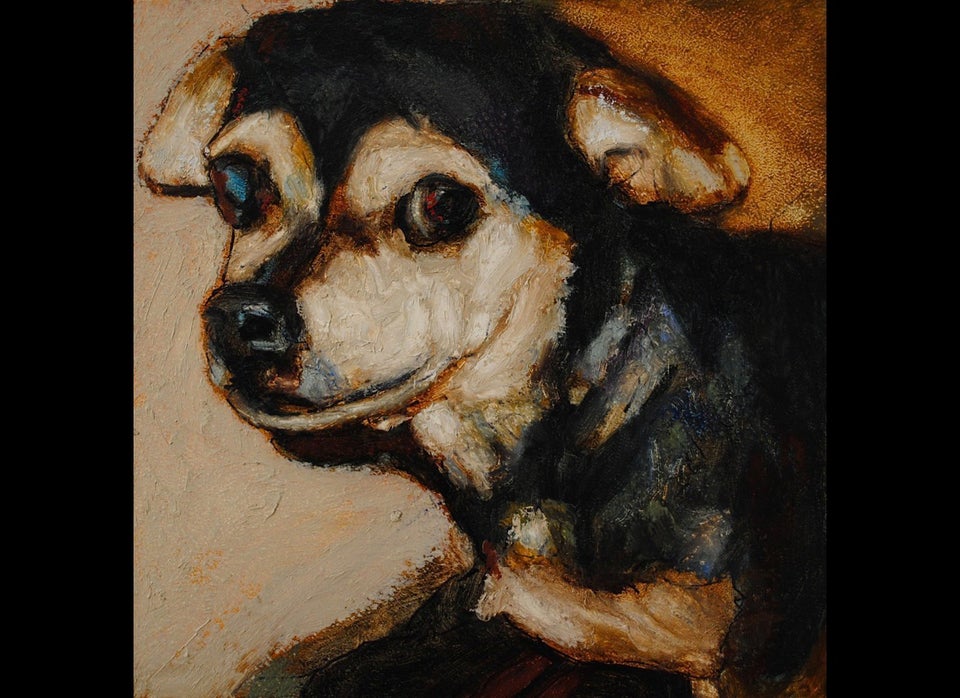 Paintings from
Related
Popular in the Community