ANCHORAGE, Alaska -- On a balmy day last August, Sen. Mark Begich (D-Alaska) stood at a makeshift kitchen in the Alaska Native Medical Center and gleefully watched a chef whisk a bowl of reindeer fat.
"I'd rather have this than Jell-O!" the first-term lawmaker gushed, watching his instructor beat away at the bowl of rapidly congealing triglycerides. "It'd make a great dip."
Begich was filming a PSA on nutritious ways to prepare indigenous Alaskan dishes, and his enthusiasm contrasted sharply with the sanitized meeting room where the video was being shot, not to mention the gutted and cleaned remains of a creature best known as Santa's chauffeur.
Grinding Rudolph into snack food might upset Americans in the lower 48. But in Alaska, where native peoples comprise a whopping 20 percent of the state's population, the optics are fabulous -- particularly for Begich, who doesn't exactly fit the mold of rugged Alaskan outdoorsman.
Friends describe the 51-year-old lawmaker as a "city kid," who's more at home wearing pleated pants and reading economic briefs than decked out in Thinsulate scaling a glacier. By most accounts, his ideal lunch involves a soggy, Saran-wrapped cheese sandwich, a folder of documents to review and a car ferrying him to his next constituent meeting.
Yet here was this champion of the Kraft Single, extolling the gastronomic virtues of reindeer flesh. Just as politicians in the heartland are all too eager to nosh on fried butter at state fairs, Alaska's lawmakers never miss an opportunity to honor local customs. And with Begich's first reelection campaign looming, there aren't enough hours in the day or cuddly arctic animals to pulverize.
"This counts as your aerobics for the day!" declared Begich, really putting his back into the operation.
The PSA served another purpose, too. Acting as Begich's sous chef was Sen. Maria Cantwell (D-Wash.), who had recently been named chairwoman of the Indian Affairs Committee -- a comparatively low-profile assignment within the Beltway, but one of tremendous significance to Alaska's natives.
She was one in a long line of senators, cabinet secretaries, FCC commissioners and agency directors invited up to the 49th State to witness its idiosyncrasies firsthand. Costs are higher here -- transporting goods and services to towns without road access isn't easy -- and federal regulations can run afoul of local customs, particularly native ones.
Committee chairs like Cantwell have helped Begich craft some of his biggest legislative achievements, like securing automatic reauthorization of the Indian Health Care Act and expanding mental health services for veterans. Today, Begich's goal was far more modest: to revise federal law to accommodate Native Alaskans' diets by allowing public facilities like hospitals to serve traditional Alaskan dishes.
As Begich and Cantwell made small talk about the leanness of caribou and the tenderness of seal ribs, about a dozen hospital administrators anxiously stood off-camera. The visit wasn't only about securing Begich's future, but theirs as well. Nowhere is the procurement of federal resources more central to a state's survival than in Alaska, where Washington props up about one-third of the state's economy and a similar percentage of its jobs.
Already that day, Begich and Cantwell had been given a breathless tour of the medical center, accompanied by the standard cadre of harried aides making sure the senators kept to their schedule, and grant-hungry administrators, making sure they didn't.
Out of earshot, hospital staff groused about sequestration's effects on preventive health initiatives, and worried whether Congress' frugality would undermine their ability to medevac patients from the remote towns that dot the landscape.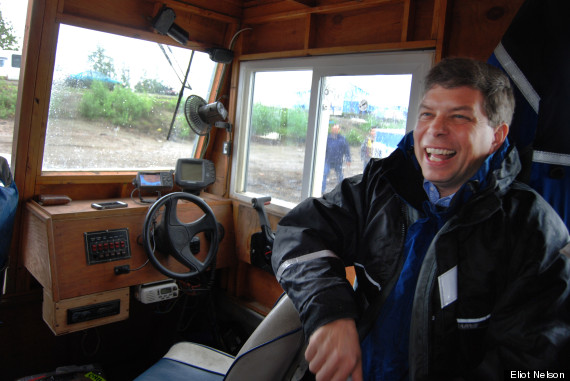 Sen. Mark Begich laughs while aboard a boat docked at Galena, Alaska
For decades, Alaska was defined by politicians like the late Sen. Ted Stevens, whom Begich defeated in 2008, and Rep. Don Young. Cheered on by Alaska's close-knit political class, the two Republicans brazenly exploited their positions atop key congressional committees to steer billions of dollars to America's largest and least-developed state.
"If he's the chief porker, I'm upset," Young once quipped about Stevens' renown for procuring federal earmarks. "I'd like to be a little oinker, myself."
But with oil production declining, its future in natural gas undercut by finds in the lower 48 and Congress gripped by austerity fever, Alaska's position has rarely been so tenuous. As the effects of the 2009 stimulus wear off -- which, along with high oil prices, helped shield Alaska from the ravages of the Great Recession -- residents fret with increasing alarm about the state's long-term prospects.
To make matters worse, Congress has put the kibosh on earmarks, which were crucial to Alaska's modernization in the second half of the 20th century. And so, officials from all corners of the state are scrambling to procure what they can from their congressional delegation.
Begich's allies say his understated style and diplomatic approach are well-suited to a Congress marked by partisanship and extreme fiscal austerity.
"Sen. Stevens and others had to roll up their sleeves and start swinging," said Bill Popp, a longtime Begich confidante who is currently president and CEO of the Anchorage Economic Development Corporation. "They had to be very blunt, they had to be very aggressive. Now, it's a little more diplomatic."
Begich agrees, saying he tries to use such aggressive tactics sparingly.
"It's great media, people like to cover that, but that's not really results-oriented," he says, adding that excessive posturing can lead to eye rolls from colleagues and observers.
"It's not 'Oh, jeez, here he goes again with another rant.' They know I'm serious."
THE SPECTER OF 'FOR SALE' SIGNS
If Ted Stevens was most responsible for building today's Alaska, it may be up to Mark Begich to keep it from falling apart.
Alaska's economy has fared well during Begich's term in the Senate, and his work on the 2009 stimulus package quickly established him as a viable successor to Stevens in the role of the state's chief appropriator. Per capita, Alaska benefited more from the Recovery Act than any other state. Now, as Begich travels around the state with an eye toward his reelection campaign, he is quick to point out his rapid ascension in Senate seniority and his seat on the Appropriations Committee.
Still, he's faced with a far more tightfisted Congress than his predecessors were, and a state economy that is flirting with catastrophe.
Washington spending and the oil industry are responsible for a combined two-thirds of Alaska's economy and jobs, and in some communities 71 percent of personal income derives from government funding. A dramatic change in the status quo could be disastrous, transforming Alaska from one of the country's most economically crucial states -- one where each resident receives an annual dividend check from the state's oil revenue -- to something amounting to a glorified territory.
Gregg Erickson, an economist who has worked extensively on state issues, predicted that Alaska's declining fortunes could cause an economic downturn that would eclipse the one visited upon Michigan after the auto industry's collapse.
"The specter of 'For Sale' signs looms large," Erickson told HuffPost.
"Think Appalachia with seven months of winter," Alaska-based journalists Amanda Coyne and Tony Hopfinger wrote, rather bluntly, in their book "Crude Awakening."
With earmarks, it was easier for lawmakers to address specific constituent needs -- and for them to do so much more brazenly. Now, finesse and creativity are musts.
Begich cited his efforts to court Republicans and committee chairs like Cantwell in order to secure long-term funding for as many crucial programs as possible, like the permanent reauthorization of the Indian Health Care Act. He also placed a hold on a three-star general's promotion to keep a squadron of F-16s stationed in Fairbanks.
"I love earmarks, I'd love them back, but I'm focused on language and legislation that ensures sustainability and permanency," Begich said.
He's bullish about the state's future and anticipates growth in mining, tourism and shipping, thanks -- in one of the global economy's more bittersweet developments -- to expanded Arctic sea lanes created by global warming. He also speaks of possible growth in oil and gas production stemming from increased energy exploration, and another military buildup, as the Obama administration shifts the country's military and diplomatic focus to East Asia.
Begich comes to such optimism naturally. But pointing to a future full of growth and prosperity doesn't hurt in an election year, if only because predictions of economic malaise and crushed dreams make for lousy bumper stickers.
Democrats want Begich to remain upbeat. Their Senate majority depends in no small part on his reelection, and Republicans are planning to target him with every weapon in their arsenal.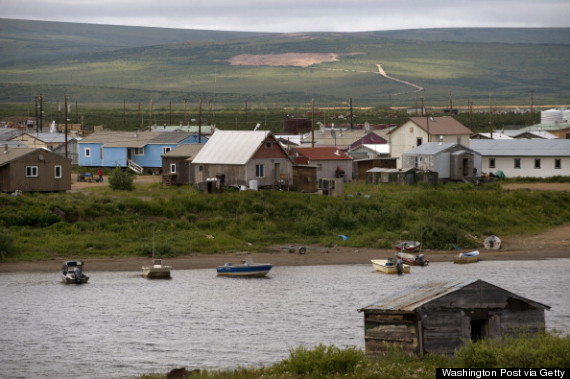 Boats float on the river with a view of Buckland, Alaska.
History suggests that Begich's seat should be an easy get for the GOP in 2014. Alaska has traditionally hewed conservative, and Begich was elected by the thinnest of margins in 2008. He won only after Stevens was found guilty on corruption charges eight days before Election Day. (The conviction was later overturned.)
On the Republican side, Lt. Gov. Mead Treadwell has already announced his candidacy, as has former Attorney General Dan Sullivan. Joe Miller, who beat out Sen. Lisa Murkowski to become the GOP nominee in 2010, only to lose to her write-in campaign, is also running again.
And because nothing gets cable news hosts and web editors as hot and bothered, questions about a Sarah Palin candidacy refuse to die, despite lukewarm interest from the former governor and vice presidential candidate.
Begich's campaign won't shy away from Palin, whose standing with the public couldn't be worse if she proposed opening up Mount McKinley to mountaintop removal mining.
"I'm not even sure if she still lives in the state," Begich said.
"She would be a formidable opponent in the Republican [primary], but I have no worry or fear of her," he added. "I think she is so disconnected from Alaska now that I'm not sure she even knows what's going on."
Begich, who was born in Anchorage, will likely highlight his Alaskan roots to draw a contrast with the eventual Republican nominee. All three major announced candidates were born and raised out of state.
Still, he is keenly aware of the state's political leanings, and so he's broken with his party on a number of matters -- most notably his vote against expanding background checks on gun purchasers and his support for expanded oil and gas exploration.
The botched rollout of HealthCare.gov, the federal portal to health insurance exchanges in Alaska and 35 other states, has forced Begich to distance himself from both President Barack Obama and the Affordable Care Act. Begich voted for the health care law, which remains unpopular among Alaskans.
"I've always said it's not a perfect bill," Begich said. "I did vote for it, but I never said it was perfect, and I've recommended changes."
In one recent Oval Office meeting, Begich excoriated the president for the website's failed launch. Afterwards, Begich's office quickly released a statement decrying the administration's "mismanagement" of the law's implementation. More recently he introduced a proposal to add "copper" health plans to Obamacare's health exchanges, which would feature lower premiums but higher out-of-pocket costs.
The GOP won't let Begich off so easily, aiming to align him so closely with Obamacare that voters would be forgiven for thinking their junior senator had programmed HealthCare.gov himself.
"Mark Begich was the deciding vote for Obamacare, which most Alaskans would like dismantled," said National Republican Senatorial Committee spokeswoman Brook Hougesen. "The fact is that without Mark Begich in the Senate, Obamacare wouldn't exist."
Begich responded to the attack with a chuckle. "There are sixty 60th votes!" he said.
Outside money will also play a major role in the race. In November, Americans for Prosperity, the conservative advocacy group financed by the Koch brothers, ran an ad criticizing Begich for his Obamacare vote. The ad was panned for featuring a Maryland-based actress and, more conspicuously, for being set in a decidedly un-Alaskan Provençal-style kitchen.
"Did you see that Maryland actress?" Begich asked. "I know Karl Rove and the Koch Brothers will like to play onto one issue, but voters in Alaska like to look at the whole package."
Left-leaning advocates have also targeted Begich for his more moderate and conservative positions. Mayors Against Illegal Guns, the group co-chaired by former New York Mayor Michael Bloomberg, has already pilloried him for his vote against expanded background checks. Begich, who briefly belonged to the group when he was mayor of Anchorage, all but encourages such attacks from his left flank, believing they help brand him as a political maverick.
"It's not difficult for me!" Begich said about whether his vote has become a political liability. "You press people think it's difficult."

Nonetheless, it will be a tough needle for Begich to thread. Alaska's often contradictory politics -- solidly Republican yet strongly receptive to government money -- will require him to cast himself as both politically independent and connected enough to his party apparatus to secure federal funds for the state.
"At the end of the day, Alaskans are worried about what the economy is doing," he said. "Will they still have a job, is the military going to be here, is the oil and gas flowing?"
For much of Alaska's history, such essentials were rarely in question. And so, emboldened by skyrocketing oil revenues and a Washington all too happy to dole out earmarks, Alaskans focused on far-fetched ideas and lavish projects instead.
Alaska's governing elite sought federal dollars to build things like an $8 billion dam that would provide 20 times the state's electricity needs. There were also failed attempts to cultivate a thriving agricultural sector, despite a prohibitively short growing season. In the 1970s, Sen. Mike Gravel, a Democrat, vigorously lobbied for the construction of "Denali City," a domed city that would draw tourists from the world over.
Alaska became defined by egos and personalities as large as the state itself. Not a year went by without stories of corruption, favoritism, nepotism and pie-in-the-sky idealism. Take Bill Allen, former CEO of energy contractor VECO Corporation and arguably Alaska's most powerful businessman. When Allen wasn't going on fishing trips with his good friend Ted Stevens, or setting up shop in the Juneau hotel where federal prosecutors say he bribed state lawmakers, he was spending time with one of his closest companions, a teenage runaway named Bambi.
Or Wally Hickel, a onetime governor and interior secretary under Richard Nixon. Hickel ran for governor again in 1990 as the nominee of the Alaska Independence Party, which was founded for the express purpose of seceding from the union. He won.
And, of course, Sarah Palin, whose rollout as a national politician was such a disaster that within weeks of her debut as John McCain's running mate, "Saturday Night Live" writers were blockquoting her in lieu of an original script.
Alaska's two most effective legislators, Stevens and Young, could be notoriously tone-deaf. Stevens once complained that Alaskans didn't fully appreciate the sacrifices he made for them, grousing, "I could go out and make $1 million a year without any question" instead of serving in the Senate. Young, meanwhile, drew condemnations from both sides of the aisle recently when he referred to Mexican laborers as "wetbacks."
Put another way, Alaska has suffered a string of bad exes. Enter Mark Begich, whose appearance, demeanor and outlook are those of the sensible rebound. He might well provide Alaska's jilted electorate the measure of stability it has sorely lacked.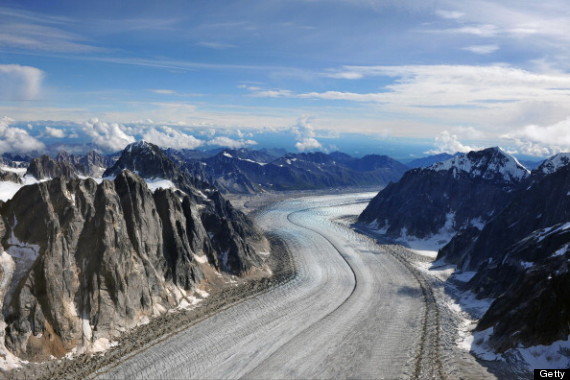 An aerial view of the Ruth Glacier along the Great Gorge in Denali National Park, Alaska.
With his upbeat but somewhat bland personality, and his standard-issue Trent Lott haircut brushed sideways into a neatly contained mass, Begich appears fresh off the senatorial assembly line. And whereas the often surly Young and Stevens cut their teeth in remote and rough frontiers, like Fairbanks and Fort Yukon, Begich was raised in Anchorage's relative comfort and urbanity.

"He's just a regular guy," said Sen. Jon Tester (D-Mont.), one of Begich's closest friends in the Senate. "He's easy to talk to."
That amiability aided Begich in his earliest professional pursuits. By the time he graduated high school, he was already a thriving businessman. At 18, he had obtained a business license to sell jewelry and was helping his mother manage a number of real estate properties. So abundant were his opportunities in Anchorage that he opted to skip college. Today Begich is the only member of the Senate -- and his family -- without a college degree.
"It was a pretty optimistic time in Alaska," said Bill Popp. "The pipeline had just wrapped up and the money was starting to flow. There were a lot of opportunities, especially for kids."
Begich's most impressive adolescent undertaking was an 18-and-under club called The Motherlode. Many other teenagers, finding themselves young, free and owning a profitable nightclub in the disco era, might have descended into a hedonistic spiral, like some kind of subarctic Steve Rubell. But Begich was methodical, going to great lengths to keep alcohol and drugs off the premises and, characteristically, spending far more time with the club's books than on its dance floor.
"He ran The Motherlode with very high standards," said Popp, who also DJed at the club. "They had high-quality bouncers at the front door. It was the talk of the town."
Politics was the last thing on Begich's mind, thanks in no small part to his late father, Nick Begich, who had served as Alaska's at-large representative to Congress. When Begich was 10, his father was killed when the twin engine Cessna 310 carrying him and House Majority Leader Hale Boggs crashed in the Gulf of Alaska.
"Why would I do something that took my dad away at 10 years old?" Begich said, recalling how his father's death affected him. "Politics was not of interest to me."
That all changed when The Motherlode's landlord canceled its lease to make way for a strip club. Begich tried desperately to keep his establishment open. In his view, the decision would not only shutter a safe haven for Anchorage's entertainment-starved youth, but would bring yet another adults-only establishment to a boomtown already teeming with vice.
"He had every right to cancel the lease," Begich said of the landlord, "but he was destroying not just a business, but a pretty important thing for the community."
Begich and his business partner petitioned the neighborhood about blocking the strip club, later taking their grievances to the city council -- a move that ultimately delayed the establishment's opening.
"That was the first time I had ever seen something like that happen," Begich said of his introduction to governance. "I got interested in being involved."
Begich was well-positioned. In the ever-changing landscape of Alaska society -- awash with oil speculators, seasonal employees and cultural refugees from the lower 48 -- the Begiches were the closest thing to nobility that Anchorage had.
"Everybody knew the Begich family," Popp said.
Begich's mother, Pegge, ran the family's real estate company and remained active in politics, serving on a number of local boards and task forces. She would later stage two unsuccessful runs for her late husband's congressional seat. Begich is the fourth of six children, and his oldest brother, Nick Jr., ultimately became president of the Alaska Federation of Teachers.
"Mark was a networker. He never had a problem talking to anybody," Popp said.
Begich brought the same hyper-ambitious approach to politics that he had to business, and his ascent was a speedy one. At 19, he landed a job in the city's health department and later became the driver for Anchorage Mayor Tony Knowles, who would go on to serve two terms as governor. In 1988, at 26, Begich won a spot on the Anchorage Assembly and was eventually elevated to the role of Assembly chair. In 2003, after two unsuccessful attempts, he was elected mayor of Anchorage, the first Democrat to serve in that role since Knowles.
All the while, Begich helped expand and manage his family's real estate holdings, while starting a vending machine company on the side.

"He has a different energy level than normal people," said Mike Abbott, chief operating officer of the Anchorage school district and city manager during Begich's term as mayor. "He just has a big motor."
That motor will have Begich and his team crisscrossing Alaska's wild and wooly environs for the next year. They'll make their case in lonesome villages on the edge of the Arctic tundra and huddled beside North Slope oil workers in below-zero conditions. They'll travel on rickety fishing boats in the Kenai Peninsula and aboard turbulence-rattled prop planes, many departing from Ted Stevens International Airport, an imposing 4,500-acre reminder of what Begich has to live up to.
'DON'T YOU WANT TO MOVE?'
Despite Begich's pragmatic outlook, there are signs that Alaska's status quo isn't changing without a fight. Much of the state's power structure remains intact -- the so-called "good old boys" whom Palin relentlessly attacked during her populist campaign for governor. Old habits, like the legislature's cozy relationship with big oil, are dying hard.
At one point during their tour of the medical center, Begich and his aides were accosted by representatives of one of Alaska's village corporations, which are tasked with managing tribal resources.
"You guys are stalkers!" Begich joked as he and his staff beat a hasty retreat.
The group was hoping to discuss fishing rights, an issue they claimed Begich had promised to address months before. Another, smaller village corporation, they explained, had been granted more fishing rights. Dejected, they made for the exits.
Asked why a smaller village would be given preferential treatment, one representative sighed. His response could have well been the title of a textbook on Alaskan politics.
"Their chief is friends with Don Young."
Such economic and political uncertainty is beginning to cast a pall over the Last Frontier. The very same week Begich and Cantwell toured the state, the town council of Ketchikan, population 8,000, voted to expand daily ferry service to its airport and a smattering of homes. Funding for a bridge had failed to materialize in Washington, and residents would have to make do with a less desirable alternative.
The significance was lost on no one. This was the "Bridge to Nowhere," the infamous road link that had become nationally synonymous with bloated federal budgets. It solidified Alaska's reputation as one of the country's deepest money pits.
The expanded ferry service didn't just herald the demise of a large-scale infrastructure project, but perhaps foreshadowed a more widespread decline in the state's fortunes. Ted Stevens was dead. The future of the energy industry, which for decades had provided the state with more political and economic leverage than it knew what to do with, was uncertain. The state that had once wielded more relative influence than any other might soon be struggling to validate its very existence.
Eleven-hundred miles away, Begich and Cantwell touched down in Galena, another remote Alaskan town learning to temper its expectations. Flooding had devastated the 500-person bush community that spring when the Yukon river jammed with melting ice, causing it to swell up and spill over into the town. Cars were abandoned, residents frantically shepherded onto planes and sled dog teams mushed onto boats.
Begich and his aides had come bearing supplies. In addition to a replacement part for the town's sanitation truck -- a delivery that would have otherwise taken several weeks to arrive -- the group had brought fruit and other perishables, veritable luxuries in such an isolated and barren place. The job of Alaskan appropriator, it seemed, never ends.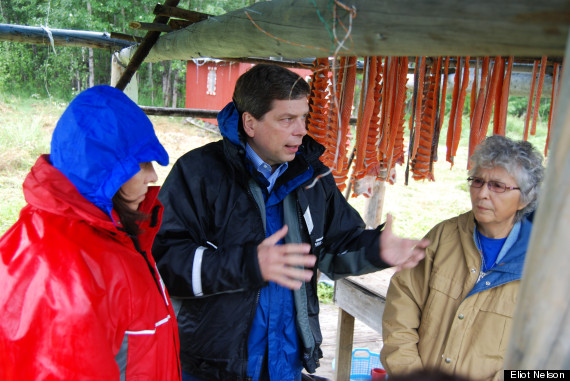 Sens. Maria Cantwell (left) and Mark Begich (center) speak to constituents at a fishing camp on the outskirts of Galena, Alaska.
Galena's history closely mirrors Alaska's economic rise and current uncertainty. The town was once home to a military installation, which helped fuel its development and kept it in the good graces of Washington lawmakers. But in the late 2000s, the facility was slated to be closed, leading to an exodus of residents and, more pressingly, budget shortfalls.
Such a sum would suggest that the town would be bursting at the seams by now with glittering municipal buildings and commercial activity.
But even setting aside the recent flooding, Galena is far from a robust and prosperous community. What buildings remain are faded and drab, and the roads are pockmarked and muddy. The town's airport consists of a tiny ramshackle building, inside which travelers listen to their flight statuses via an old transistor radio patched into the cockpits of inbound planes. Apart from the gorgeous expanse of rolling hills and wild flowers encircling the town, Galena is not a terribly attractive or vibrant place.
Signs of a recovery were few and far between during Begich and Cantwell's visit. One local law enforcement official tried to remain upbeat as he sifted through papers in the back of his banged-up pickup truck. His patrol car, the officer explained, was destroyed in the flooding.
After being given a tour of the wreckage, and taking a 30-minute trip downriver to a fishing camp, the senators and their staffs assembled in a community center to discuss town business.
There was no talk that day of domed cities or billion-dollar dams. Instead, discussions centered around far more practical concerns, like how red tape had prevented local FEMA officials from responding in a timely manner to the disaster, and how rising temperatures were affecting the annual fishing harvest.
Begich responded with a characteristic mix of technocratic curiosity and political savvy, referring questioners to relevant officials but also touting his own efforts on their behalf.
"We're trying to show our committees what you know," he said of his work in Congress, "that it's more expensive here."
But earmarks were out of the question, and it was unclear whether Begich's discussion of his spot on a Commerce subcommittee provided much comfort. Evacuation planes were initially so sparse during the flooding, one elderly woman recalled, that only tribal elders could be speedily removed. The rest of the town -- including most of its children -- had to wait much longer to leave.
There was a sad kind of poetry to her story. Just as the majority of Galena's residents were left behind, the majority of Alaska's native peoples would be the ones to bear the brunt of a major economic collapse.
The state's population is mostly composed of people whose historical ties to it are thin. If the energy sector were to shrink, it's not a stretch to assume that most of its employees would relocate, perhaps to the Dakotas or Texas, deep though their love for the Alaska may be. There would be plenty of folks left -- working in shipping, tourism and mining, and stationed at any number of military installations -- but the most profitable industry would be gone.
But there would be few lifelines for most of the 20 percent of Alaskans whose ancestors were here long before 1867, when Secretary of State William H. Seward paid the Tsar of Russia $7.2 million for 660,000 square miles of untamed real estate at the northwestern-most corner of the continent. They would be the ones left to scrape together an existence with far less support than they enjoyed in the 20th century, when the oil boom and Alaska's political dominance brought about unprecedented growth and prosperity. State trust funds have been set up to ensure oil funds continue to pay dividends for years, but budget shortfalls, declining services and anemic job markets could well become the norm.
Begich remains unflinchingly optimistic about his state's ability to cobble together a future, but even he's aware of the economic and political challenges that lie ahead. He may have his finger on the pulse of what Alaskans worry about most, but actually answering the question of how the economy will fare is far more challenging.
"It's the most frustrating question to figure out here in Alaska," he said, adding that the rest of the country's perception of the state and its inhabitants doesn't help.
"A lot of people from out of state might look at Galena and say, 'Don't you want to move?' Well, the answer is 'no.' It's their home. It's where they live."
This story appears in Issue 85 of our weekly iPad magazine, Huffington, available Friday, Jan. 24 in the iTunes App store.
CORRECTION: This article has been edited to remove a reference to Bill Popp's earlier employment. Popp did not previously work for Stevens. The story also stated that Americans for Prosperity is a super PAC. The group is a 501(c)4 advocacy organization.
REAL LIFE. REAL NEWS. REAL VOICES.
Help us tell more of the stories that matter from voices that too often remain unheard.
BEFORE YOU GO
PHOTO GALLERY
U.S. State Capitol Buildings