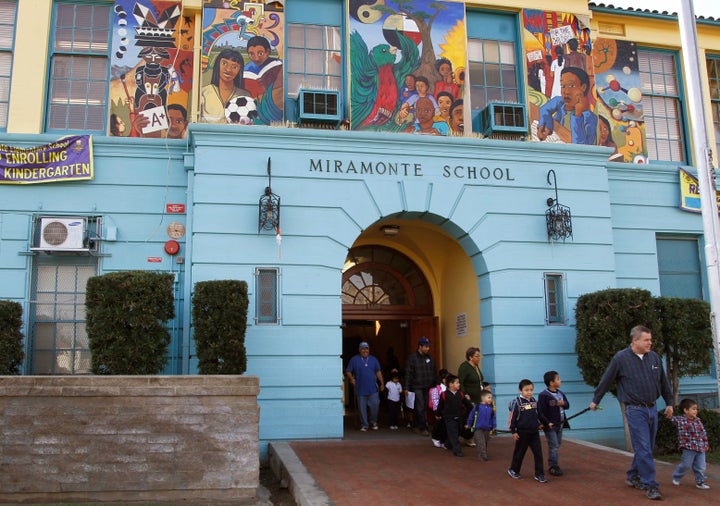 Former Los Angeles teacher Mark Berndt appeared in court on Wednesday on charges of spoon-feeding his semen to children at Miramonte Elementary School, and parents are questioning why they weren't alerted when the investigation first came to light in late 2010.
Sources tell Fox News correspondent Gigi Graciette that a Wednesday morning meeting between parents, school officials and police at the school attracted over 200 attendees, and that at atmosphere of calm is "turning to anger." Graciette tweeted, "ANGER has erupted at parent meeting at Miramonte Elem over charges teacher abused students there."
CLICK HERE OR SCROLL DOWN FOR UPDATES
Meanwhile, NBC LA correspondent Antonio Castelan tweets from the scene that Los Angeles Unified School District Superintendent John Deasy "stresses school could not address parents of investigation" because investigators needed time to build a criminal case against the teacher.
The District claims that they offered support and services to the children they were able to identify in Berndt's bondage photos depicting students gagged or about to ingest a clear white liquid, but there are still several more students whose names are unknown. And since school officials chose not to notify all the school parents about the photos, any opportunity for those unknown students to come forward has been suppressed until now. This final fact is disturbing, especially considering that testing for sexually transmitted diseases was recommended for all victims.
Miramonte Principal Martin Sandoval and Deasy expressed his sympathy to the victims and their families, but parents are saying it isn't enough.
When Berndt was first arrested, Gloria Polanco, the mother of a second- and third-grader at Miramonte, expressed her concern to the Associated Press. "My concern is why, if the principal knew this in advance, why didn't he inform us?," asked Polanco. "How long has he been doing this?"
Kimberly Kirklin, another mother whose teen daughter is a former student of Berndt, told AP, "My children won't be coming back here... He preyed on our innocents. He tainted a whole neighborhood."
Carlos Ramirez, the father of 5- and 7-year-old students at Miramonte, said to the Los Angeles Times in Spanish that he "doesn't have any confidence in the school anymore."
In December 2010, investigators from the Los Angeles Sheriff's Department came into possession of Berndt's "bondage" photos. The pictures showed children gagged and bound, sometimes with live cockroaches on their faces or about to eat a cookie covered in a clear white liquid.
After Deasy learned of the investigation in January 2011, he removed Berndt from the classroom that same day. But instead of notifying parents at Miramonte for the reason of Berndt's firing, the District kept silent for thirteen months as investigators built a criminal case. The prolonged criminal investigation yielded a discarded spoon in Berndt's classroom, which tested positive for his semen. Without this physical evidence, investigators claim, they would have only been able to charge the teacher with a misdemeanor.
In between his January 2011 dismissal and his arrest this week, Berndt lived in his Torrance apartment and was kept under surveillance to make sure he wasn't a threat to anyone. However, his neighbor tells KTLA that he saw Berndt on at least one occasion riding a tandem bike with a little girl.
Berndt has been teaching at the school since 1979, but the lewd acts in question took place between 2008 and 2010, according to authorities.
UPDATE: The forum between parents and officials erupted into angry shouts when school and police officials confirmed that the case was handled according to procedure. Investigators also confirmed that parents were kept in the dark about the photos because they didn't want to compromise the investigation.
Aol Latino journalist Jorge Luis Macias was at the forum and spoke to parents after the meeting disbanded. As she was leaving the school grounds, parent Alicia Parra said of the suspect, "This kind of person should be sentenced to capital punishment." Parra also commented that even though she was leaving the meeting in a calmer state than when she first arrived, she couldn't stop "thinking of the damage that he's caused to so many children."
Allice Winfield, who was there are the school to pick up her grandson, told Aol Latino that Miramonte Elementary was playing "macabre games" with children's lives. "The school had a great threat, and they never told anything to anybody."
"How could it be possible that this man has been in this school for more than 30 years and no one ever realized anything?" questioned Mirna Enriquez, the mother of a third grader at the school. "Only thinking about what this teacher has done makes me want to vomit," she said to Aol Latino.
Since news of the allegations against Berndt were made public on Tuesday, at least five more victims have contacted the Los Angeles Sheriff's Department, reports the Los Angeles Times. Two former students are also claiming that they reported their teacher's strange behavior to school officials decades ago, but nothing ever came of it.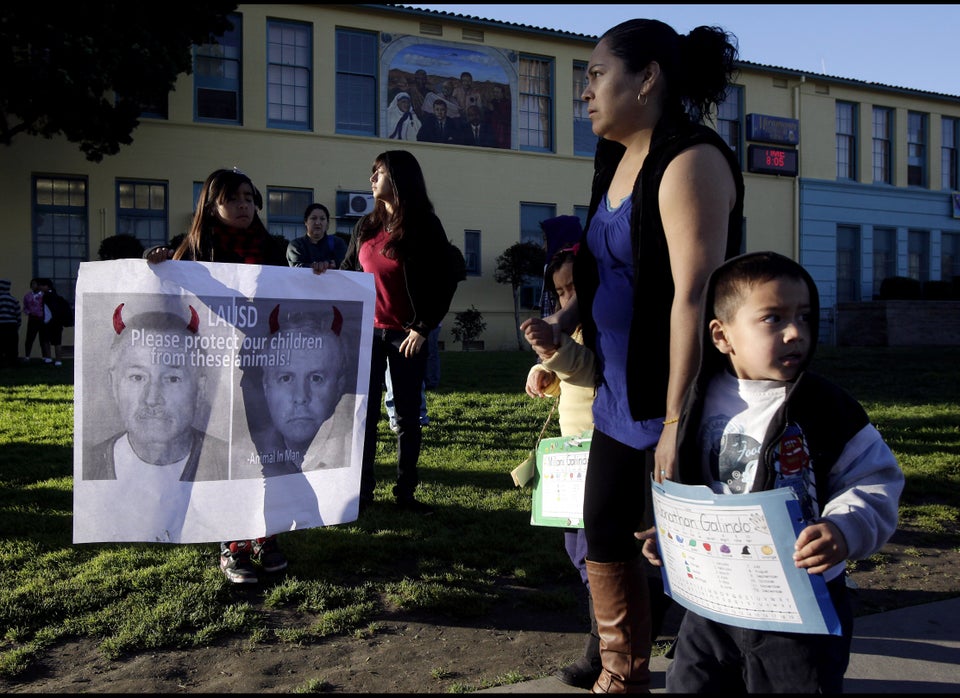 Mark Berndt's Alleged Lewd Acts Rock Miramonte School
CORRECTION: This news entry has been updated with the correct dates of the photo discovery and Mark Berndt's removal from the classroom. We regret the error.
Related
Popular in the Community