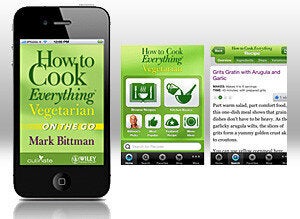 If you're going to name your book How To Cook Everything Vegetarian you better know your way around a produce bin and be comfortable taking a culinary risk or two. But there was no risk in deciding to make an app for this cookbook, with its predecessor app, How To Cook Everything, notching more than half a million downloads so far!
With a revered career that spans food writing, best-selling books, weekly television features and now a columnist position at New York Times Opinions among other permutations, Mark Bittman knows how to deliver. The How To Cook Everything Vegetarian app, built for iPhone and iPod Touch, is an incredible resource for meatless recipes and straightforward cooking advice. I was able to sneak in a few minutes with Mark between his deadlines and research trips to hear more...
Chris Elam: Known for your minimalist approach to cooking, do you welcome the increasing technology in the kitchen? I picture eager home cooks accidentally dropping their iPhones into simmering pots of ragout...
Mark Bittman: I have to say, I'm pretty blown away by these apps. Over 2000 recipes, timers, menu tips, charts, handy illustrations. But this app is less about technology -- it's just a cookbook in a new form. It doesn't change the way you cook. It changes the way you look at recipes.
For me, the real question is: does it bring more people to cooking? If it does, wonderful. If it doesn't, maybe it's just a fad. But it's way too early to say. We need to give it another 5 years or so. Really give people a chance to figure out how to use these things in the kitchen. These apps have the potential to make people's lives easier.
MB: Hmm...I think it's the fact that you can generate shopping lists on the spot. Say you're in a store, and you see a piece of monkfish. Pull out your phone, and find a recipe. Then generate a shopping list. Let's face it, no book can do that!
Or you're on the bus on your way to a supermarket. You find a recipe that interests you, and begin to explore what might work with that dish, play around with the ingredients. And then generate the shopping list. In a way, this feels like old hat -- but 3 years ago this stuff was incomprehensible.
CE: With the launch of this app, is there even a need to buy the book version?
MB: It's not a question of need, really, it comes down to preference. For me, I spend so much time looking at screens, that I consider it a relief to look at books. I'd much rather sit in my living room and thumb through a book -- but I'm old! I firmly believe there's room for both.
Let's put it this way, for about $5, you get something which is radically different from the original. But also contains the original. That's pretty amazing.
CE: And finally, Mark, as a long-time newspaper guy now putting out apps, do you have any advice on the quandary of technology in our lives?
MB: I spend the majority of my waking hours on a computer. Last week, I went to a store and looked at one of those new tablets. It was incredible. But then I thought, why the hell do I need one? I'm not going to stop carrying a laptop. I'm so happy with laptops and old software. The technology doesn't need to go further to make me happy. I actually don't want more excuses to buy more devices, or spend more time online. I'm doing enough as it is.
I wrote a piece a couple of years ago called Secular Sabbath. This idea of trying to find balance. How do we deal with technology without feeling like it's taking over? Listen, I love the How To Cook Everything apps -- they add another dimension to using my cookbooks. But it's not about who can have the most toys, or spend the most time online. It's really about how to fit technology into our lives without making us nuts.
If you'd like to win a free copy of the How To Cook Everything Vegetarian app, simply go to MeatlessMonday.com and submit an original healthy meatless recipe. Good luck, your recipe may be chosen to be highlighted on our website!