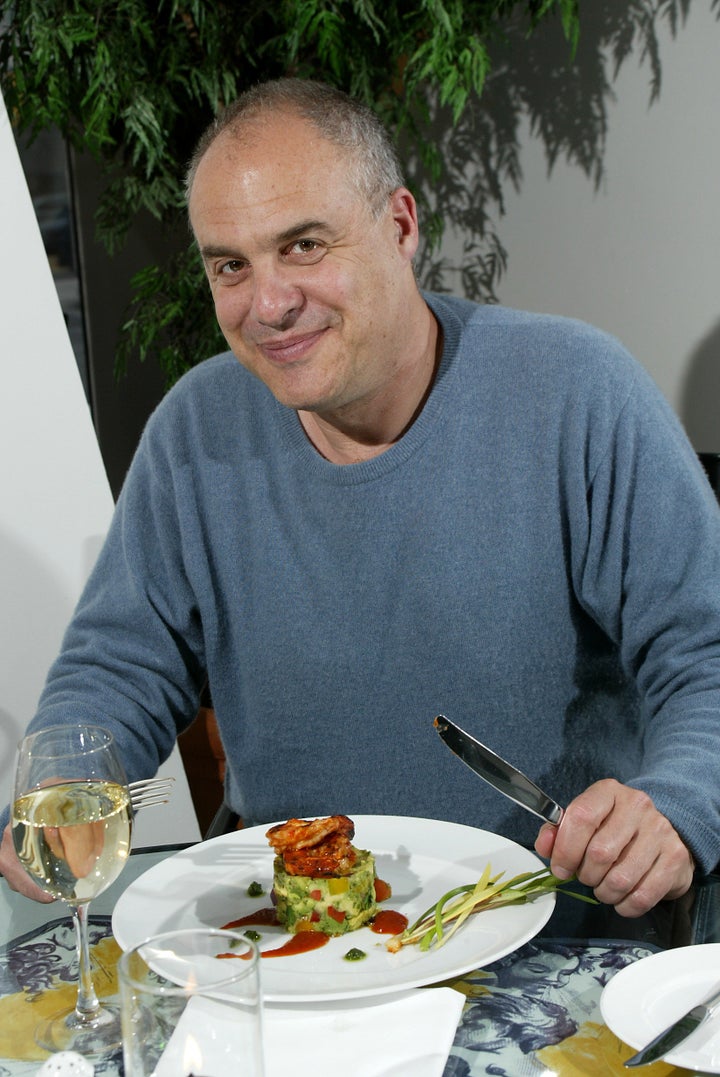 Okay, I'm shallow. Nothing excites me more than when someone tosses a new idea for chicken at me that sounds easy, healthy and quick. New ideas for vegetables make we weep -- in a good way. Cooking is about much more than throwing stuff in the oven and waiting for dinner to emerge. It's about lifestyle. Culture. Fun. Creativity. Time.
Mark Bittman makes everything seem not only acccessbile, but easy. He uses ingredients that we actually have, or that are at least available within a few miles of most urban or suburban cooks. Nothing obscure, nothing fussy that you need to order online because it's simply unavailable in a major metropolis. Bittman understands that many home cooks are distracted, can barely tell the difference between a tablespoon and a teaspoon (if they have the measuring spoons at all), and crave simplicity. At the same time, he knows that we want something new, a twist on what is familiar, but with a flash of Different.
Just when we thought there was nothing -- not one more thing -- we could do with chicken, Bittman presents us with dozens of new and terrific ideas, ideas that take no time to execute, that are easy on us, great for anyone having dinner with us, and have the potential of becoming favorites. They're straightforward. They're healthy. In my book, easy + quick + healthy = perfect. His weekly columns in the New York Times Magazine always contain at least four easy ideas that I promise myself I'll attempt this week, ideas that will lift us from the monotony of the same chicken (his), or the same vegetables (his) that I make all the time. Sometimes I actually remember to try one. And chances are, once I do, I'll make it again and again. See the pattern?
Bittman's new big idea is VB6 -- eating vegan before 6, and anything and everything for dinner. He lost a lot of weight, improved his cholesterol and blood pressure, and ditched a date with diabetes. In VB6, Mark Bittman applies his accessible style to not only vegan recipes and lifestyle approaches in the Before 6 column, but to the After 6 side of life as well. His ideas are so creative, and so approachable, that we wonder why we never thought of them before.
It has been floated by dieticians and food authorities that eating anything after 6 spells trouble. But that can't possibly fit into our lives very well, can it? Bittman brings out the joy in eating light, healthy meals for breakfast and lunch, and dives head first into a moderate omnivorous meal at dinner. It's about balance. It's about enjoyment. And it's also about eating less meat not just for health reasons, but for positive environmental impact.
Speaking of positive environmental impact, Evan Kleiman brings us Good Food each Saturday morning on KCRW. She walks us through what's fresh at the moment, and hands us ideas by the pound for fruits and vegetables, and anything that strikes her. A true adherent of simplicity in cooking, she opened the restaurant Angeli in 1984, and many credit her with creating the popular rustic Italian food trend that specializes in fresh and light ingredients. Evan's activism in agro-ecology, sustainability and food policy is not hindered at all by her devotion to pie. And pie can be VB6 or perfect after 6.
Come hear Mark Bittman and Evan Kleiman at Writers Bloc on Sunday, May 5, 3:00 pm at New Roads School's Ann and Jerry Moss Theater: a brand new, state of the art theatre located on the New Roads campus in Santa Monica, 3131 Olympic Blvd. Santa Monica, CA 90404. For tickets, visit writersblocpresents.com
REAL LIFE. REAL NEWS. REAL VOICES.
Help us tell more of the stories that matter from voices that too often remain unheard.