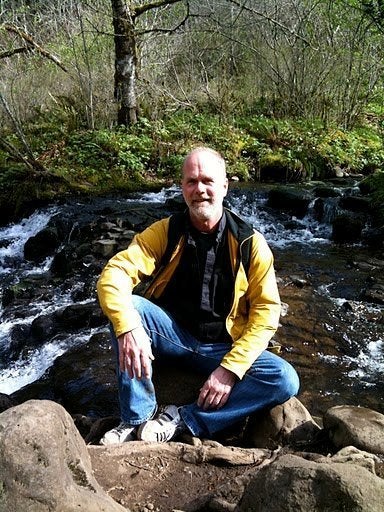 A desperate search is on for Mark Bosworth, a 54-year-old Oregon bicyclist and cancer survivor who has been missing for nearly three weeks. His wife is making a desperate plea for help, amid fears that he may have suffered a relapse and could be disoriented and in immediate need of medical assistance.
"It is very, very critical to get medical attention for him as soon as possible," Bosworth's wife, Julie, told The Huffington Post.
Bosworth is a two-time cancer survivor who has been treated for non-Hodgkin's lymphoma since 2008 and, after a period of remission, a central nervous system relapse. In April 2010, he had a bone marrow transplant and the cancer appeared to go into remission again.
As a volunteer with Cycle Oregon, Bosworth was accompanying about 2,300 riders on a week-long tour of the southern Oregon countryside when he disappeared on Sept. 16.
According to Lt. Chris Merrifield of the Douglas County Sheriff's Office, friends last saw Bosworth at about 11:15 p.m. that day when they were camping in Riddle, Ore.
"They were using the Riddle High School grounds," Merrifield told The Huffington Post. "It is kind of a confined area. They had tents, shower and bathroom facilities set up in different areas. The last [confirmed sighting] that we know of he spoke with friends and headed back to the area where his tent was."
PHOTOS OF MARK BOSWORTH (Story continues following the slideshow):
PHOTO GALLERY
Missing Cyclist Mark Bosworth
Bosworth's coat, wallet, license and credit cards were found inside his tent. The only item missing is his iPhone 4, which police say they have been unable to track because it is powered off.
Merrifield said his department, along with local search and rescue teams, conducted multiple searches of the area and have yet to find any sign of Bosworth. "In essence, he disappeared into thin air," the veteran law enforcement officer said.
There may, however, be an explanation for Bosworth's sudden disappearance.
"The doctors suspect the lymphoma has returned either in his brain or within the covering of his brain," Julie Bosworth said.
In the weeks leading up to the Cycle Oregon event, family members noticed Bosworth had been acting strangely -- something in hindsight they think may include possible symptoms.
"He started complaining of headaches and seemed to be repeating himself a lot," Bosworth's wife said. "He kept saying the headaches were caused by a pulled muscle in his neck but I was concerned enough that I made an appointment with his doctor. My husband loves the outdoors and is an avid bicycler, so he was insistent that he go to Cycle Oregon. The appointments were not until a week after the event."
According to Bosworth's doctors, lymphoma that has spread to the brain could cause headaches, confusion and memory loss -- dementia-like symptoms that were also observed by his traveling companions.
"Some of them described him as having varying degrees of sporadic confusion," Merrifield said. "So one of the theories we have been operating under is that he is suffering an effect from a medical condition."
Merrifield added, "Did he walk into the woods and walk until he succumbed to the elements or did he hit the freeway and hitchhike? There are all sorts of different scenarios."
When word of Bosworth's disappearance made the news, authorities were notified that a man matching his description had been hiking outside the town of Riddle near Interstate 5.
"There is a road, a two-lane country road that leads to I-5," Merrifield said. "It's two or three miles long. There were a couple people who described a man who fit his general description. We have considered it a strong likelihood that that is who they saw. If he made it to I-5 there is no telling where he could be."
Bosworth's wife suspects her husband may be confused about where he lives and could be headed to New York City.
"We're working under the hypothesis that he may be traveling," she said. "Since we lived in New York for about 10 years in the 1980s, it seems possible to me, since he is a traveler and comfortable enough on the road, he may be disoriented enough to think he should be on the East Coast. That's why we are really anxious to get the story out across the country."
If Bosworth's brain is under attack, he could still be moving around and talking, although confused. The clock, however, is ticking.
"They said it would exert pressure on the frontal lobe. It would be a gradual onset but without medical attention, it would increase and eventually reach the brain stem which controls the vital functions of the body. So, our urgency is to find Mark before that happens," Julie Bosworth said.
WATCH ANOTHER VIDEO ABOUT MARK BOSWORTH:
Doctors told the family that a progression timeline would be too difficult to predict without knowing the exact onset or how aggressive the cancer might be.
On Monday, Julie Bosworth and the couple's two daughters, Claire and Kelly, left their home in Portland, Ore., and began traveling along the southern Oregon coast looking for clues and handing out fliers.
"My daughters and I could not sit still so we got up at 6 a.m. yesterday and drove up," she said. "We have been driving along the coast looking for him. We are in northern California, the redwood area. We are getting ready to work our way back north doing the same thing."
Bosworth, a GIS specialist with Portland Metro, who teaches mapping courses at Portland State University and plays guitar in a classic rock band, has been married to his wife for 25 years. They were to celebrate their anniversary in London this week.
"Mark had rented a flat so it's even sadder that we were to be celebrating together, just the two of us this week, and instead, I'm doing everything I can to find him and bring him home," Julie Bosworth said.
For now, a gift her husband left her -- a ring engraved with the message "You are my compass, my direction, my description of the world" -- gives Julie Bosworth hope he will find his way back home. "We love him dearly and we will not stop searching until he is found," she said.
Mark Bosworth is described as a white male, 6 feet tall and 180 pounds. He has blue eyes with light brown, greying hair and a beard. He was last seen wearing black athletic pants, brown bike shoes, a gray "Cycle Oregon" sweatshirt and a yellow ball cap.
Bosworth's family is offering a $10,000 reward for information that leads to his whereabouts. Anyone with information is asked to contact the Douglas County Sheriff's Office Tip Line at 541-957-2099. Refer to Douglas County Sheriff's Office Case # 11-3534. The family has also set up at website at findmark.org.
Calling all HuffPost superfans!
Sign up for membership to become a founding member and help shape HuffPost's next chapter