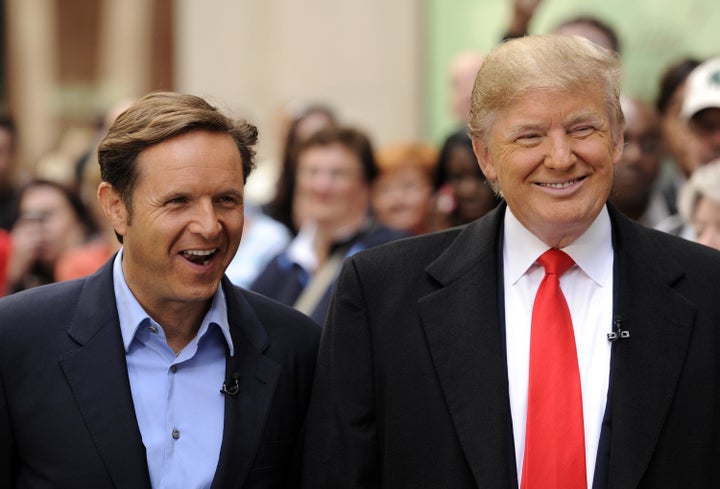 You can be highbrow. You can be lowbrow. But can you ever just be brow? Welcome to Middlebrow, a weekly examination of pop culture.

RYAN SEACREST, over silent montage of Donald Trump campaigning: You've seen his name plastered across skyscrapers, white nationalist internet forums and, somehow, ballots in the 2016 election. Now Donald John Trump has been elected your next President of the United States. Some thought it couldn't happen.
DONALD TRUMP, audio clip from Oct. 19 debate: Wrong!
SEACREST, facing camera with a strained smile: Let's watch as history is made. This is … Inauguration Day 2016! But first, let's take a ride with the future first family as they get ready for the big day.
Int. Trump family limousine. 
IVANKA, overheard: Yes, tell Hillary I've—
DONALD TRUMP, scrolling through Twitter on his phone: Ivanka, have you taken care of the red carpet? I need to have "currant," not "ruby." The "ruby" is just terrible. Awful. It has to be "currant." You'll take care of that, right, Ivanka?
IVANKA, holding receiver: Yes, I've done the carpet, I have the POTUS Twitter account details saved in an email so you can start using that after the speech, I finally convinced Pence to stop quoting "Hamilton" lyrics — but just for this week — and I packed you an extra iPhone charger.
MELANIA TRUMP blows on her matcha tea before turning back to her People magazine. BARON TRUMP's eyes do not move as he sits in front of a copy of The Art of the Deal; TIFFANY TRUMP reads Is Everyone Hanging Out Without Me? by Mindy Kaling.
DONALD TRUMP, still looking at his phone: That Katy Perry has some very—
Camera cuts out as IVANKA smacks it to the limousine floor. 
TIFFANY, confessional: Whenever Dad says something dumb, I just grab the popcorn and wait for Ivanka to start giving him another speech about watching his tongue. I literally always have some popcorn in my bag with me. 
DONALD TRUMP, confessional: I was only going to talk about her follower count. No one has more respect for women than Trump.
SEACREST: The changing of the guard has a long history in this country. Take a look at how the nation's 44th president, Barack Obama, is spending his final days here in office. 
Int. Oval Office, hidden-camera footage.
PRESIDENT OBAMA: Alright, girls. We won't be standing in this room as a family for a while. Not until your mom decides to run for―
MICHELLE OBAMA makes a "zip it" motion.
PRESIDENT OBAMA: OK, well, she's still deciding, but for now let's take a look around and remember how many wonderful years we've spent in this house, all the cool stuff we found under the floorboards, all the turkeys we pardoned together, and—
SECRET SERVICE AGENT: Sir, it appears there has been a security breach. I need you and the first family to step outside while— 
SEACREST, sounding tired: Unfortunately, the Obama family has declined to participate further in this production.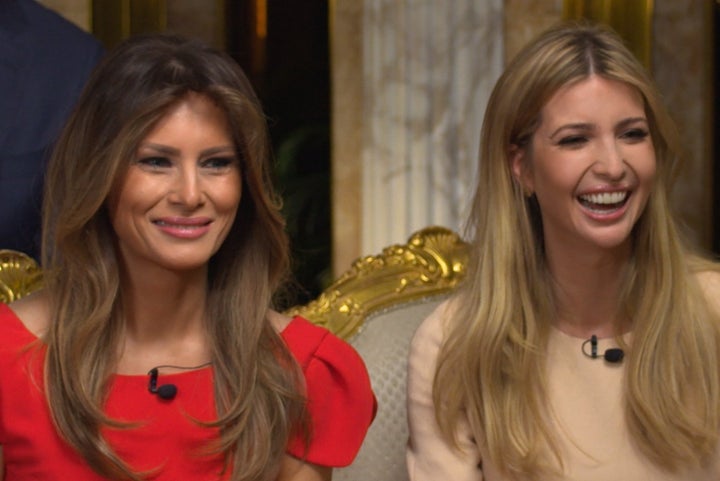 DONALD TRUMP: Melania looks stunning. Mike, doesn't Melania look stunning? She'll be great on camera, just beautiful. The inauguration will be beautiful, I guarantee it.
MELANIA, softly: I was told I would not have to speak to the cameras. 
IVANKA, jogging in from another room, slightly out of breath: No, no, you'll just have to smile! But Eric, we need you to smile less. You're still creeping people out, remember. OK, where are the kids' furs? Are they still at the cleaner? Jared?
JARED KUSHNER, looking at his phone, wordlessly holds up three glistening white fur coats slung over his arm. ARABELLA and JOSEPH enter the room wearing bejeweled gold crowns, followed by a nanny who carries THEODORE, draped in shimmering velvet.
KUSHNER, confessional: I actually just had the groomer do the furs after Ivana's dog the other day. [Grins]
Camera pans to DONALD TRUMP and STEVE BANNON speaking intensely off to the side. 
BANNON: So Breitbart and Liberty Writers are in Pen 1, about 20 feet from the stage, and everyone else will be in Pen 2, which will be over by the Washington Monument. 
SEACREST, sipping from a straw planted in an opaque Coke-branded water bottle: America, the moment has finally come. Let's take a look at these crowds! Let's hear what they're chant ― Um, let's move over to the stage. 
KID ROCK emerges to sing the national anthem. DONALD TRUMP takes his oath on the Lincoln bible, which has been covered in gold leaf for the occasion. Upon his final word, the U.S. Army Band emerges wearing red "Make America Great Again" T-shirts over their uniforms to play "Hail to the Chief," which morphs seamlessly into the theme from "Game of Thrones" as two large #MAGA banners unfurl from the Capitol Building between a heavily Photoshopped profile of Trump in the center. Cut to commercial.
REAL LIFE. REAL NEWS. REAL VOICES.
Help us tell more of the stories that matter from voices that too often remain unheard.
BEFORE YOU GO
PHOTO GALLERY
#TrumpCabinetBand Is How Twitter Stays Positive Wading Through The Swamp