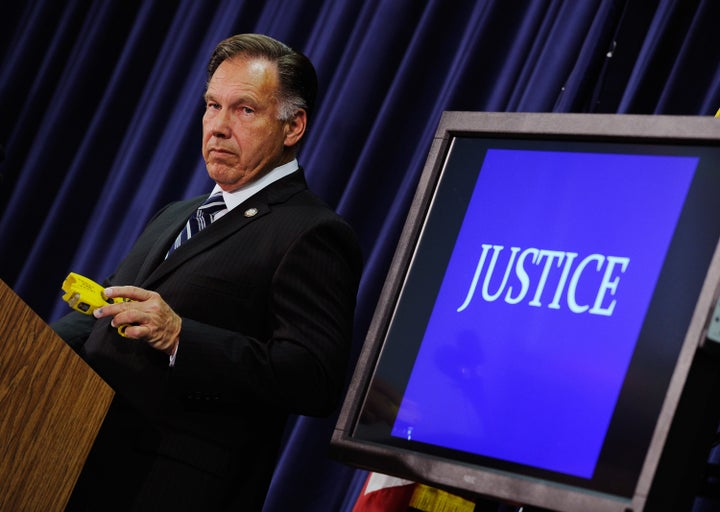 LOS ANGELES ― The Orange County District Attorney's office has used a jail informant named Mark Cleveland for decades to help it secure convictions ― even though the office's own internal records brand him as not credible.
Cleveland says he was part of a sophisticated and secretive jail informant program in Orange County that has allegedly violated the constitutional rights of countless defendants for years. During a May interview with "60 Minutes" to discuss the county's ongoing jailhouse informant scandal, Cleveland described helping Orange County District Attorney Tony Rackauckas' prosecutors in numerous cases, essentially gaining a direct line to the DA's office because of the information he could provide.
"I'm extremely good at providing information to the sheriff's department and district attorney's office," Cleveland said on the show. "I can get on the phone anytime I want, night or day. I was working right there with Tony, I would call him up, he'd love it."
For years, Cleveland said, he was placed in jail cells with or near defendants whom prosecutors were targeting to obtain damaging information that could secure their convictions. In exchange, prosecutors helped Cleveland reduce his own jail sentence by 40 years, he claims.
This is precisely the kind of allegation that has been plaguing Rackauckas' office and the Orange County Sheriff's Department for nearly four years ― unraveling more than a dozen cases and threatening to upend countless more. At the center of the scandal is the use of a long-concealed, illegal snitch program in which sheriff's deputies allegedly plant informants next to targeted inmates and direct them to poke around for incriminating evidence on those individuals to help bolster prosecutors' cases.
In media interviews about Cleveland, Rackauckas' position has evolved over time. Last week, he told Bill Handel on his KFI radio show that Cleveland is a "consummate liar and a manipulator, he makes a lot of claims."
"That guy is just a complete liar," Rackauckas said.
Last month, Rackauckas appeared on the same "60 Minutes" show and said he recalled Cleveland being "an informant many years ago in a case or two" ― but dismissed as a "fantasy" Cleveland's claim that he could call up prosecutors anytime. During a 2015 interview with a Los Angeles ABC affiliate, Rackauckas said he had never even heard of Cleveland.
Despite the top prosecutor's shifting account, informant records maintained by the district attorney's office and first obtained by Assistant Public Defender Scott Sanders state that Cleveland worked for Rackauckas' office for years on numerous cases. The records clearly illustrate that Cleveland is a veteran informant in county jails since at least the 1980s, although Cleveland claims he's worked as a snitch since the 1970s.
During that time, prosecutors and other employees at the Orange County District Attorney's Office came to consider him an unreliable informant, documents show.
In fact, the words "Problem Informant" are typed and underlined on the face page of Cleveland's internal informant profile, which the OCDA maintains as part of the Orange County Informant Index. The warning "Subject cannot be trusted" appears on the second page.
A trove of reports attached to Cleveland's file show the district attorney's office had believed he was unreliable for decades.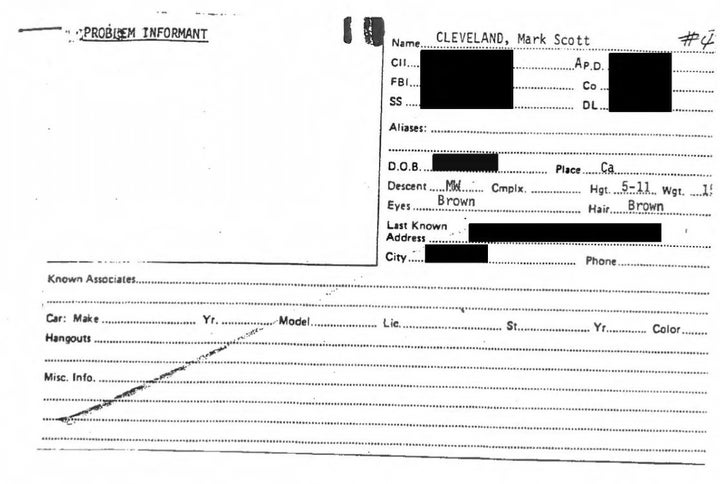 Prosecutors Kept Mum About 'Problem Informant'
Sanders, who has unearthed damning evidence of a jail informant program in Orange County, obtained and examined Cleveland's file. He says Cleveland provided him with information that prompted him to study the OCDA's use of jailhouse informants more closely.
While it's perfectly legal for law enforcement authorities to use informants to help bolster a case — even when the snitch receives a reduced sentence or something else of value in exchange ― Sanders alleges that in some Orange County cases, informants recorded conversations with inmates who were already represented by lawyers, violating their right to counsel. Prosecutors then presented damning evidence gathered by the informants in court, withholding other evidence that could have been beneficial to the defense. That tactic violates a defendant's right to due process.
In a 2015 motion, Sanders detailed five cases from 2008 to 2010 in which Cleveland provided information for the prosecution.
Deputy District Attorney Howard Gundy oversaw one of the cases, which involved the 2010 killing of toddler Dartanian Hurtado. Cleveland testified before a grand jury in 2012, describing statements that co-defendant Timothy Hurtado, Dartanian's uncle, had allegedly made to him in jail.
During Cleveland's testimony, Gundy corroborated Cleveland's claim that he could call prosecutors whenever he wished. But Gundy failed to disclose to the grand jury that his office had described Cleveland as a notoriously unreliable informant in its own internal records.
Sanders raised the issue of Gundy's evidence concealment, as well as the OCDA's use of Cleveland's possibly tainted informant evidence, in his motion, calling it "instructive of a long-standing and widely-held perspective ... that continues to dominate the thinking of the OCDA and local law enforcement agencies: Do not reveal it to the defense and, if wrongdoing is later identified, do not hold anyone accountable for wrongdoing."
The DA's office never contested the allegations in its own reply brief on the matter.
Ignoring Investigators' Advice
According to Sanders, OCDA investigators warned prosecutors in several cases that Cleveland was unreliable, but they were largely ignored. And even if the prosecutors themselves believed Cleveland was unreliable, they failed to inform the defense.
Cleveland's informant file shows that he provided evidence in a 1987 armed robbery case against a man named Jerry Lee Morrissette that a prosecutor used to increase Morissette's bail. However, an internal report attached to Cleveland's file, written by OCDA investigator William Heiden, indicates that the prosecutor later decided Cleveland could not be used as a witness in court because of his "past history of being unreliable."
A new informant appeared "just in the nick of time" and provided the office with evidence from a purportedly less tainted source, Sanders wrote in his 2015 motion. However, the prosecutor chose to keep evidence of Cleveland's unreliability concealed from the defense.
In yet another case described in Cleveland's file, OCDA investigator Michael Carre questioned the credibility of Cleveland's informant work in a 1988 sexual assault case against a man named David Hull. After a judge found that Cleveland's testimony at a preliminary hearing was unreliable in that matter, Carre launched an investigation to determine why his testimony was ever used in the first place, according to records attached to Sanders' motion.
After meeting with Cleveland, Carre wrote that he advised a deputy district attorney on the Hull case that the informant seemingly knew a lot about the case, but "it was my opinion that Cleveland was not reliable." Carre thought Cleveland had "possibly had seen a copy of the police report and that Cleveland's statements to us were based on him seeing the report."
Later, the investigator would also note that he "discussed the case with Senior Investigator Montgomery after we interviewed Cleveland and told him of my negative feelings about Cleveland's reliability. Montgomery agreed and we voiced are opinion to both [DA] Stern and [DA] Rozenberg."
However, Rozenberg, who took over the Hull case and would go on to assume a leadership role at OCDA, nonetheless called Cleveland as a witness. According to Sanders' motion, the transcript of Cleveland's testimony shows that the OCDA again failed to disclose his informant index file or any other evidence of his unreliability.
Cleveland Shaves Decades Off His Sentence
In his interview with "60 Minutes," Cleveland said his informant work led to a dramatic reduction of his time behind bars. During his testimony before the Orange County grand jury, Cleveland said that in exchange for "cooperating" on the Hurtado case, he received "consideration" ― informant-speak for the various benefits, including money, cigarettes, video games, fast food and reduced sentences, that snitches receive when they help prosecutors reach a conviction.
According to court records, Cleveland's snitch work enabled him to avoid sentencing under California's three-strikes law ― a 25-years-to-life sentence. Instead, in 2011, Superior Court Judge John Conley sentenced Cleveland to credit for the time he'd already served "based on the defendant's cooperation" on Gundy's case, court records indicate. He was released the same day.
Rackauckas has long maintained that no one in his office intentionally misused jail informants. The sheriff's department has said that it has taken steps to create more robust ways of documenting and managing inmates.
Still, the growing evidence of malfeasance in Orange County has prompted the U.S. Department of Justice to launch an investigation in December. The California Attorney General's Office and an Orange County grand jury also continue to investigate.
Popular in the Community