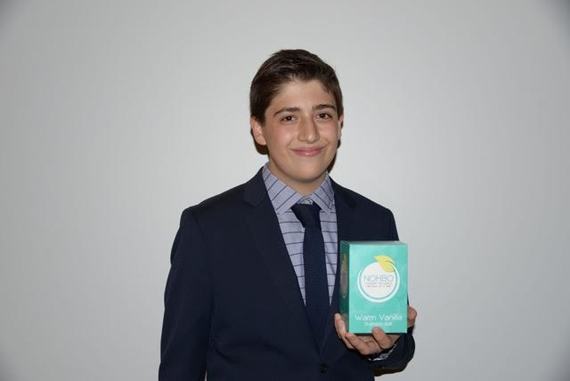 (Photo: Benjamin Stern)

Mark Cuban says 16-year-old Benjamin Stern is his "Mini-Me."
Stern, who hails from Melbourne, Florida, is the CEO and founder of Nohbo. On a mission to reduce plastic and waste, Stern invented the "world's first eco-friendly shampoo ball" in Nohbo, which is waste-free, paraben-free and sulfate-free. He was recently featured in the second episode of Shark Tank's seventh season, where he made a favorable impression on the judges.
To get on Shark Tank, he first sent them a three or four sentence email in December 2014.
"At first I was super excited. But then, two weeks later, after not hearing anything, everything had died down. I had completely forgotten about it. In May they called me, and I was like, "Hello," and it was right after I got off from work. Sixty-nine thousand people with businesses applied and only 180 were flown out, and 150 would be aired, so it was really competitive," said Stern.
The idea for Nohbo struck Stern in ninth grade, while he was watching a documentary about the degrading effects of plastic waste. After experimenting with his mom's laundry-detergent pods, he realized that shampoo could be delivered by a similar system.
Working with a freelance chemist, Stern developed a prototype that resembled a Lindt chocolate ball -- a dissoluble ball wrapped in a biodegradable plant-based material. Stern's mother, Carrie Warren, says, "Ben really did everything on his own. He found everything -- he even found the chemist."
Stern reveals that finding the chemist was not as difficult as one would think. "I do most of my work and get most of my people through freelancing, because it's the cheapest and easiest. You get high-quality-level professionals for much cheaper. So, I found one who had just got laid off from a job he had worked at for 20 years. He's fully committed to Nohbo. I also gave him a piece of the company's equity. He has been instrumental to our growth, bringing us to where we are now."
After an original, but unsuccessful Kickstarter fundraiser, Stern turned to other resources, such as getting a job to pay for initial expenses, borrowing money from friends and family, and investing his college savings. He was able to acquire $20,000 in pro bono legal services from an area law firm. Additionally, Stern is working on an Indiegogo campaign, and has exceeded his goal of $10,000, raising nearly $15,000 so far.
He also cold-emailed the corporate heads of Clorox and Hyatt Hotels and pitched his product. Impressed by his drive, Barbara Corcoran, who also made Stern an offer, said, "That would be the most intimidating thing for even a grown-up."
Robert Herjavec offered his commendation for Stern as well, declaring Nohbo is one of the best things he's seen on Shark Tank.
It was Mark Cuban, however, who finally sealed the deal, with an investment of $100,000 in exchange for 25 percent equity in his company. "You remind me of me when I was younger," Cuban told Stern.
I asked Stern what made him choose Cuban over the other offers made. He answered, "Mark Cuban offered to be a mentor. He offered advice. He offered to use all his strong patent attorneys to cover that aspect for us. Just combined with all of that, and how well he's done for himself, including the companies he's worked for, I knew he would be the best partner to choose."
Stern was so pleased with Cuban's role in his company that the young entrepreneur would have done the deal for free. "He basically said what's mine is yours. He's given me all of his resources. I've talked to his company every day. I speak with him every week. He's been amazing. I tell people I'd do the deal for free because all the resources in itself are extremely valuable," said Stern.
The most important piece of advice Stern received from Cuban is "to walk before you run." Stern elaborated, "You want to be prepared, but you also want to eliminate the most amount of risk before starting and going into something, and that's the best way of approaching a company. It's just to take things slowly until you get an order. Be excited, but don't overexcite yourself until everything goes through."
In the last few weeks, people have turned to Stern for advice, saying, "I have an idea. How can I become a millionaire?"
His response to these questions is simple: "You know, ideas are essentially worthless. That's what I learned a lot through this process. It's what helps calm you down. The same philosophy applies: walk before you run. That will get you somewhere, and I just believe in that philosophy. If you're somewhat business-savvy, then the best thing you can do is really push and try to pursue. It'll take money. It'll take time. It'll take effort. Some days you won't get any sleep at all, but it'll be worth it, and that's the best advice I have because it's the truth."
Stern's next goal is to license the product's technology to large companies after selling his own Nohbo balls. He also plans to incorporate this technology into sunscreen and shaving-cream balls.
This article originally appeared on Forbes. Copyright Deep Patel.
Support HuffPost
The Stakes Have Never Been Higher
Related
Popular in the Community