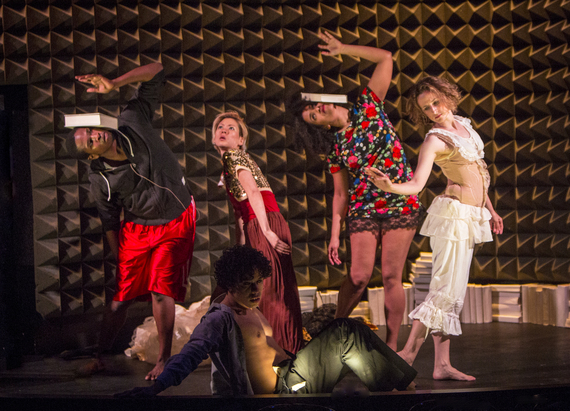 Pictured L-R: Dante Brown, Mei Yamanaka, Leslie Cuyjet, Abigail Levine
Floor/front: Christopher Bell; Photo by Yi-Chun Wu

The Lower East Side has always been a playground for oddballs, creative types who diverge from Manhattan's mold. It's a quirky neighborhood filled with idiosyncrasies and secrets stuffed in blocks and buildings. These days, south of Union Square is trending, a wonderland of bars, movie houses, and restaurants that offer a refreshing contrast to Midtown. But don't be fooled: the Lower East Side has a legacy of hosting the mysteries that lie behind closed doors and inside our imaginations.
Mark Dendy's NEWYORKnewyork@AstorPlace shares marrow with the LES, a skeleton that rivets freaks and geeks with nostalgia. At Joe's Pub last week, the work was provocative, wild, and weird. Dendy is celebrated for mixing genres, incorporating spoken word into dance and crossing over from eccentric experimentation to Broadway to ballet. And what exactly was NEWYORKnewyork@AstorPlace? I have absolutely no idea, and perhaps that's what made it so compelling.
When I told my friends that I was headed to the Public on Wednesday, May 6, they assumed that it was for Hamilton, the musical hit of the season. They were, of course, wrong; I was off to an intimate, candlelit room to watch ghosts emerge from their graves. Ghosts of New York's bourgeoisie. Ghosts of the gay movement. Shakespeare's ghosts. It was all haunting in its absurdity.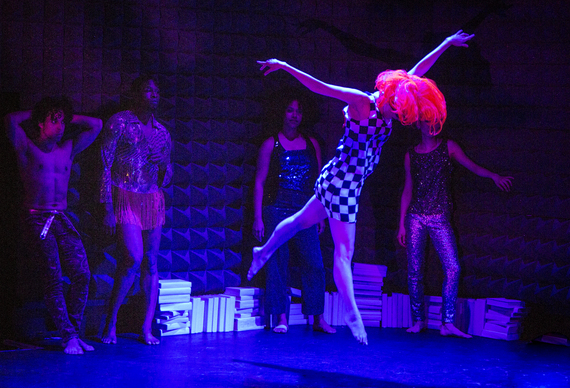 Pictured: Abigail Levine (center),
Back L-R: Christopher Bell, Dante Brown, Leslie Cuyjet, Mei Yamanaka; Photo by Yi-Chun Wu

NEWYORKnewyork@AstorPlace narrated the history of the street where the Public sits in its majesty. Dendy took no precautions for political correctness, and with a fake hand job and a strip tease onstage, there were plenty of moments when the audience squirmed. He also approached difficult issues like gentrification and the AIDS epidemic in the '80s, which didn't make for typical mealtime pleasantry. As spectators munched on hamburgers and fries, Christopher Bell gyrated as a gay exotic dancer with the kind of fervor that harbors sexual frustration and anger brought on by fear of disease. As they sipped on a jug of beer, Abigail Levine twirled aimlessly, mocking Taylor Swift's "Welcome to New York" and its whitewashed sentimentality. Leslie Cuyjet ran around as a realtor, decrying artists for making New York "cool" and contributing to rising rents. Meanwhile, Danté Brown danced in a hoodie, representing racism until, with one ice-cold beat of a gunshot, he collapsed like the blow of a hammer.
Certainly, the piece felt scattered. It interfaced with so many dialogues that no one stood out for its urgency. Nevertheless, NEWYORKnewyork@AstorPlace had a strange allure. Dendy thought a lot about the current state of New York and how it differs from decades passed. He managed to infuse his movement with meaning, and few could belittle the performance as sheer entertainment. It forced the viewers to question, which is almost always good in a culture industry that so often dictates what we do unconsciously. And it was still pleasant at times because Dendy's dancers, especially Mei Yamanaka and Bell, were intoxicating.
Would I go again? Absolutely not. It's never nice to sit on edge, uncomfortable with the honesty of a situation. That's what makes NEWYORKnewyork@AstorPlace important: it confounds without mercy.
I once had a philosophy professor who said that when you're confused, it means you're getting it. If so, Manhattanites have a lot to learn from Dendy and his stint at Joe's Pub.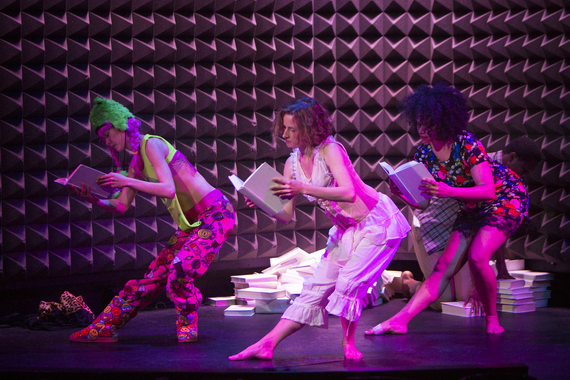 Pictured L-R: Mei Yamanaka, Abigail Levine, Leslie Cuyjet; Photo by Yi-Chun Wu
Calling all HuffPost superfans!
Sign up for membership to become a founding member and help shape HuffPost's next chapter