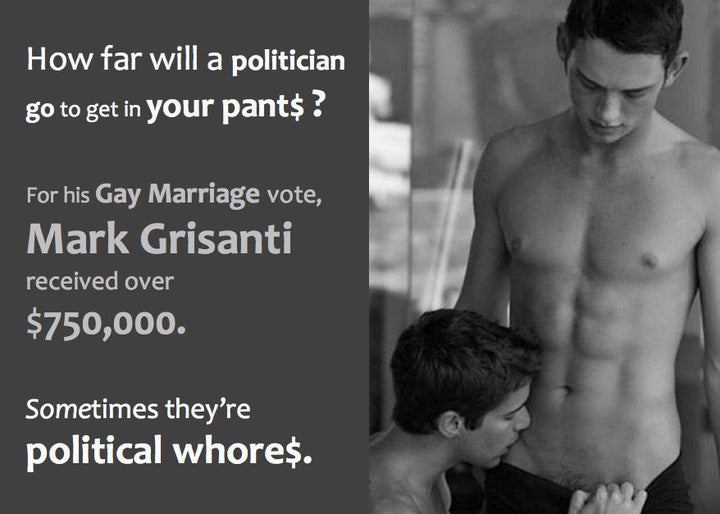 The mailer, featuring two sexually suggestive photographs of two men, has circulated online after first being reported by Politico on Monday evening. The mailer attacks state Sen. Mark Grisanti (R-Buffalo) for his vote to approve same-sex marriage. The mailer says that it was paid for by the "Committee to Save the Erie County Republican Party," a group that Politico and others have linked to Matt Ricchiazzi, a former Grisanti supporter who unsuccessfully sought the Buffalo mayoralty in 2009.
Grisanti is facing a primary contest Thursday against attorney Kevin Stocker.
Ricchiazzi confirmed to The Huffington Post that the mailer, which has not been sent to voters in the Erie County district, was generated by the committee as part of a design contest it sponsored. He said that the mailer is not meant to criticize same-sex marriage, which Ricchiazzi said he supports, but to send a statement about Grisanti's actions in office. Grisanti had originally opposed same-sex marriage in his 2010 campaign.
"When I first saw this mailer design, I thought it was brilliant. It is a harsh critique of the transactional nature of our politics, which is a message that resonates very strongly in the Republican primary. It equates the work of politicians with the work of prostitutes, and makes the argument that Grisanti has been selling himself to the highest bidder," Ricchiazzi said in an email. "This mailer has little to do with gay marriage -- something that I wholeheartedly support -- and has everything to do with Mr. Grisanti's behavior in office, which some say has been akin to a prostitute. Indeed, any prostitute can do the work of a New York State Senator -- and most can do it better."
(The full mail piece can be seen on BuzzFeed here.)
Ricchiazzi did not respond to a follow-up email soliciting further information, including whether anyone else is involved in the committee, the nature of its funding or the identities of the contest participants.
The New York State Board of Elections and the Erie County Board of Elections did not have any record of a "Committee to Save the Erie County Republican Party" or campaign finance reports for such a group.
Curella and Grisanti did not return calls for comment. Curella's LinkedIn page indicates that he held several jobs prior to joining Grisanti's staff, including as deputy communications director for U.S. Sen. Ron Johnson's (R-Wis.) 2010 campaign.
Sources within the Erie County Republican Party confirmed to HuffPost that Ricchiazzi had been involved in Grisanti's 2010 campaign prior to a falling out with the senator. Artvoice reported in February that Ricchiazzi is alleged to have tried to obtain a $20,000-a-month job from Grisanti, on claims that he had seen tapes of the casino fight involving Grisanti, his wife and others, and that he was planning a primary race against Grisanti that would include "a relentless smear campaign."
In 2011, Ricchiazzi defended Grisanti's vote on same-sex marriage, writing a letter to the editor of Artvoice attacking Erie County Republican Chairman Nicholas Langworthy for criticizing Grisanti's vote. Langworthy is now backing Grisanti and declined to comment on the mailer.
Stocker, Grisanti's primary opponent, distanced himself from the mailer, telling HuffPost that he has never heard of the committee and that Ricchiazzi is not involved in his campaign. Noting that he has gay friends, Stocker said that his campaign is not based in opposition to same-sex marriage but Grisanti's changing views. He also said he is opposed to the ad.
"I've heard about it. I haven't seen it, nor would I authorize it," Stocker said. "I find it completely disturbing and out of bounds. The whole election is completely disgusting."
Before You Go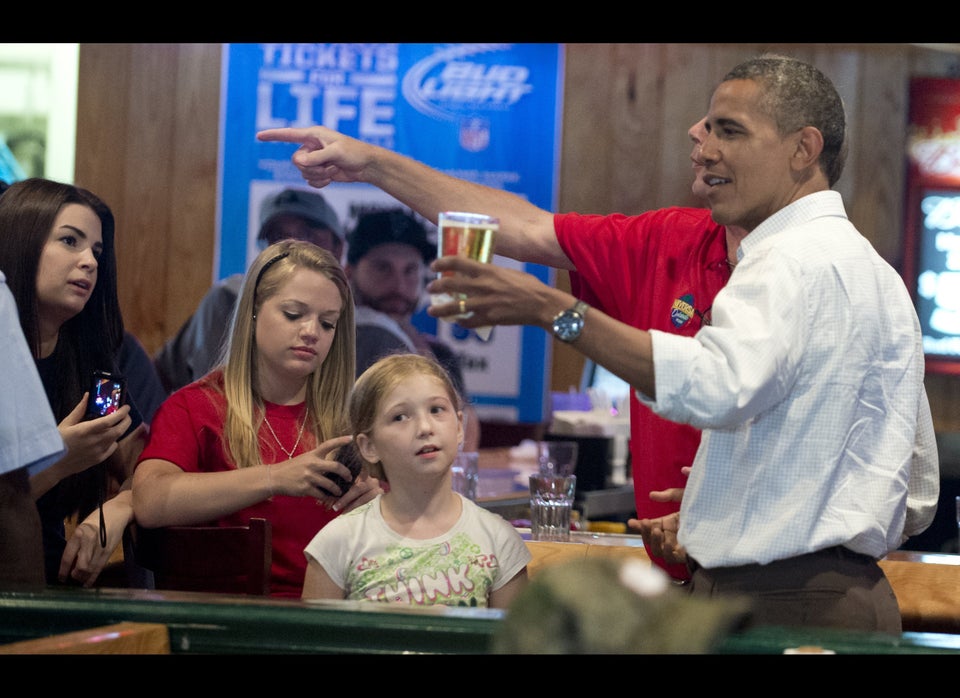 President Obama Drinking Beer
Popular in the Community