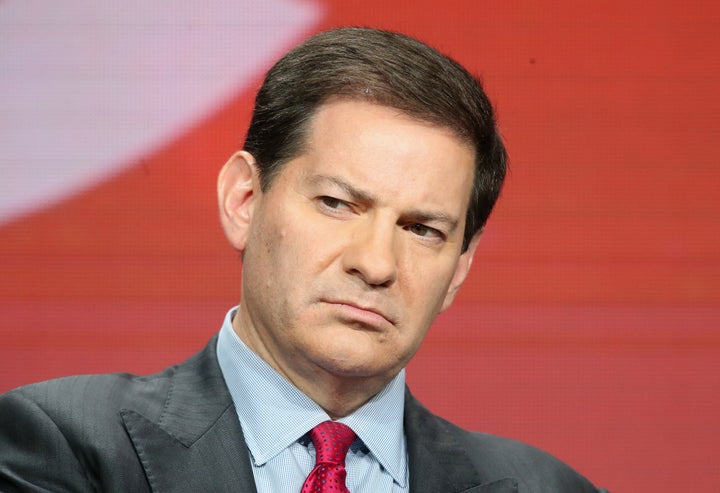 NBC News and MSNBC have terminated their contracts with Mark Halperin following numerous sexual assault and harassment allegations against the veteran political journalist that surfaced last week.
A spokesman for MSNBC confirmed to HuffPost on Monday that Halperin's contract has been terminated. The new comes just days after a CNN report Wednesday detailed five women's sexual harassment allegations against Halperin during his time at ABC News over 20 years ago.
The women's accounts ranged from Halperin propositioning them for sex to nonconsensual groping. At least 7 other women have come forward with harassment or assault allegations against him since Wednesday.
Halperin, 52, apologized Friday for the "pain and anguish" caused by any of his past actions in a statement posted to Twitter.
"The world is now publicly acknowledging what so many have long known: Men harm women in the workplace," Halperin said in his statement. "For a long time at ABC News, I was part of the problem. "
Halperin worked at ABC News for almost two decades, becoming the political director in 1997 before leaving the network as a political analyst in 2007. He worked as an editor at large for Time magazine for a few years before being hired by MSNBC as a senior political analyst in 2011. He also worked for Bloomberg News during the 2016 presidential campaign.
In 2010, he co-wrote the best-seller Game Change about the 2008 presidential election, which was made into an HBO movie. Penguin Press announced on Thursday that it had cancelled plans to publish a book Halperin was co-authoring on last year's race. HBO also dropped plans to pursue a miniseries tied to the new book.
Halperin was a frequent contributor on MSNBC's "Morning Joe." Co-host Mika Brzezinski addressed the sexual harassment allegations against Halperin on Friday.
"We want to know more about these disturbing allegations," said Brzezinski, who co-hosts the show with fiancee Joe Scarborough. "We want to know the stories. We need to know what happened. And we're not going to avoid the story just because he is our friend."
"We are at a pivotal moment in history where unacceptable harassing behavior toward women will no longer be swept under the rug," she said.
This article has been updated with background on Halperin and comments by Brzezinski.
Related
Popular in the Community