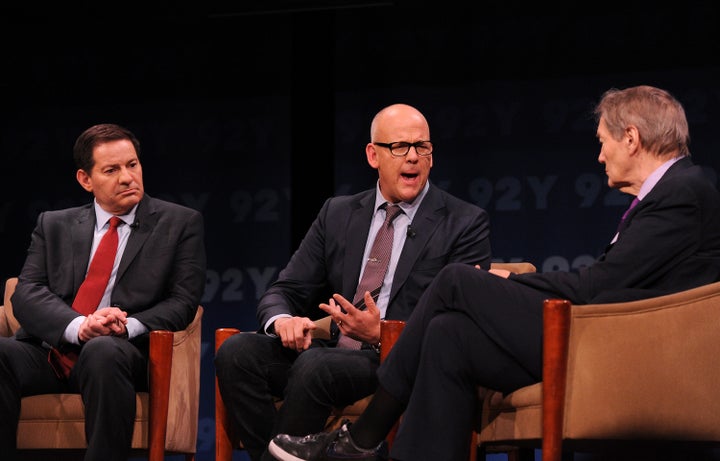 Mark Halperin and John Heilemann, co-authors of 2008 and 2012 election chronicles Game Change and Double Down, will revisit the 2016 presidential frenzy for a new book and HBO miniseries. 
Penguin is slated to publish the as-yet-untitled book in early 2018. HBO will follow with a mini-series directed by Jay Roach, who also directed the network's adaptation of Game Change. 
The Game Change film centered around former Alaska Gov. Sarah Palin joining the Republican ticket, while the book also covered former President Barack Obama's rise, former Secretary of State Hillary Clinton's fall in the Democratic primary, and the tabloid saga of former Democratic Sen. John Edwards. There was no HBO series based on Double Down, which covered Obama's comparatively less cinematic re-election contest against Mitt Romney. 
Halperin and Heilemann, two veteran political journalists, should be able to find plenty of drama in the 2016 election, given President Donald Trump's unprecedented and chaotic campaign and shocking victory.
The struggle for the authors will be to unearth new details from the Trump and Clinton campaigns to distinguish their work from the saturated news coverage and other postmortems. Jonathan Allen and Amie Parnes, authors of a book on Clinton's tenure at the State Department, are slated to publish their campaign-focused book, Shattered, in April. NBC News correspondent Katy Tur, who traversed the country covering Trump's insurgent candidacy, is writing a memoir. 
Still, the pair managed to reconstruct closed-door scenes and find newsy nuggets from the 2008 campaign for Game Change in early 2010. They have longstanding relationships with major politicians and operatives, evident from 2016 bookings for their late Bloomberg News show, "With All Due Respect," and Showtime series, "The Circus." And the authors also have experience getting access to Trump, though they faced criticism during the campaign for not aggressively challenging the candidate during the campaign. 
In a statement, HBO Films President Len Amato said the project "promises to vividly capture the most unique and impactful event in modern American politics."  
Halperin went as far on election night on "The Late Show" to describe Trump's victory as "the most cataclysmic event the country has ever seen" outside of the Civil War, World War II and the terrorist attacks on Sept. 11, 2001. 
Calling all HuffPost superfans!
Sign up for membership to become a founding member and help shape HuffPost's next chapter