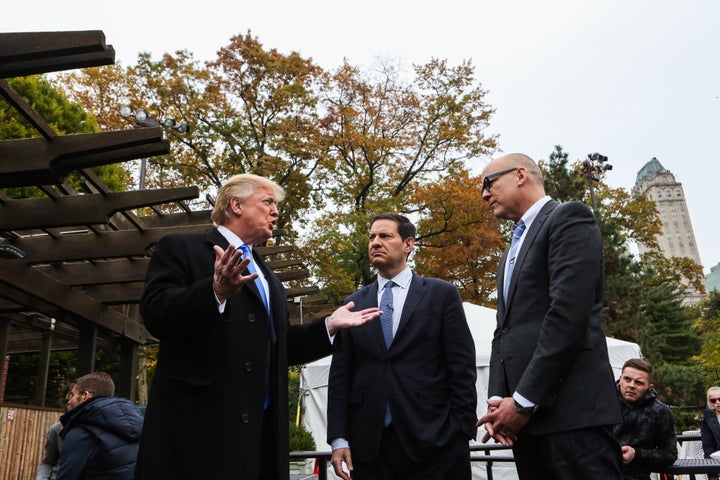 NEW YORK ― Mark Halperin and John Heilemann's afternoon politics show on Bloomberg TV, "With All Due Respect," will end following coverage of Donald Trump's inauguration, according to a staff memo.
Halperin and Heilemann, who joined in May 2014 and served as co-managing editors of Bloomberg Politics, will continue to host the show daily until Dec. 2. Bloomberg will produce four hourlong specials previewing Trump's presidency and then cover the event on Jan. 20.
The two journalists will cease day-to-day roles with the company, but according to the memo are in discussions to "play a role at Bloomberg as contributors and columnists."
The hiring of Halperin and Heilemann, for reportedly $1 million apiece, caused tensions inside the company as some Washington staffers felt marginalized with the shift of political coverage to New York. There's been speculation inside the company, even fueled by CEO Mike Bloomberg himself, that the pair would depart after the election. Many expect Halperin and Heilemann ― authors of 2008 and 2012 election tell-alls Game Change and Double Down ― to write another book on the 2016 election, but they have not yet announced any plans to do so.
In the memo, Bloomberg Editor-in-Chief John Micklethwait and Bloomberg Media CEO Justin Smith praised Bloomberg Politics as "one of our most successful consumer media franchises, providing a constant stream of original and influential web, TV, and digital video content."
"Bloomberg Politics has put Bloomberg at the heart of this historic presidential campaign," they wrote. "That has required extraordinary effort, energy, and creativity by all of you."
Halperin and Heilemann raised Bloomberg's profile during the 2016 election, and the former, especially, suggested early on that Trump had a path to victory. But the pair also drew criticism for interviews that were especially soft on the Republican candidate-turned-president-elect. In August 2015, Bloomberg published a chummy video of Halperin's helicopter trip with the candidate ― "Mark Halperin Rides in Style With 'The Donald'" ― and the pair jumped on a zamboni with Trump a few months later as part of another light interview.
As the election neared, Washington Post columnist Dana Milbank singled out Halperin's praise of Trump's "tactical genius" and defense of some of his outrageous remarks as "particularly soulless."
But despite criticism, Halperin and Heilemann proved successful in expanding their reach throughout the election. MSNBC rebroadcast their 5 p.m. Bloomberg TV show at 6 p.m. and their 2016-themed weekly documentary, "The Circus," aired on Showtime.
Halperin and Heilemann remain commentators at NBC and MSNBC, though the cable channel has not yet announced what will replace "With All Due Respect" at 6 p.m.
In February, Bloomberg will launch a new TV show "focused on global politics and the impact of the new administration's policies on business and finance worldwide, drawing on our unique international journalistic resources," according to the memo.
The Halperin and Heilemann news follows Bloomberg announce earlier Thursday that Washington bureau chief Megan Murphy would become editor of Bloomberg Businessweek as the magazine relaunches next year to increasingly focus on business and finance.
Read the full memo below:
To everybody at Bloomberg Politics from John Micklethwait and Justin Smith

Since its launch in October 2014, Bloomberg Politics has been one of our most successful consumer media franchises, providing a constant stream of original and influential web, TV, and digital video content. Bloomberg Politics has put Bloomberg at the heart of this historic presidential campaign. That has required extraordinary effort, energy, and creativity by all of you.

With John Heilemann and Mark Halperin, we created the daily political show With All Due Respect (WADR). Its sophisticated, substantive, non-partisan reporting and analysis have made it one of the most talked-about programs of this campaign season. We creatively distributed the show for daily rebroadcast on MSNBC, where it has routinely been one the network's highest rated shows in the hours before prime time. We made WADR available to viewers in many other ways: from Apple TV, Roku, and Twitter (where the show is now live streamed) to custom in-flight episodes for Delta Airlines. Twitter also chose Bloomberg Politics as its content partner to provide its first-ever live stream of the presidential and vice presidential debates—along with special pre- and post-game shows—reaching several million viewers per debate. In addition, the WADR team produced a slew of digital videos that became viral sensations on social media. And the team worked closely with Showtime on the network's popular and widely acclaimed weekly documentary series, The Circus, starring Mark and John.

On the website and across all of our platforms, Bloomberg Politics has provided hour-by-hour election coverage, from breaking news to deep-dive features and data analytics, scrutinizing and explaining every twist and turn of the campaign. On the web, we introduced the innovative "Campaign Tracker" feature with its rolling news updates, and we continually delivered scoops and agenda-setting insight during the most volatile and unpredictable of presidential cycles. As a team, you all have a great deal to be proud of.

We would like to thank everybody for the enormous amount of work you have put in, and pay special tribute to Mark and John, who have crisscrossed America reporting for the show and site, building the brand and turning Bloomberg Politics into a preeminent player on the political media landscape.

But now the campaign is over. In the coming weeks, as Washington transitions from the Obama administration to the incoming Trump administration, our Bloomberg Politics team will transition as well—shifting our focus to the impact of politics and policy on the business and financial world. This is an area where we have unparalleled strength.

In consultation with John and Mark, we have come to the mutual decision that WADR will reach its natural conclusion with the inauguration of President-Elect Trump. From now until December 2, the show will continue its daily broadcast; after that, the WADR team will concentrate its efforts on producing four special hour-long features previewing the Trump presidency to be broadcast in the week leading up to the inauguration, and then will provide coverage of the event itself.

In February, we hope to launch a new television show focused on global politics and the impact of the new administration's policies on business and finance worldwide, drawing on our unique international journalistic resources. Al Mayers will start this process and we look forward to hearing all of the ideas you will undoubtedly have for that. We are talking to John and Mark about them continuing to play a role at Bloomberg as contributors and columnists.

Similarly, on the Web, we will broaden out Bloomberg Politics from its domestic focus to a more global outlook, adding more reporting and analysis from Europe and Asia. Under the leadership of Marty Schenker, Wes Kosova, Craig Gordon, John Fraher, Jed Sandberg and Scott Havens, our teams will start designing a new more globally oriented website, allocating our journalistic resources accordingly.

We hope you will understand the need to adjust our course after the election and the changes entailed in that adjustment. But many things will stay the same. Politics will remain a key part of what Bloomberg does across all of our platforms. From the fallout from Brexit to the composition of the new House Ways and Means Committee to the new Trump administration's agenda, we plan to provide robust coverage of policy and politics going forward; this content is highly and enduringly valuable to our audience and partners. We look forward to discussing these changes with you in person later this morning.

John and Justin
Related
Popular in the Community