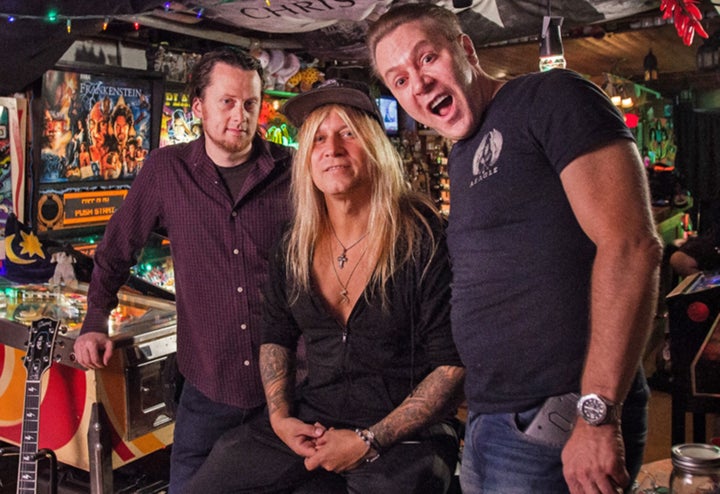 As child, he had an intense obsession for the dramatic, constantly burying his attention into Edgar Allen Poe books or Rod Serling anthologies. By the time he was ready for college, James Madison University was a natural selection for him, where he could learn the art of radio, television, and film production. Once school was completed, he moved to Boston and talked his way into a job at the company he would one day own, a complete media company specializing in audio and video production.
His name is Mark Helms and he has built a massive media empire, Sound and Vision Media, on one simple premise, that what you see is what you perceive that you get. In other words, when it comes to video marketing, people believe what they see, so it is essential to tell a great story using the highest quality cameras and audio, so that your customers know they are getting the best. Mark Helms has a flare for capturing the very essence of the person or business on the other side of the camera. He is the master of transforming stories into emotionally laced masterpieces, usually designed to sell something. Whether it's a nationally recognized show on pinball machines or a local corporate video for a heating and ventilation firm, he knows how to make it interesting.
I recently sat down with Mark Helms to find out what it takes to build a media empire and his words of wisdom on using video to expose your business.
What Do People Buy: According to Helms, people do not buy goods or services, but rather people buy other people. He says that consumers actually buy stories, and if you are a business owner who is not great at telling your story, your sales will suffer. He says that if you own a business, your website, social media, and marketing materials should all tell your story. When it comes to producing meaningful videos for companies, he works directly with the owner and management team to make sure they are telling their story in a way that compels the viewer to take action. He says that the old days of 30 minute corporate videos are gone, and have been replaced with 2-3 minute videos online. He says there is nothing better for SEO results than video, but that many business owners make the mistake of producing their own. Says Mark, if you go back to his simple premise that what consumers see is what they perceive they get, then it's easy to understand why amateur video for any company is a really bad idea. Helms says that he and his team work closely with every business owner to craft the message and deliver it on point through state of the art audio and video equipment. By doing so, they help clients increase their company search engine results while helping them spread a message that matters to a vast audience. His biggest piece of advice for entrepreneurs is to stop selling features and benefits, and instead tell your story, and of course always opt for a professional video team.
Let Your Passion Drive You: As a young boy, Helms worked a paper route so that he could earn money for pinball. He admits that he had an obsession with pinball, like many kids today are obsessed with video games. In addition to running his media empire, Helms always has a project of passion that that he works on the side. In the mid 90s, his passion project was a video documentary entitled The History of Pinball, where he traveled the country talking to pinball enthusiasts of all kinds, including Slash from Guns and Roses. Helms says that the project was easy because he was driven by passion. He was able to work day and night on the two things he loves the most, video and pinball machines. Apparently his passion rang through, because AMC ended up buying the documentary to air on their network. Helms says that when you spend every waking moment doing the things you love, you don't have to worry about a paycheck, because the byproduct of your passion is beautiful art that people will pay for. Helms says that he has now produced 27 shows of all kinds that have been sold to networks. He says that if there's one thing they all have in common, it's that they are fueled by his passion for making great video.
What's Your Unique Value: Helms says that his unique value proposition as a video production specialist is that he is a perfectionist. He will do multiple takes in order to get it right. He invests in the best equipment so that the imagery is sharp and the sound is flawless. He says that he learned from his dad, a salesman, the art of understanding your unique value proposition and how to articulate it to clients. Helms' father was a Lenox Candle salesman who used to go from business to business trying to get them to buy his candle supply. Mark says that he used to tag along with his dad where he would watch store owners say to him, "Not interested…it's just a candle." And Helm's father would enthusiastically exclaim, "Are you kidding me? These aren't just any candles!" Then his father would slam one down on the counter to demonstrate the candle's stick tight base which allowed the candle to stand up on it's own. Helms says that his dad was always enthusiastic about his product and could demonstrate the value proposition in mere seconds, and by doing so, he rarely had trouble making sales.
Team Matters: When it comes to video, Helms says that quality matters more than anything else. He says that when you put your company on video and then share it on the internet, you are putting the soul of your company out for the world to see, and so it's worth investing in quality. He is so fanatical about quality that he invests heavily into the best possible team for shooting and producing video. He says that the success of his company has everything to do with the talent around him. He shared a story of one client who asked him to produce a video for her hair extension products. Helms put one of his best guys, Corey Nichols, on the project. Corey acted as cinematographer, lighting director, and producer, and the video came out perfect. In fact, no sooner than the video came out, the extensions sold out. Helms says that the best equipment helps make a beautiful video, but nothing matters more than having the best team.
Helms is a successful self-made media tycoon who is passionate about helping entrepreneurs shine through video marketing. He says that people believe what they see, and so he has spent a lifetime making sure that when eyes land on a Sound and Vision Media produced video, the quality is second to none.
Related
Popular in the Community