In the week since President Donald Trump's ban on refugees and travelers from seven Muslim-majority countries, Najwa Elyazgi wasn't sure she'd make it back to the United States at all, let alone in time to finish her final semester at George Mason University.
After spending a week stranded and alone in Istanbul, Elyazgi finally got home late on Saturday. Before her plane landed at Washington Dulles International Airport, she received a call from Virginia's Democratic attorney general, Mark Herring, who had sued the Trump administration on her behalf days earlier.
"I'll be there to welcome you," Herring said on the call.
Sure enough, he was at the airport to greet the 23-year-old college senior, a Libyan citizen who has been studying in the U.S. since 2014.
"Najwa is a bright, accomplished young woman," Herring told The Huffington Post on Sunday. "She did not deserve what happened to her."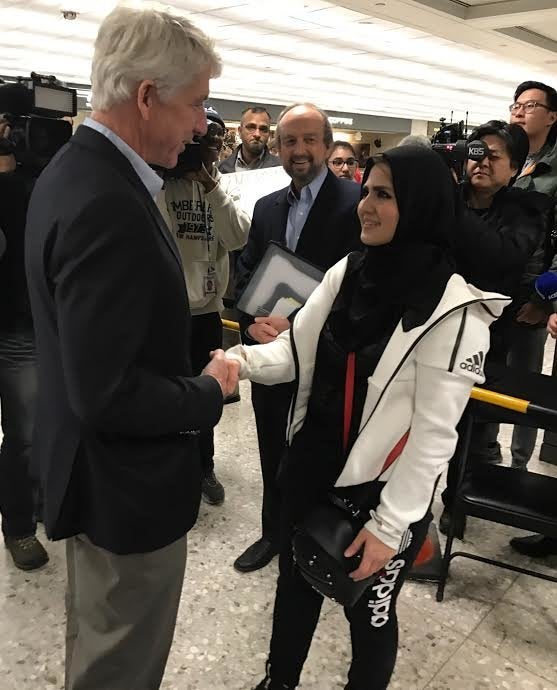 Trump's Jan. 27 executive order suspends refugee resettlement entirely for 120 days, bans Syrian refugees indefinitely, and bans all citizens from Libya, as well as Iran, Iraq, Somalia, Sudan, Syria and Yemen, from entering the U.S. ― even if they hold valid visas.
Elyazgi said Monday she was midair when Trump signed the executive order. Unable to board her connecting flight to Washington, she was forced to grapple with unplanned travel expenses in Istanbul and the worry that she would be unable to graduate.
"I felt destroyed, honestly. I thought, 'That was my future,'" she told HuffPost.
Wracked with uncertainty, all she did was watch the news, apply to other schools and sleep. At one point, a hotel employee came to check on her after noticing her "Do Not Disturb" sign had been unchanged for four days.
"It was a nightmare. I was not living in that week," she said.
Elyazgi has already overcome plenty of obstacles to get a college education.
She graduated with the highest GPA in her high school, which earned her a full scholarship to the school of her choice. Elyazgi had enrolled in two different Libyan colleges, but they closed as the country's civil war broke out. When she decided to enroll at George Mason, the only U.S. embassy in Libya had also closed, so she was forced to secure two visas: the first to travel to the U.K., where she could then process a student visa to the U.S.
But now, as a result of her latest ordeal, Elyazgi is questioning if she even wants to stick with her plan of pursuing further studies in the U.S. after she graduates.
"It was heartbreaking to hear her say she was planning on continuing her education in a master's degree here, but after what happened to her, she's planning on pursuing it in Canada or another country," Herring said.
"Even if we're successful in getting that ban overturned, a lot of damage has been done that will be hard to overturn," he added.
"I was expecting this [kind of ban] to come from Libya; I can't believe that it's coming from the United States."
The first several hours after Trump signed the Jan. 27 executive order were chaotic, Herring said, made worse by the fact that his office was getting "no information" about the details of the travel ban.
Herring learned that students and faculty around Virginia had to cancel plans to present their work at conferences outside the country.
"We're trying to get our arms around how much damage was caused," he said.
At least 350 students and faculty members at Virginia Commonwealth University, Virginia Tech, George Mason University, William and Mary and the University of Virginia could be affected by the order, said Virginia's solicitor general, Stuart Raphael, according to NBC Washington.
The legality of Trump's executive order is currently being battled out in federal court. If it's upheld and Elyazgi decides to stay, she would have to choose between studying in the U.S. and not seeing her family for three years until she completes her advanced degree.
The international studies major said she wanted to pursue an education in the U.S. because of its prestigious schools and because the U.S. is "one of the most democratic countries."
"They respect all religions. In the First Amendment, it says freedom of speech, freedom of religion, everything," Elyazgi said. "I was expecting this [kind of ban] to come from Libya; I can't believe that it's coming from the United States."
Her feelings toward the American people have changed too, she said ― but for the better. She said even the Customs and Border Protections agent who stamped her papers on Saturday said, "Welcome back. We missed you."
"The people were there for me," Elyazgi said." I felt loved."
How will Trump's first 100 days impact you?Sign up for our weekly newsletter and get breakingupdates on Trump's presidency by messaging ushere.
Before You Go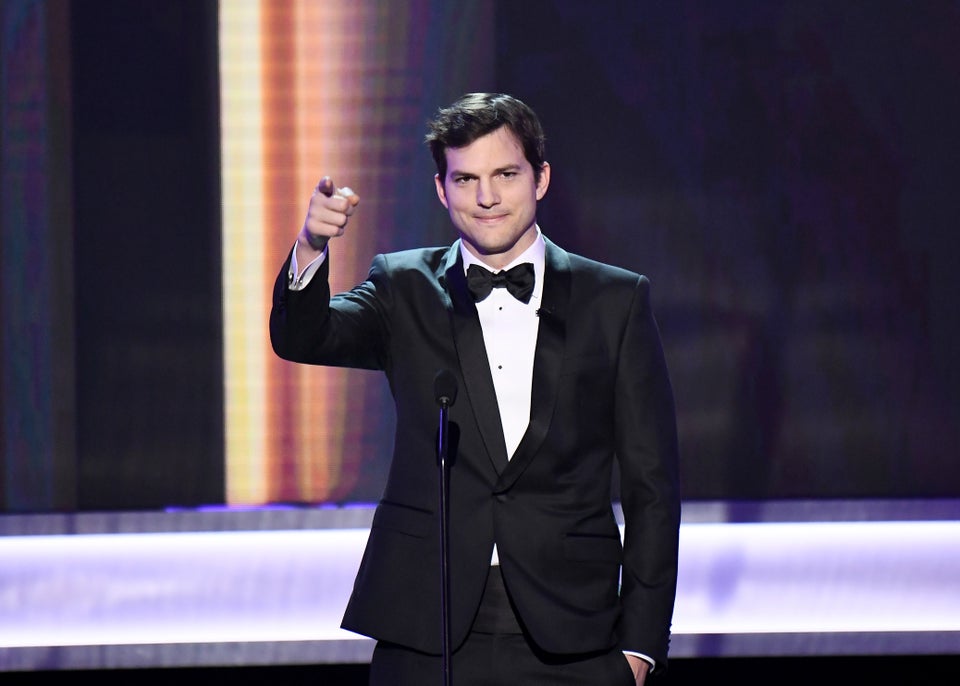 Celebrities On Immigration Ban
Popular in the Community