Mark Judge, the man who Christine Blasey Ford has said was in the room while Brett Kavanaugh allegedly assaulted her when they were in high school, has declined to speak before the Senate Judiciary Committee as it weighs Kavanaugh's Supreme Court nomination.
Democrats had called for Judge to testify before the committee. But in a statement to committee chairman Sen. Chuck Grassley (R-Iowa) and Sen. Dianne Feinstein (D-Calif.), Judge claimed he had no memory of the incident and declined to speak publicly about the allegation.
"I did not ask to be involved in this matter nor did anyone ask me to be involved," Judge said in a letter signed by his lawyer on Tuesday. "The only reason I am involved is because Dr. Christine Blasey Ford remembers me as the other person in the room during the alleged assault."
"In fact, I have no memory of this alleged incident," he added. "Brett Kavanaugh and I were friends in high school but I do not recall the party described in Ford's letter. More to the point, I never saw Brett act in the manner Dr. Ford describes."
Judge added: "I have no more information to offer the Committee and I do not wish to speak publicly regarding the incidents described in Dr. Ford's letter."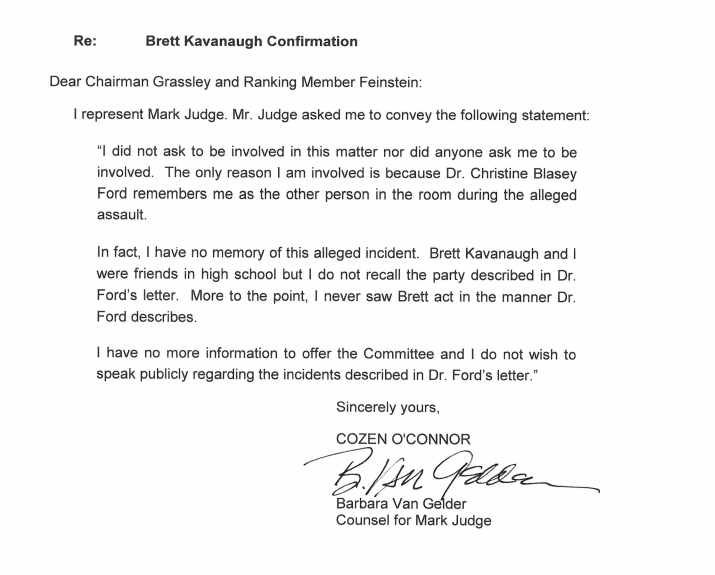 Senate Republicans have agreed to allow Blasey, a psychology professor, and Kavanaugh to testify before the Senate Judiciary Committee next Monday. But Grassley said they would be the only two witnesses at the hearing, leaving out Judge.
Kavanaugh has agreed to appear at the Monday hearing. Blasey's lawyer Lisa Banks said on Tuesday that an FBI investigation into the accusation should be "the first step."
In a Washington Post interview published Sunday, Blasey publicly identified herself as the author of a confidential letter detailing alleged sexual misconduct by Kavanaugh that was sent to Rep. Anna Eshoo (D-Calif.) and then Feinstein in late July.
Blasey told the Post that Kavanaugh, who appeared to be drunk, pinned her down and groped her as Judge, also apparently drunk, watched during a party in suburban Maryland while they were all in high school, around 1982.
Blasey said she tried to scream, but Kavanaugh covered her mouth. She was able to escape after Judge jumped on top of them both, according to the Post.
Kavanaugh and Judge have both denied Blasey's allegation. Judge called the accusation "just absolutely nuts" in an interview with The Weekly Standard published before Blasey's identity was revealed.
After news of Blasey's letter came out, Judge, who attended Georgetown Preparatory School in Maryland with Kavanaugh, told The New York Times that students raised in Catholic homes would not tolerate the type of behavior described in the letter.
"Something like that would stick out, which is why I don't think it would happen," he told the Times.
But in 1997, Judge published a memoir that detailed a culture of binge drinking and partying during his high school years.
In Wasted: Tales of a GenX Drunk, Judge told stories of himself and other students drinking heavily and trying to "hook up" with girls.
He said that his "immersion" into alcohol began at the end of his sophomore year during an annual "beach week," a time when Catholic high school students went to the shore after school was out.
"Now I had an opportunity to make some headway [with girls]," Judge wrote. "Most of the time everyone, including the girls, was drunk. If you could breathe and walk at the same time, you could hook up."
In the book, Judge changed the name of his school to "Loyola Prep." He does not specifically mention Kavanaugh's name, but he did briefly mention a character named "Bart O'Kavanaugh" who "puked in someone's car" and "passed out on his way back from a party."
He also refers to the name again when listing off Irish surnames from his elementary school, including, "O'Neal, Murphy, Kavanaugh."
Judge has also written of "uncontrollable male passion" in a 2015 review of the publisher Hard Case Crimes:
Of course, a man must be able to read a woman's signals, and it's a good thing that feminism is teaching young men that no means no and yes means yes. But there's also that ambiguous middle ground, where the woman seems interested and indicates, whether verbally or not, that the man needs to prove himself to her. And if that man is any kind of man, he'll allow himself to feel the awesome power, the wonderful beauty, of uncontrollable male passion.
Democrats have called on the Senate Judiciary Committee to force Judge to testify with a subpoena. Committee rules allow the panel to issue a subpoena as long as the chairman, Grassley, and the ranking Democrat, Feinstein, agree to it, or by a committee vote.
"I think this committee ought to subpoena Mark Judge to come forward," Sen. Doug Jones (D-Ala.) told CNN's Jim Acosta on Tuesday.
"You can count on the fact that that letter, his response, is going to be entered in the record by someone, and that needs to be tested as well," Jones, who is not on the judiciary committee, said. "And I just think this committee, if he doesn't want to do it and they're going to go forward with a hearing, they need to subpoena him, let him say that and let some senators or someone cross-examine him."
Sen. Kamala Harris (D-Calif.), who is a member of the committee, said Tuesday that Judge "and other witnesses" should testify before the committee to "provide insight" into Blasey's accusations.
"The public deserves a thorough process not a rushed job," she tweeted.
Sen. Lindsey Graham (R-S.C.), also on the judiciary committee, told The Washington Post that there is no reason to have Judge speak before the committee.
"He's already said what he's going to say," Graham told the Post. "I want to hear from her, if she wants to speak, and I want to hear from" Kavanaugh.
Some legal experts have pointed out that Judge, who denies the incident took place, may not want to testify during the hearing because he would be speaking under oath.
"When you're THIS witness, testimony isn't optional," Joyce Vance, University of Alabama professor of law, tweeted Tuesday.
"The Senate needs to delay the hearing until Mark Judge's appearance can be obtained. If, in fact, he 'declines' to testify, it's a concession he's not willing to repeat his 'no recollection' remarks under oath."
Laurence Tribe, a Harvard law professor, pointed out that both Judge and Kavanaugh may be "criminally liable" for the alleged assault because Maryland has no statute of limitations for rape or assault.
This article has been updated with details of Blasey's accusations, Judge's memoir and Democrats' calls for a subpoena.
Support HuffPost
The Stakes Have Never Been Higher
Popular in the Community