WASHINGTON -- Mark Kelly said Tuesday that Sen. Jeff Flake (R-Ariz.) may be a "good friend" to him and his wife, former Rep. Gabby Giffords (D-Ariz.), but if Flake doesn't support the gun control package in the Senate, he and Giffords are prepared to use their political action committee to try to remove him from office.
"Yes," Kelly said bluntly during a Christian Science Monitor breakfast with reporters, when asked about the prospect of going after Flake with his gun control group, Americans for Responsible Solutions (ARS). "If there was the right candiate out there and if [Flake] didn't support this legislation, yes."
"You know, friendship is one thing," Kelly said. "Saving people's lives, especially first graders, is another thing."
A request for comment from a Flake spokeswoman was not immediately returned.
Despite their party differences, Flake has been a close friend to Giffords over the years. When Giffords was shot in the head in Jan. 2011, Flake raced to Tucson and "hung around the hospital all day by himself," making himself available to help as needed, the Arizona Republic reported. Flake was there throughout Giffords' recovery, and Kelly thanked him in the acknowledgements section of his book with Giffords. Flake also sat next to Giffords during her emotional appearance at the 2013 State of the Union. Most recently, when Giffords was on Capitol Hill testifying in support of tighter gun restrictions, Flake greeted her outside of the committee room and they embraced each other in a touching video featured on the ARS website.
Perhaps that closeness is why it may have been especially jarring when Flake announced Monday night that he planned to vote against the background checks amendment up for debate in the Senate. Flake isn't up for reelection until 2018.
"A lot of senators are looking for a reason just to get to 'no,'" Kelly told reporters. "I experienced this personally last night when shown the Facebook posting of Sen. Jeff Flake, Gabby's good friend. He posted that he intends to vote no on this legislation."
Kelly said he suspects that Flake "actually hasn't read the bill" because the concerns he outlined on his Facebook post "are clearly addressed" in the proposal. He also said he plans to talk to Flake about it in person later Tuesday, when he, Flake and Giffords will all attend a room designation ceremony on Capitol Hill for Gabe Zimmerman, a former aide to Giffords who was killed in the 2011 Tucson shootings.
"It occurred to me this morning that ... Flake's timing of his posting to his Facebook was not ideal, in my opinion," Kelly said of the potential awkwardness of all of them attending an event relating to gun violence later in the day. "But he is a friend of Gabby's. I don't think this is over with him."
Kelly added that Flake is "a reasonable person," and said if the two of them can talk in person and Kelly can explain why Flake's concerns about the gun bill are unfounded, "I think we can get him to come around."
UPDATE: Flake later responded to Kelly's comments.
"I respect Gabby and Mark and their strong viewpoints on this issue," Flake said in a statement to The Huffington Post.
CORRECTION: Due to an editor typographical error, the original article misidentified Gabby Giffords as a Republican. The former congresswoman is a Democrat.
Before You Go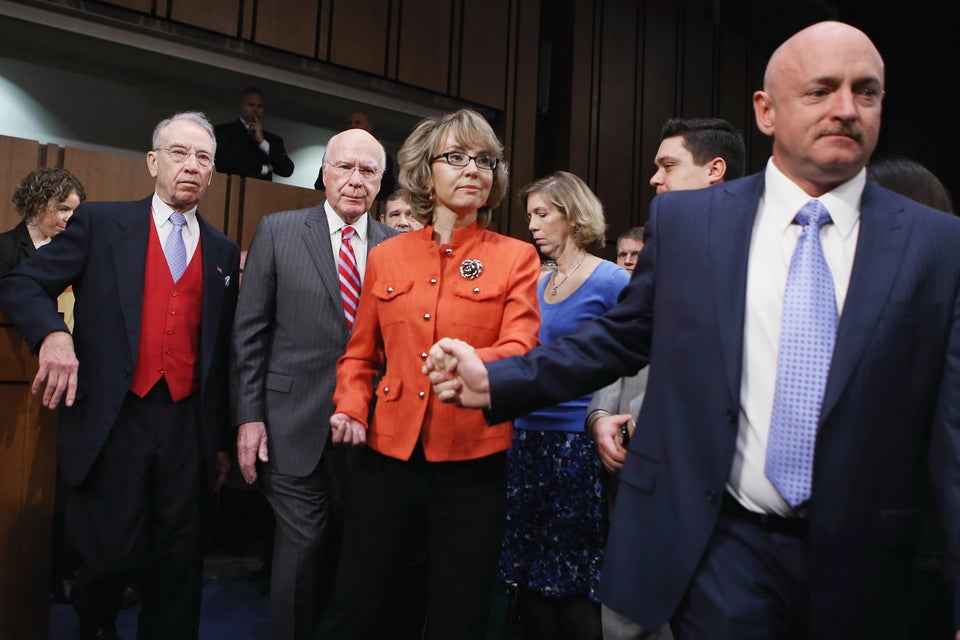 Giffords Appears At Gun Control Hearing
Popular in the Community