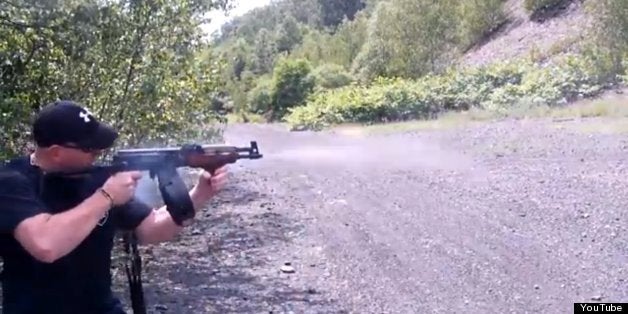 The police chief of Gilberton Borough, Pa. is gunning for a big promotion, just weeks after drawing national attention for vulgar videos showing him shooting automatic assault rifles and railing against "libtards" and other political foes.
Mark Kessler, who remains suspended while the borough council weighs further disciplinary action after putting him on leave last month, took to social media this week to announce a write-in campaign for sheriff of Schuylkill County in November.
Kessler could be out of a job by then. He's said he expects to be fired later this month when the Gilberton Borough council finally meets to discuss punishment for the conduct in his now-famous YouTube series, as well as his unapologetic response to the media frenzy that ensued.
In July, a video of Kessler saying, "F*** all you libtards" went viral. In a followup video, he "apologized" by shooting off a number of rounds from an automatic assault rifle. These actions, and his affinity for the word "libtard," have since proven par for Kessler's course.
The notoriety of the first video brought increased scrutiny on Kessler. Other YouTube posts later turned up, showing him in uniform, doing things such as repeatedly shooting a target that he referred to as "Nancy Pelosi," the House minority leader. Kessler later made a similar video in which he shoots a target that he refers to as "Eric." The vice president of the borough council's name is Eric Boxer.
"I've been kicking it around for a long time," he said. "Actually, I switched from Republican to independent some time ago. I had picked up a petition to get the 520 or so signatures to run as an independent, but I was pressured by the Republican elites not to and to switch back to Republican, and you know my answer to that was 'No.' I don't need their permission to run. The party don't own this boy."
Kessler is also a member of the North Schuylkill school board and the leader of a volunteer group called the Constitutional Security Force, which has vowed to take up arms to protect against tyranny.
While Kessler's actions have proven controversial in the small community of Gilberton Borough, some of its residents have rallied around him. Last month, a group of 40-gun toting individuals gathered around a "Fire Kessler" billboard to show support for the embattled police chief.
Calling all HuffPost superfans!
Sign up for membership to become a founding member and help shape HuffPost's next chapter
BEFORE YOU GO
PHOTO GALLERY
SAY WHAT?! The Strangest Bills Of 2013